Photo: Universal Pictures
theater

Sing Movie Quotes

429 votes
232 voters
14.8k views
Follow
List Rules Vote for your favorite Sing movie quotes!
Sing movie quotes help tell the story portrayed in the animated film about a theater-owning koala who hosts a singing competition. The musical comedy was written and directed by Garth Jennings. Showing in 3D, Sing opened in theaters in the United States on December 21, 2016.
In Sing, Buster Moon (voiced by Matthew McConaughey) is a koala who owns a music theater in his town. The theater is failing so Buster, much to the disapproval of sheep friend Eddie Noodleman (voiced by John C. Reilly), announces plan to host a singing competition. This, however, gets off to a rough start when his iguana assistant, Karen Crawley (voiced by Garth Jennings), prints $100,000 as the prize rather than $1,000.
The chance of fame and fortune of winning the competition excites those in Buster's town, including street musician mouse Mike (voiced by Seth MacFarlane), pig wife and mother Rosita (voiced by Reese Witherspoon), punk rock porcupine Ash (voiced by Scarlett Johansson) and mountain gorilla Johnny (voiced by Taron Egerton), among others. All vie for the top prize, while trying to keep up with their own personal obligations at the same time.
Sing movie quotes bring some music to theaters which are already showing other great December 2016 films such as Solace, A Kind of Murder, Collateral Beauty, and Rogue One: A Star Wars Story.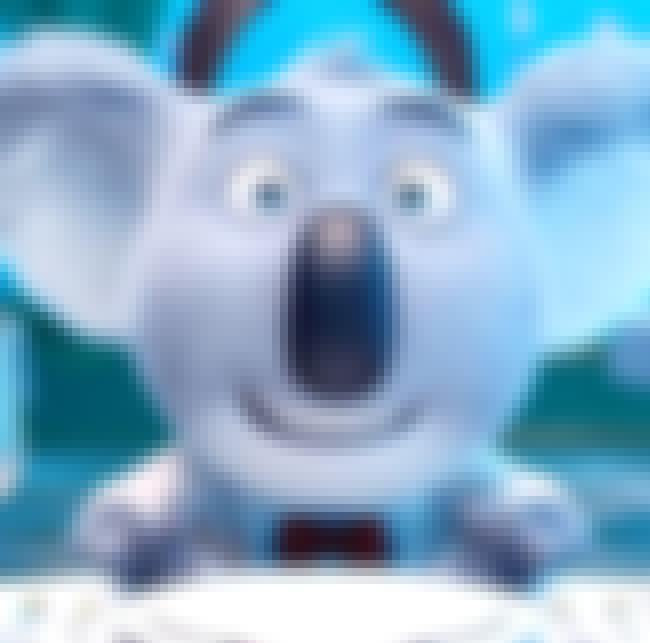 Buster Moon: You know what's great about hitting rock bottom? There's only one way left to go, and that's up!
In perhaps a reflection on his company's current status, Buster reminds everyone that when you get down, the only way to go is up. This Sing movie quote might not be as inspiring as it's meant to be, but it's the thought that counts.

Should this be higher or lower?
Buster Moon: Don't let fear stop you from doing the thing you love.
In an attempt to inspire the singers, Buster encourages them to pursue their dreams, the things they love, regardless of any fears they may have. His optimism and positivity is contagious.

Should this be higher or lower?
Big Daddy: You were supposed to be keeping a lookout!
Johnny: Sorry, dad
...
Big Daddy: Where were you?
Johnny: I was at a rehearsal. Dad, I just don't want to be in your gang. I want to be a singer.
Big Daddy: How do I end up with a son like you?
Johnny: I'll get you out! Dad, wait! I'll get the money, I promise!
...
Big Daddy: That's my son!
The relationship between Johnny and Big Daddy is chronicled in these Sing movie quotes. Big Daddy raised Johnny to be part of his gang, but what Johnny really wants is to sing.
Should this be higher or lower?
You Better Be Ready to Work
Buster Moon: If you want to become stars and win $100,000, then you better be ready to work harder than you've ever worked in your lives.
Buster offers the contestants another pep talk in this Sing movie quote. He explains that the prize is big, but will require an intense amount of work to achieve.
Should this be higher or lower?