Music
These Crazy Slayer Stories Prove They Are One Of The Most Interesting Bands Ever

Updated January 2, 2019
138.6k views
12 items
When the band Slayer announced their retirement in January 2018 after 37 years playing punk/death metal together, they signed off with a cheeky farewell post on Instagram: "Slayer, one of the greatest thrash/metal/punk bands of this or any age, is coming to an end."
Originally formed in 1981 by guitarists Kerry King and the late Jeff Hanneman along with drummer Dave Lombardo in Huntington Park, California, the band initially performed a lot of cover songs by Iron Maiden and Judas Priest. Vocalist and bassist Tom Araya joined soon thereafter, and the four played at local clubs and parties. By 1983, they had a record contract with Metal Blade Records and in the more than 35 years since the band has gone on to release 12 albums, with over 20 million albums sold. They are arguably one of the most influential bands in heavy metal history - and they clearly know it. But as of 2018, the group announced that they will be doing a farewell tour and that they do not plan on recording any additional albums.
The life of Slayer is macabre, salacious, irreverent, and full of spicy stories from a group that wasn't afraid to make statements. Continue reading to learn more Slayer band facts and why MTV says that "Slayer's music was directly responsible for the rise in death metal."
The Band Was Sued After A Teen Girl Was Killed By Friends In What Was Referred To As A Satanic Sacrifice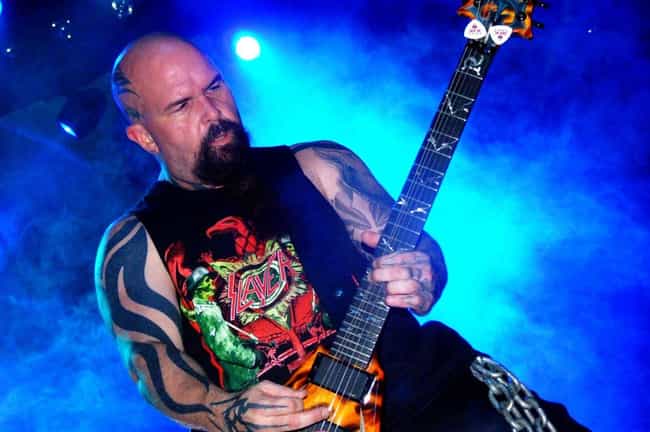 In 1995, 15-year-old Elyse Pahler was choked and stabbed to death by three acquaintances, Jacob Delashmutt, Joseph Fiorella, and Royce Casey. The teen boys then sexually assaulted the corpse repeatedly. Eight months after her murder and before her body was found, Casey confessed to the crime after converting to Christianity. He told investigators that Pahler's murder was committed as part of a Satanic ritual and that her death was done in hopes of making their band, Hatred, become successful. The boys also claimed that they were inspired to kill by listening to the band Slayer.
Pahler's parents, David and Lisanne, filed a lawsuit against the band. They claimed that the songs "Postmortem" and "Dead Skin Mask" instructed the perpetrators on how to kill their daughter. The case was thrown out, and Pahler's parents filed yet another suit against the band claiming that Slayer knowingly distributed harmful material to minors. This case was also dismissed with the judge stating, "I do not consider Slayer's music obscene, indecent or harmful to minors."

Slayer's Song 'Jihad' Told A Terrorist's Point Of View And Caused Post-9/11 Controversy
In 2006, the band released their album Christ Illusion with a single entitled "Jihad," which tells the story of the 9/11 terrorist attacks from a jihadist terrorist's point of view. The song enraged a patriotically charged America, and many were unhappy with the band's bold statement. In particular, because they'd previously released "Angel of Death," a similarly unpopular angle from a Nazi concentration camp. According to guitarist Kerry King:
In America every band under the sun has written their 9/11 song. And that's why I didn't want to have any part of it, but this is really cool. It kind of has an 'Angel of Death' feel because it doesn't condemn anyone or say that anyone's right or wrong.
Band Brawls Sometimes Included Dissemination Of Bodily Fluids
In 1985, the Ultimate Revenge Combat tour happened, which is arguably the best metal tour that has ever taken place. The lineup was legendary, featuring Venom, Slayer, and Exodus. In February 2017, Decibel magazine interviewed several members from each band, including Venom drummer Anthony "Abaddon" Bray, Slayer drummer Dave Lombardo, and Exodus guitarist Gary Holt. The three shared various stories about the tour, including an incident that took place between Tom Araya and Cronos, vocalist and bass player for Venom.
Lombardo explained the story saying that he, Cronos, and a few others were on the tour bus drinking when Araya entered the bus, asking where the bathroom was. The story then changes depending on whom you ask, as Lombardo insists that Araya pulled out his member and began urinating on Cronos, while Bray claims that Araya did not pee on him, but did tap him on the shoulder with his member.
Whatever the case, Cronos jumped up and punched Araya in the face, causing a black eye and a bloody nose. Bray eventually separated the two and Araya had to continue the tour with an ugly black eye.
There's A Hidden Message In The Song 'Hell Awaits'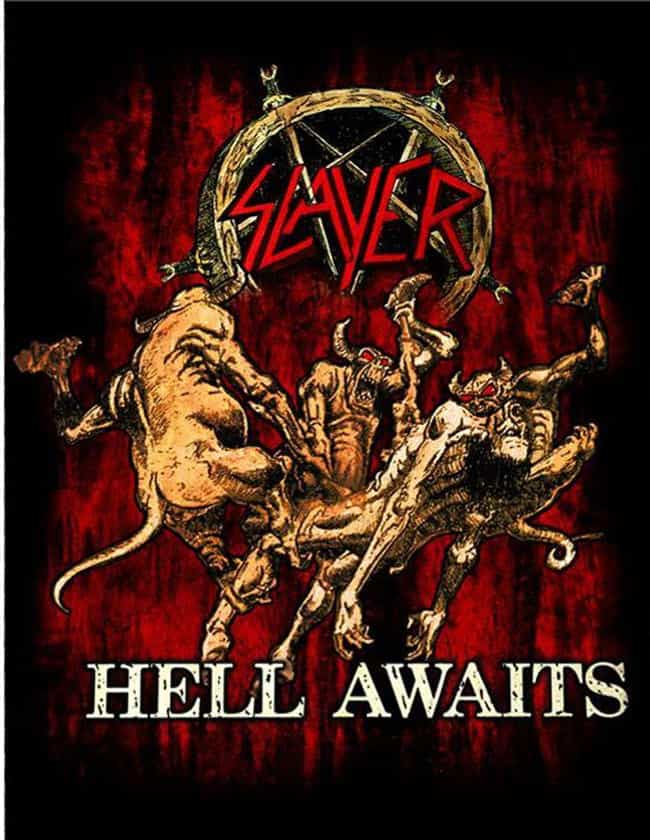 Ever since the invention of Rock n' Roll, there have been many who shunned the genre, thinking of it as "the devil's music." Unsurprisingly, rumors began about certain bands backmasking songs - that is, having a hidden message when the song is played backward - usually considered the work of Satanists to get young and impressionable teens to join the dark side. On Slayer's 1985 album Hell Awaits, the title track includes a backward message. Voices repeated the phrase "Join us," 45 times before saying, "Welcome back."
However, Tom Araya has stated that the imagery on the album art was "solely for effect" and not for Satanic rituals.