Music
Behind The Scenes Of 'Smells Like Teen Spirit'

In 1987, singer Kurt Cobain and bassist Krist Novoselic formed Nirvana and went through several drummers before Dave Grohl joined the band in 1990. Nirvana's first album, Bleach, was released in 1989 and the band found a respected home in the Seattle music scene, but they remained virtually unknown outside the Pacific Northwest. All that changed in 1991 with the inception of "Smells Like Teen Spirit." Although they recently signed with a major record label and were in the process of establishing themselves as professionals, "Smells Like Teen Spirit" shot them into stardom faster than anyone expected. Due to a catchy pop hook, a message that reverberated with many listeners, and MTV airing the "Smells Like Teen Spirit" music video multiple times a day, Nirvana suddenly found themselves one of the most popular bands in the world.
It also helped that "Teen Spirit" was released at just the right moment. Nirvana was influenced by punk music, which was created in the 1970s in response to the mainstream and still held an important place in the underground. In the late 1980s, mainstream music included popular hair-metal acts who celebrated excess, such as Guns N' Roses and Poison, and alternative bands rebelled against them. Nirvana used "Teen Spirit" to communicate this rebel sentiment, and their message struck a cord with members of Generation X; young people who didn't identify with their baby boomer parents and felt alienated.
With "Teen Spirit," Nirvana became the first alternative band to break through the mainstream, which fueled the grunge movement and elevated Cobain as an icon. It is one of the best-selling singles of all time and often considered the anthem of a generation; the story behind "Smells Like Teen Spirit" is a legend in itself.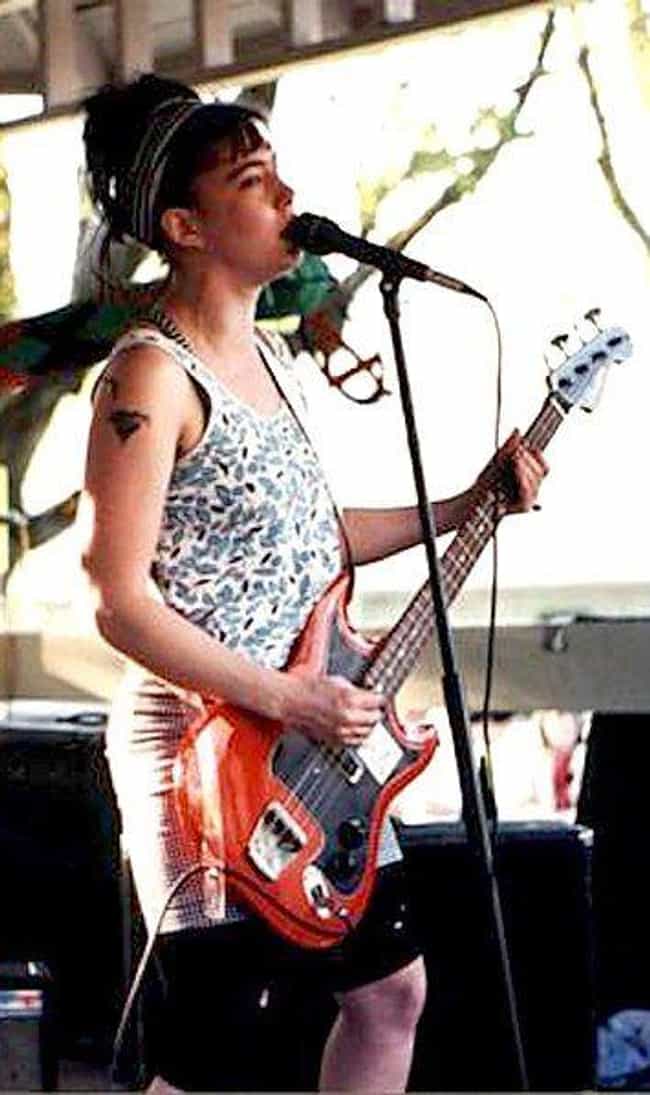 Kurt Cobain Got The Line 'Smells Like Teen Spirit' After A Night Of Antics With Bikini Kill Frontwoman Kathleen Hanna
About six months before "Teen Spirit"'s inception, Cobain spent an evening drinking with Bikini Kill singer Kathleen Hanna. After splitting a bottle of Canadian Club whisky, the two decided to take their frustrations with the world out on a recently built teen pregnancy center. According to Hanna, the business was "a right-wing con where they got teenage girls to go in there and then told them they were gonna go to hell if they had abortions," and Cobain agreed.
Hanna and Cobain spray-painted "Fake Abortion Clinic, Everyone" and "God is Gay" in giant letters on the side of the building, then retreated to Cobain's apartment to celebrate their accomplishment. Before passing out, Hanna used a Sharpie to write "Kurt smells like Teen Spirit" on his wall, referring to the perfumed deodorant worn by Cobain's girlfriend Tobi Vail. The next morning, Cobain awoke to the graffiti as well as the inspiration for a song title.
When Hanna Told Cobain He Smelled Like Teen Spirit, He Thought It Was A Metaphor, But She Meant The Deodorant
Hanna graffitied Cobain's wall to deliberately insult his relationship with his girlfriend Tobi Vail and her use of Teen Spirit deodorant, even if she wore it to be ironic. Hanna wanted to make fun of Cobain for smelling like the deodorant after spending time with Vail, using the idea of him smelling like his girlfriend to insult him for being needy and clingy. Cobain had never heard of Teen Spirit and thought Hanna was admiring him for being alternative.
I took that as a compliment. I thought that was a reaction to the conversation we were having but it really meant that I smelled like the deodorant. I didn't know that the deodorant spray existed until months after the single came out. I've never worn any cologne or underarm deodorant.
Krist Novoselic Thought The Song Was Ridiculous, So Cobain Made Them Play It For An Hour And A Half
Dave Grohl and Novoselic first heard the riff to "Smells Like Teen Spirit" in Nirvana's practice space: a converted barn that Grohl described as "weird" for featuring stage lights and brown shag carpeting. As Cobain played, he knew what he created was not necessarily original but had potential. "'Teen Spirit' was such a cliched riff. It was so close to a Boston riff or 'Louie, Louie,'" Cobain remembered. Grohl and Novoselic didn't applaud.
"When I came up with the guitar part, Krist looked at me and said, 'That is so ridiculous.'" Cobain recalled. "I made the band play it for an hour and a half."
Through endless repetition, Novoselic helped turn the riff into a real song. "We were just playing the chorus, 'When the light's out, and it's dangerous, here we are now,' over and over again," he said. "I said, 'Wait a minute. Why don't we just kind of slow this down a bit?' So I started playing the verse part. And Dave started playing a drum beat."
MTV Didn't Really Know Nirvana When They World-Premiered The 'Teen Spirit' Video
Nirvana had MTV music programmer Amy Finnerty and the Smashing Pumpkins to thank for the "Teen Spirit" video making it onto the channel. Finnerty became a fan after hearing Bleach and knew the "Teen Spirit" video would be huge, but she also realized, "MTV, as far as I know, had never world-premiered a video for a band that they had no history with."
While taking Smashing Pumpkins around the MTV office to meet people, she decided to share the "Teen Spirit" video at the same time. Finnerty pushed hard to get Nirvana on the air, telling her boss, "I understand why we're playing Paula Abdul and Whitesnake. But if there isn't a place for this, I don't know what I'm doing here."
MTV agreed to premiere "Teen Spirit" on September 29, 1991, during 120 Minutes, a program dedicated to alternative music. "If MTV had known that Nirvana was going to be as huge as they [were], they would've world-premiered the video in prime time, not late-night Sunday," host Dave Kendall remembered. Like other people at MTV, he was also unprepared for Nirvana's sound and how big they'd become, saying:
I thought it was going to be another Seattle record, so I was a little suspicious and a little resistant to it because I thought it was going to be a lot of guitars, sort of a '70s feel. And then when I heard it, I knew I'd been wrong.