Weird History
How SNL Has Handled 21 Historical Events

Updated April 28, 2020
10.9k views
21 items
Saturday Night Live has been on NBC since 1975, entertaining the masses while offering weekly commentary and interpretations of current, past, and even future events.
During the show's tenure, SNL skits have highlighted the inconsistencies, injustices, or contradictions of major events - and provided much-needed comic relief in the process. Sometimes SNL sketches are ridiculous to the point of absurdity. On other occasions, SNL manages to depict historical events with an uncanny sense of realism.
On SNL, impressions of politicians and celebrities accompany pokes at everyday actions, behaviors, and attitudes. A healthy mix of these can be found in countless sketches about historical events, some of which you can find discussed below.
The Historic Moment: The Emergency Economic Stabilization Act of 2008, better known as the Bank Bailout, rescued financial institutions in the United States by infusing $700 billion into the system. Passed by Congress on October 3, 2008, the act was intended to stabilize an economy struggling under the strain of defaulting mortgage-based securities. The government essentially bought out failing sub-prime mortgages given to individuals who wouldn't have been able to get a mortgage under conventional circumstances due to low credit scores.
The Sketch: On October 4, 2008, SNL gave its interpretation of the bailout. In a sketch featuring President Bush (Jason Sudeikis), Representative Nancy Pelosi (Kristen Wiig), and Representative Barney Frank (Fred Armisen), the latter two send several backhanded compliments Bush's way, and they all bicker about identifying and remedying the problem. "Real Americans" victimized by sub-prime mortgages are brought on to speak, all unable to repay their debt for an array of reasons ranging from poor credit history to outright greed.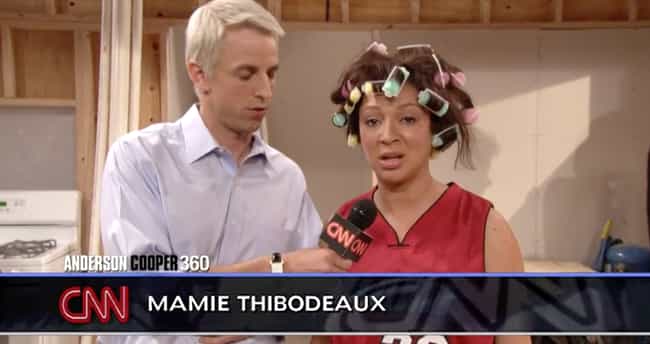 The Historic Moment: Hurricane Katrina landed on the Gulf Coast of the United States in August 2005, inflicting catastrophic damage to Louisiana. The area around New Orleans was especially hard hit, with nearly 2,000 people perishing in the storm and subsequent flooding. Millions were forced to flee their homes or simply left homeless.
The Sketch: Seth Meyers as Anderson Cooper visits Jefferson Parish, Louisiana, after Hurricane Katrina, first talking to New Orleans Mayor Ray Nagin about help that's made its way into the region. Celebrities, while inept, have offered assistance, building a house for Mamie Thibodeaux (Maya Rudolph).
Tony Danza (Fred Armisen), Sharon Stone (Amy Poehler), Al Pacino (Bill Hader), and Aaron Neville (Horatio Sanz) do more harm than good with their efforts, with an unseen Sean Penn being the worst offender. Before the sketch ends, Geraldo Rivera appears, played by Darrell Hammond, only to make off with Anderson Cooper's van.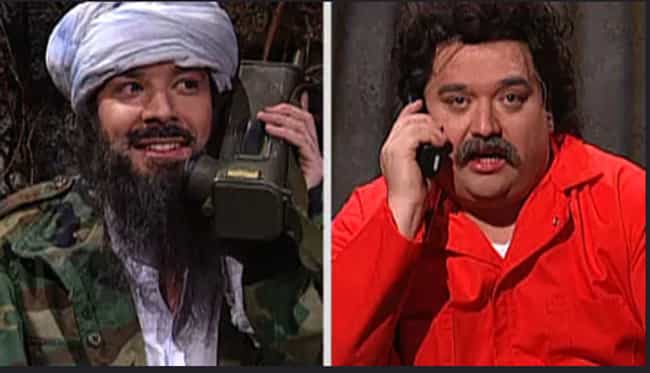 The Capture Of Saddam Hussein
The Historic Moment: Former Iraqi dictator Saddam Hussein was captured by American troops on December 13, 2003. Having fled from his base of power nine months earlier, Hussein was located in Tikrit, his hometown. Once captured, Hussein was kept in confinement until his trial for crimes against humanity in 2005. He was also tried for genocide against Kurds in Northern Iraq the following year and sentenced to execution.
The Sketch: With specious connections between Saddam Hussein and Osama Bin Laden alleged by the Bush administration, SNL linked them to each other directly. In an episode from January 2004, SNL offers up a conversation between Bin Laden (Jimmy Fallon) and Hussein (Horatio Sanz). During their exchange, Bin Laden gives Hussein a hard time about his new appearance, something Hussein laments, as well. Hussein is not at all happy about looking "shaggy" at his trials.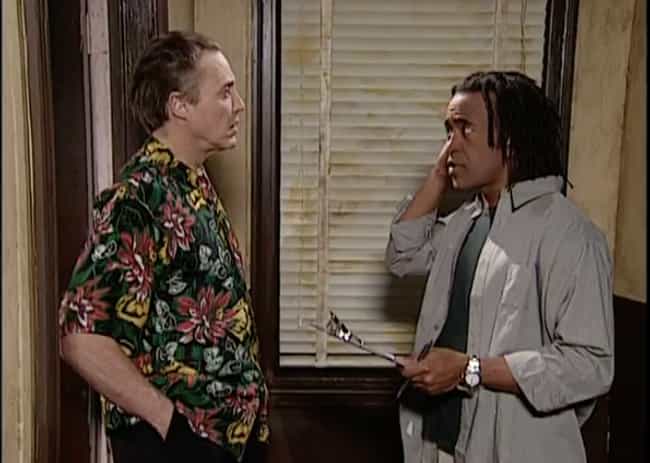 The Historic Moment: The 2000 census was "re-engineered" in an effort to avoid lawsuits that resulted from earlier censuses. There were two forms, a short form that included eight questions, and a long form with more than 50 total inquiries. Only about 17% of residents of the US were given the long form, with the shorter one sent out in an effort to boost participation.
The Sketch: Tim Meadows, as a census worker in 2000, knocks on Mr. Leonard's door, inquiring about an unreturned census form. Leonard, played by Christopher Walken, offers up ridiculous answers to seemingly straightforward census questions. Leonard lists candy bars and plants as residents of his apartment before giving a confusing description of his job; he can't decide if it's a full- or part-time gig. He also identifies a bobcat as his wife, and reveals he has dual citizenship in the United States... and Florida.