Culture
All the Places South Park Trolled with Mobile Billboards

249 votes
70 voters
2.1k views
14 items
List Rules Vote up Comedy Central's funniest uses of mobile billboards to promote South Park.
In a masterful bit of promotion, Comedy Central rolled out funny South Park mobile billboards, reminding everyone that the most caustic show on television has never been shy in its satire. These ads on trucks posted up right in front of landmarks associated with people and institutions South Park has mocked hardest.
One of the best uses of the mobile billboards finds South Park trolling Scientology once again by parking right outside of their giant blue building in Hollywood. To find out where the rest of the funny South Park advertisements are located, keep reading and take a stroll down memberberry lane.
South Park has been burning down pop culture and salting the earth with satire, drawing the ire of Kanye West, the Church of Latter Day Saints, and many more. But none of that seems to bother Matt Stone and Trey Parker. These funny mobile billboards feel like a victory lap for a show that never loses momentum, even when it feels like the show has hit its peak.
The Church of Scientology, Los Angeles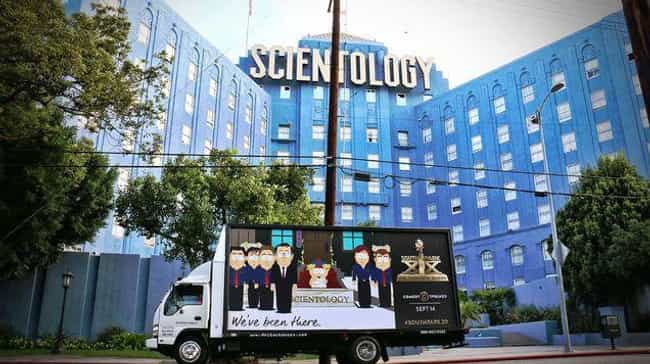 South Park creators Trey Parker and Matt Stone have a longstanding beef with the Church of Scientology. They even lost longtime Chef voice Isaac Hayes after going forward with an episode that combined R. Kelly's trapped in the closet with some allegations about prominent Scientologists Tom Cruise and John Travolta. Obviously the Church of Scientology wasn't happy about the billboard.

Agree or disagree?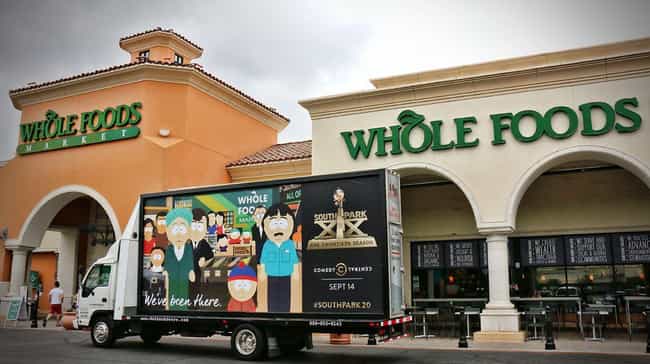 Much of the ire of the 2015 season of South Park is directed at Whole Foods, casting the high end grocery store as a sign of gentrification. So it makes perfect sense that the gang would park a big ol' billboard in front of one of the store's Los Angeles locations.

Agree or disagree?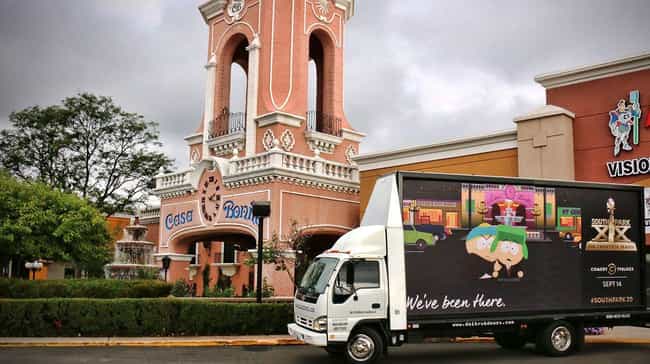 Casa Bonita references abound throughout South Park, as it was a favorite restaurant for both Stone and Parker in Colorado. Since the show has had nothing but good things to say about the restaurant (Cartman was even willing to kidnap Butters to sample their south of the border delights) you have to imagine the Casa was cool with the billboard.

Agree or disagree?
Mormon Church Headquarters, Salt Lake City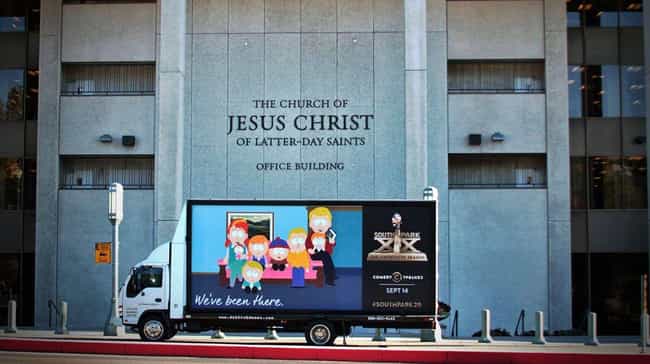 South Park has been trolling Mormons since they laid waste to the religion in the season 7 episode "All About Mormons," in which the boys learn about the religion when a family of Mormons move in to town. Aside from that, Matt and Trey wrote the Broadway hit Book of Mormon which took further aim at the religion.

Agree or disagree?