Graveyard Shift
The Legend Of Spring-Heeled Jack, The Victorian Era's Most Feared Boogeyman

Spring-heeled Jack was a terror of Victorian London, known for being a prankster with a taste for violence. Appearing something like a demonic Batman, this horrific figure of Victorian legend was said to knock on the doors of women and tear at their clothing with metal claws. Scary Spring-heeled Jack stories were typically centered on female victims, which made them particularly frightening for the era as women were seriously underprivileged in society and restricted in dress, meaning an attack was hard to get away from.
Part of the reason these Spring-heeled Jack urban legends persist is that there are eyewitness stories and news reports from the era confirming that sightings were happening, unlike vague legends. Some have speculated that Spring-heeled Jack was a real person or collection of people terrorizing the women of London, while others pointed to supernatural demons committing real-life crimes. Whatever the case, Spring-heeled Jack remains an intriguing legendary figure whose impact is felt not because he's fictional, but because so many saw him as real.
Spring-Heeled Jack Was So Called Because He Could Jump Uncannily High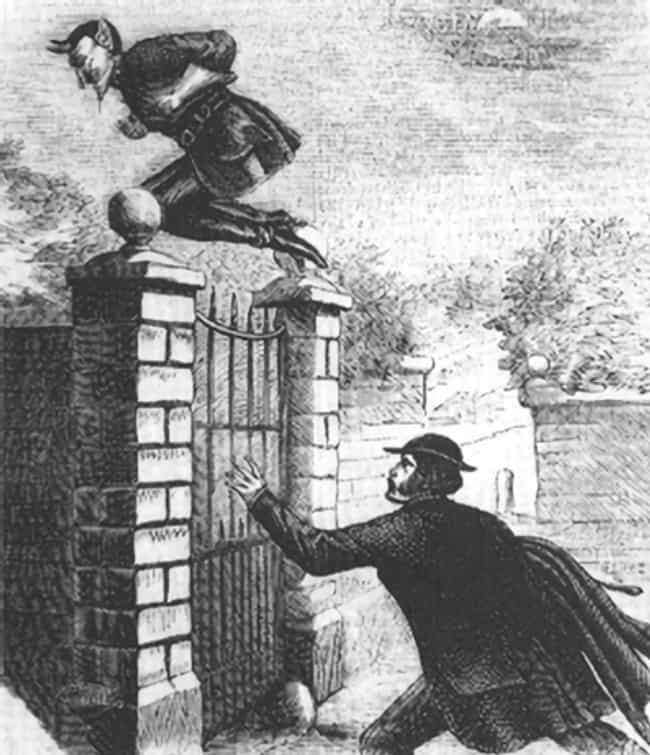 Though many Spring-heeled Jack stories can be explained by the figure being men terrorizing people in costume, there is one consistent feature that makes that theory difficult to believe - his jump. From early sightings in 1855, Jack was said to have an incredible ability to jump between roofs and over hedges to find his victims and escape from capture. How he did this is all part of the mystery.
Some think he was supernatural in origin, giving him the ability to jump further and higher than the average human, while others are inclined to chalk it up to exaggeration on the part of witnesses. Whatever the case, his ability to jump was so connected with his persona that it became part of his name.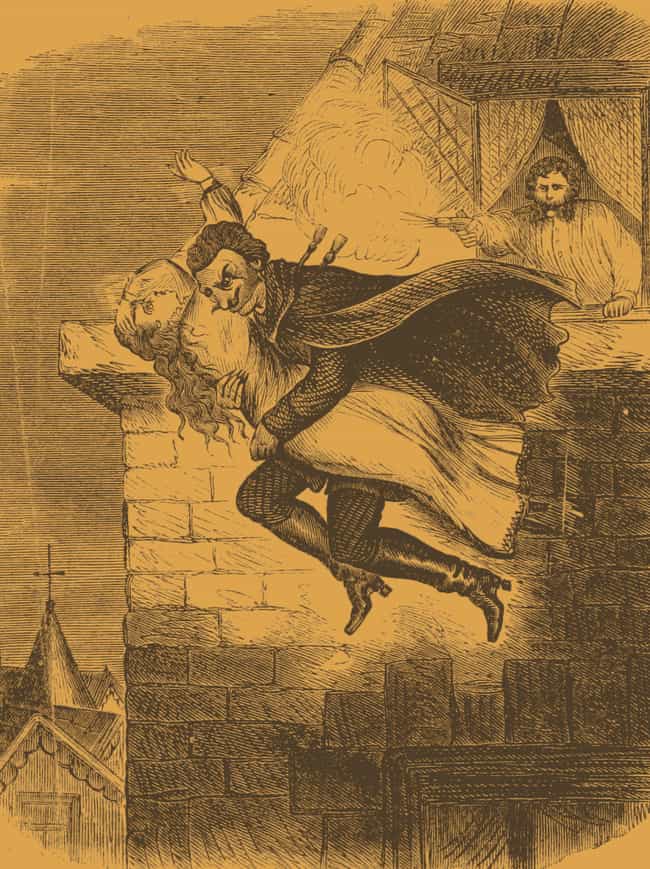 Part of the fear of Spring-heeled Jack is that, despite being primarily known as a prankster, he could be inclined to violence, too. Using iron claws, he was said to rake at the clothing, hair, and face of his victims who were primarily women. While most of the attacks were quick and didn't leave lasting damage, the fact that they targeted women and specifically focused on tearing at their clothing likely means that they were sexual in nature. Even if there was no lasting physical injury, the events left people traumatized.
Reports Of Spring-Heeled Jack Included Glowing Red Eyes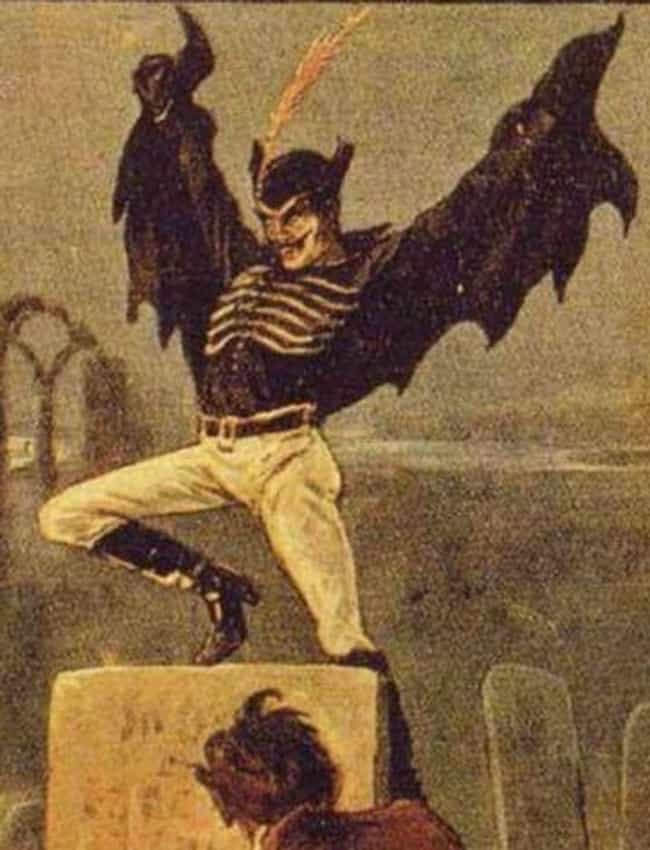 One of Spring-heeled Jack's more otherworldly features were his eyes. While much of his appearance was that of a well-to-do Victorian gentlemen, victims of his attacks said that his eyes glowed red, giving him a demonic air that lent credence to his potentially supernatural origins. Some reports also included pointed ears and a pointed nose, which only added to the fear and superstition that swept through London when rumors of Spring-heeled Jack surfaced. Though images of his strange appearance might not terrify people in the 21st century, Jack became something of a boogeyman to children and adults in the Victorian era.
Jack May Have Been A Rumor Intended To Stop Peasants From Drinking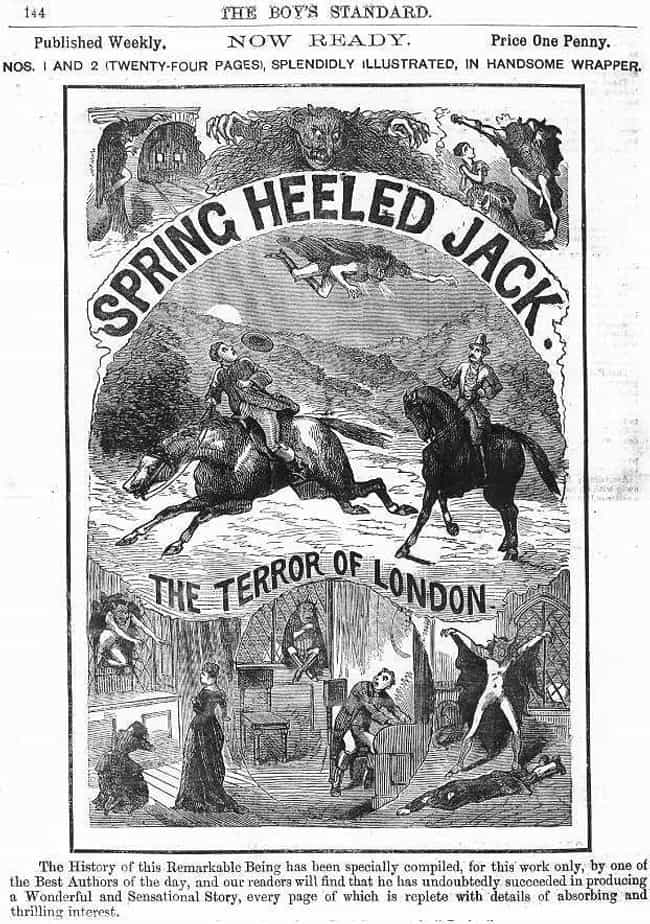 One of the many origin stories surrounding Spring-heeled Jack takes some of the thrill out of the tale. During early sightings of the legend around 1837, Black Country was known for being particularly superstitious. As the story goes, to prevent peasants from spending too much time drinking and committing other sins, preachers spread rumors that a ghastly, demonic figure had been spotted on the roofs of pubs. Stories spread quickly and were spruced up along the way, meaning what may have originally been an attempt to warn people of the dangers of liquor became a terrifying and lasting legend.