Celebrities
Star Wars Cast And Crew Tell Their Behind The Scenes Stories Of Carrie Fisher

Updated May 4, 2020
272.5k views
13 items
What was Carrie Fisher like? Along with other Star Wars characters, Princess Leia has become one of the most recognizable film characters in the world. As inspiring a figure as she is, she was portrayed by a woman who was every bit as strong and resilient as the space princess. On the similarities between herself and her famous alter ego, Fisher said, "I liked being Princess Leia. Or Princess Leia's being me. Over time I thought that we'd melded into one. I don't think you could think of Leia without my lurking in that thought somewhere."
When asked about what it was like to work with Carrie Fisher, most of her colleagues spoke of her tremendous spirit and her unparalleled sense of humor. In a touching post about his co-star and close friend, Mark Hamill described the actress as a "gorgeous, fiercely independent and ferociously funny, take-charge woman who took our collective breath away." A quick glance at some of the footage of Carrie Fisher on the Star Wars set shows these traits in action. Despite her small stature and only being 19 when she began filming A New Hope, she dominated each of her scenes, commanding a great deal of respect during a time in cinema when women weren't given many opportunities to take on the role of a strong, independent leader.
Read these hilarious and heartwarming behind the scenes stories about Carrie Fisher during her time as the beloved Princess and General Leia Organa.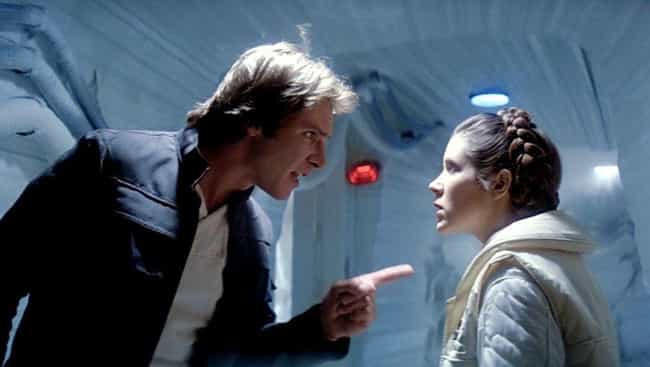 She And Harrison Ford Got Drunk With The Rolling Stones
While filming The Empire Strikes Back, Fisher rented Eric Idle's house. The Monty Python actor was still spending time at the property while he was renting it out, and one night he invited The Rolling Stones over. Fisher asked Harrison Ford to join, too, and the two actors drank and partied with the band. The only problem was that they were due on set in a few hours.
"We weren't hung over," Fisher said about filming the scene. "We were still in our cups. And if you watch the movie you can see that: Harrison and I are smiling as we arrived in Cloud City. Doesn't that sound like a euphemism?"
She Helped John Boyega Cheat On His Diet
John Boyega had a strict diet and workout routine while filming The Last Jedi, so whenever he needed a cheat day, he would visit Fisher's trailer to satiate his junk food cravings. He shared the story with People magazine:
I'd been eating really healthy and clean, working out all the time, and I just wanted a chocolate bar. I went to Carrie's trailer because that was the place to go to. I said, 'I'm really hungry and I'm sick of eating chicken breasts and salad' and she goes, 'Oh! Go to my fridge and get something.'
After he opened her fridge to discover her trove of junk food, the actress told Boyega, "I was waiting for you to fail!"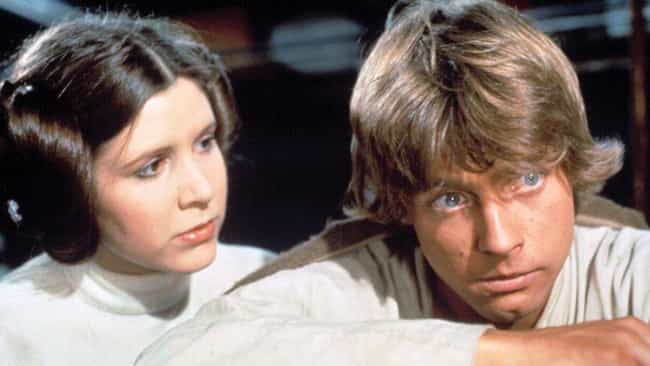 She Made Mark Hamill Wear Ridiculous Costumes On Set
While filming The Empire Strikes Back, Fisher asked her space brother Mark Hamill to try on her Hoth space jumpsuit. During the 2017 Star Wars Celebration, Hamill told the audience how Fisher then accessorized the outfit with clown nose glasses and bozo hair. After Hamill was dressed, Fisher took him by the hand and paraded him around the entire studio. He also wore Fisher's floral robe around set, simply because she asked him to.
After sharing the story, Hamill said, "I don't think I would have done that for anybody but her... nothing pleased me more than making her laugh."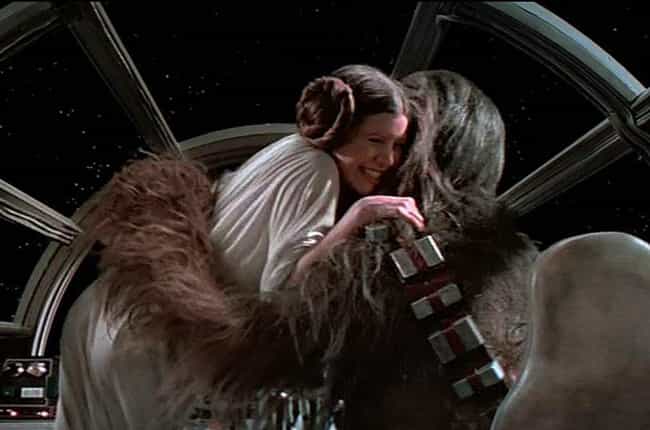 She Chased Her Co-Stars Around The Set With A Squirt Gun
On a particularly hot day while filming the original trilogy, someone brought squirt guns to set. Peter Mayhew, the actor who played Chewbacca, remembers Fisher grabbing one and running around in costume, soaking Harrison Ford, Mark Hamill, and anyone else who got in her way. Eventually, someone had to take the toy away from her, because she was having too much fun.