Entertainment
Starred Up Movie Quotes

18 votes
12 voters
3.4k views
6 items
"Starred Up" movie quotes tell the story of a troubled teenager who graduates to an adult prison where he reunites with his also-incarcerated father. The British prison crime drama was written by real-life prison therapist Jonathan Asser and directed by David Mackenzie. "Starred Up" opened in the United States on August 27, 2014.
In "Starred Up," Eric Love (Jack O'Connell) is a 19-year-old offender who makes the transition from a youth detention center to an adult prison to give him the designation as "starred up." Eric comes with a lot of baggage, both on his rap sheet and with built up emotional issues, and doesn't take much time at all before starting trouble in his new environment.
In the adult prison, Eric reunites with his father, Neville (Ben Mendelsohn), who is also serving time and pretty high up on the prison food chain. Neville tries his best to protect his son, including speaking to volunteer prison therapist Oliver Baumer (Rupert Friend). But Neville knows that he and Eric will not be together behind bars forever and also must give Eric the tools to survive on his own or else be killed by the fellow offenders. This is not an easy task.
"Starred Up" hits theaters already booming with hits such as
"The November Man,"
"The Congress,"
"Life of Crime,"
"Sin City: A Dame to Kill For,"
"If I Stay,"
"When the Game Stands Tall,"
"Are You Here,"
"The Expendables 3,"
"Let's Be Cops,"
"Life After Beth,"
"Frank,"
"Teenage Mutant Ninja Turtles,"
"The Hundred-Foot Journey
"Guardians of the Galaxy,"
"Get On Up,"
"Hercules,"
"Lucy,"
"Magic in the Moonlight,"
"A Most Wanted Man,"
"Happy Christmas,"
"Planes: Fire & Rescue,"
"Sex Tape,"
"Wish I Was Here,
"And So It Goes,
and
"Dawn of Planet of the Apes."
Eric Love, 19, He's Starred Up
Guard: "Eric Love, 19, he's starred up."
Using the title of the film in a sentence, a guard introduces the character to viewers and to the prison. The term starred up refers to Eric's switch from a juvenile detention facility to an adult prison.
Should this be higher or lower?
Neville Love: "I'm going to tell you something, boy. This is how you're not letting this turn out. You have to behave cause they will kill you."
Neville gives his son, Eric, some advice upon Eric's arrival at the adult prison. He explains just how dangerous the situation is and what he needs to do to survive.
Should this be higher or lower?
Neville Love: "What? What's going on?"
Oliver Baumer: "I'm sorry."
Neville Love: "You have to help him, you know. You have to teach him the answers, the things that he's supposed to say, you know, like the Think Right program. You know, help him get out. You know, like the f***ing, 'what would you do if you were in a bar and a fella comes up starts holding your girl?' 'Oh, I'm going to tell him politely, I'm with her. We're having a glass.' Exactly. That bollocks."
Oliver Baumer: "Okay, that's not what my group is about. Uh, your son and I are on a journey together and we will…"
Neville Love: "No, he needs to behave."
Oliver Baumer: "Okay, he's suffered enormous emotional trauma and abuse."
Neville Love: "Well, I never touched him."
Oliver Baumer: "Well, you weren't there."
Neville Love: "Okay, that's enough, all right. F***ing finish, because in case you haven't fully appreciated, I am his f***ing parent and I am f***ing here now… You think you can f***ing fix him up, huh? What, you got a couple of f***ing little nice f***ing letters after your name? Well, I got f***ing numbers. So does he. Do you have a family? You got a family? You got someone you go home to at night? Huh? Or would you rather be doing f***ing bang up? Closed in with all the rest of us, you sick f***ing low life sado c***."
Neville and Oliver argue over what is best for Eric. While Oliver talks of his program and methods, Neville reminds Oliver that he is an outsider, not part of their family, if you could even call it that.
Should this be higher or lower?
It's Not Always Possible for You to Be Here to Protect Him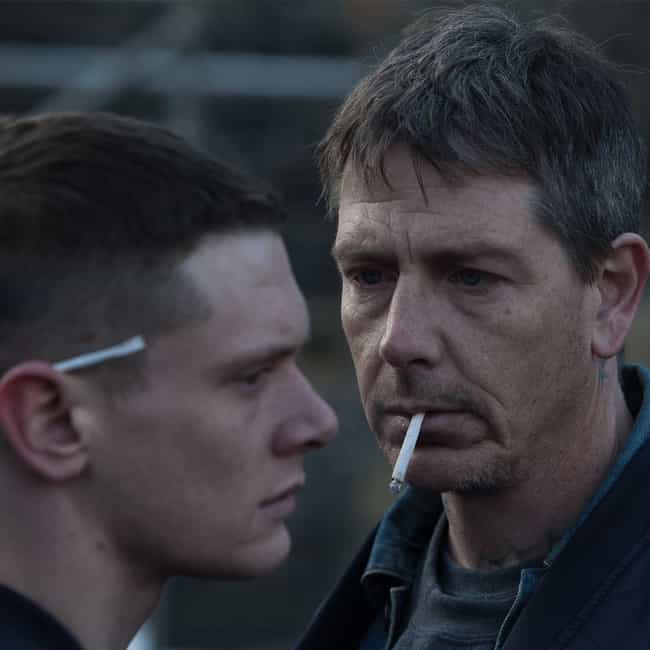 Dennis Spencer: "It's not always possible for you to be here to protect him."
Spencer reminds Neville that though he can protect Eric right now while they are together in prison, that will not always be the case. Eric needs to learn how to protect himself and it's up to Neville to help him achieve that end.

Should this be higher or lower?