Culture
Stars React to Alan Rickman's Death

When Alan Rickman died on January 14, 2016, fans, friends, and those who knew him took to social media to share tributes and memories. Complex, refined, chilling, and unforgettable, Alan Rickman left this mortal coil, leaving a legacy behind. Older fans know him from Die Hard and Love Actually. Harry Potter fans will forever remember him as Severus Snape. Others will tear up the next time they watch Galaxy Quest.

The classically trained actor could be as proper as a role allowed, but Rickman could also be funny, very funny. He wasn't afraid to go there, wherever "there" was. Tweets about Alan Rickman celebrate his life and his work, proving death is not the end.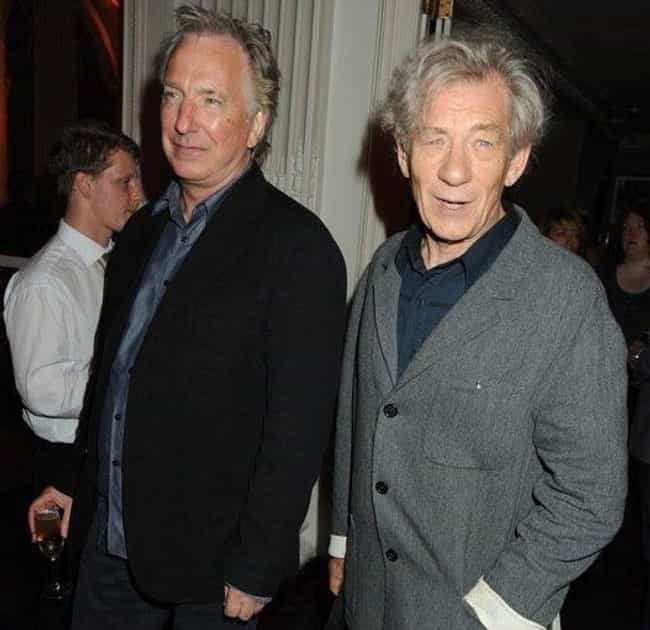 McKellen wrote the following post on Facebook:
"There is so much that is matchless to remember about Alan Rickman. His career was at the highest level, as actor on stage and screen and as director ditto. His last bequest of his film "A Little Chaos" and his indelible performance as Louis 14th, should now reach the wider audience they deserve.
Beyond a career which the world is indebted to, he was a constant agent for helping others. Whether to institutions like RADA or to individuals and certainly to me, his advice was always spot-on. He put liberal philanthropy at the heart of his life. He and Rima Horton (50 years together) were always top of my dream-list dinner guests. Alan would by turns be hilarious and indignant and gossipy and generous. All this delivered sotto, in that convoluted voice, as distinctive as Edith Evans, John Gielgud, Paul Scofield, Alec Guinness, Alastair Sim or Bowie, company beyond compare.
When he played Rasputin, I was the Tzar Nicholas. Filming had started before I arrived in St Petersburg. Precisely as I walked into the hotel-room, the phone rang. Alan, to say welcome, hope the flight was tolerable and would I like to join him and Greta Scacchi and others in the restaurant in 30 minutes? Alan, the concerned leading man. On that film, he discovered that the local Russian crew was getting an even worse lunch than the rest of us. So he successfully protested. On my first day before the camera, he didn't like the patronising, bullying tone of a note which the director gave me. Alan, seeing I was a little crestfallen, delivered a quiet, concise resumé of my career and loudly demanded that the director up his game.
Behind his starry insouciance and careless elegance, behind that mournful face, which was just as beautiful when wracked with mirth, there was a super-active spirit, questing and achieving, a super-hero, unassuming but deadly effective.
I so wish he'd played King Lear and a few other classical challenges but that's to be greedy. He leaves a multitude of fans and friends, grateful and bereft."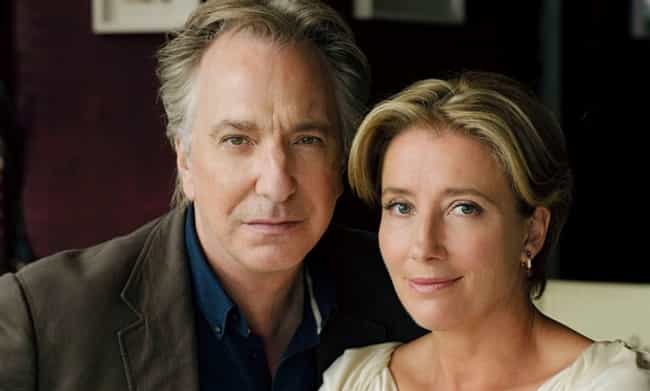 Through her management, Emma Thompson, who worked with Rickman in the Harry Potter films, Love Actually, and on other projects, said:
"Alan was my friend and so this is hard to write because I have just kissed him goodbye. What I remember most in this moment of painful leave-taking is his humour, intelligence, wisdom and kindness. His capacity to fell you with a look or lift you with a word. The intransigence which made him the great artist he was – his ineffable and cynical wit, the clarity with which he saw most things, including me, and the fact that he never spared me the view. I learned a lot from him. He was the finest of actors and directors. I couldn't wait to see what he was going to do with his face next. I consider myself hugely privileged to have worked with him so many times and to have been directed by him. He was the ultimate ally. In life, art and politics. I trusted him absolutely."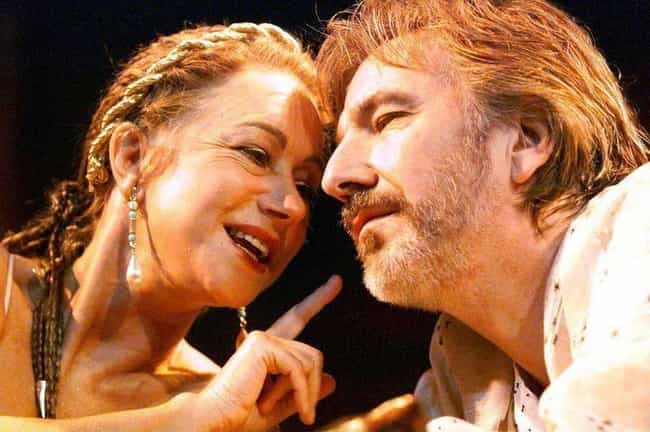 Of her costar she said, "Alan was a towering person, physically, mentally and as an artist. He was utterly distinctive, with a voice that could suggest honey or a hidden stiletto blade, and the profile of a Roman Emperor. He was also a great friend, generous and social. He will be very missed by many."