Unspeakable Times
Stepchildren Who Killed Their Stepparents

Whenever someone is senselessly killed, it's tragic. No matter what the circumstances, any murder is more than enough to tear a family apart. However, when the killer and the deceased are both family members of the same family, the damage and pain can be tenfold. Most stepchildren love, or at the very least tolerate, their stepparents. Unfortunately, there are more than a few instances of stepchildren who killed their stepparents.

No family wants to think that it's a possibility. Sometimes the murder occurs as a result of abuse or neglect from the stepparents. Other times, the stepchild is just not wired correctly and really no one is to blame.

Often, the stepkids who murdered their parents remain a mystery, with no known motive. One day they seem fine, and then suddenly it seems that everything goes wrong. Retrospectively, there are often telltale signs like animal abuse and a lack of empathy and remorse. No matter how it happens, though, one thing is for certain - the lives of everyone involved are changed forever when a stepchild murders their stepparents.
1
Navar Beverly Killed His Step Dad And Then Took A Selfie With His Dead Body
Navar Beverly killed his step father, and then posted a selfie with his victim's corpse on Twitter. Police in Maryland said Beverly strangled his step father Ronald Pinkney to death on July 8, posted several photos on Twitter and then fled the scene. Not long after, police received a tip about the killing and went to check on Pinkney. They apprehended Beverly not long after.
2
Teenager Went on a Killing Spree, Slaughtering His Mother, Stepfather, and Grandmother
Robert Seth Denton, a 19-year-old man, shot and killed three of his family members. Even more horrifying is that six children were witness to the murders.
Denton used a high-powered rifle to murder his mother, stepfather, and grandmother in their
Tennessee mobile home,

with the children inside.

While trying to escape, Denton was shot by his grandfather, and, shortly after, authorities apprehended the injured Denton.
3
10-Year-Old Ends His Stepfather's Life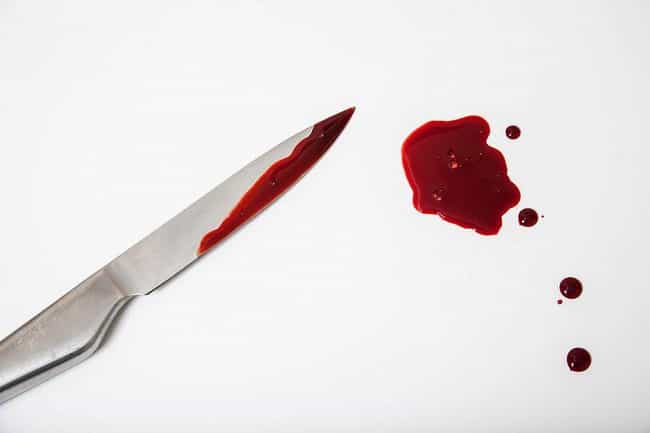 A 10-year-old boy allegedly stabbed and killed his stepfather in self-defense. The stepfather had a history of domestic abuse and many neighbors reported hearing loud arguments regularly. One day, though, things escalated to
a deadly level
. Police responded to a domestic abuse incident and found the 45-year-old stepfather dead. The child stabbed his stepfather to protect his mother and will likely never be charged.
4
Clown Convinces Young Girl to Murder Her Stepmother
At just twelve years old, an Indiana girl heinously murdered her stepmother. Her reason? An online fictional clown told her to.
The girl claimed to receive her orders from a popular horror character on CreepyPasta named "Laughing Jack." She stabbed and killed her stepmother before trying to set fire to the family apartment. Months before the incident, she experienced an alter ego, heard voices, and begged her father for help.
The girl's trial is still ongoing as she receives intensive psychiatric care.