Horror

Brutally Honest Quotes From Stephen King On His Own Worst Days

Stephen King is one of the most famous and successful authors of all time; he has written some of the most gut-churning scenes in horror fiction history. But during most of the 1980s - when the writer's popularity was arguably at its peak - King battled dependencies to illicit substances and alcohol. His habits were so severe that he nearly lost his family and life.
The Master of Horror eventually got treatment, and since then, he's talked openly about his darkest days. Moreover, he serves as a kind of living PSA on the dangers of relying on mind-altering substances, which is a nightmare that is every bit as vivid and shocking as the horrors King lays out on the pages of his stories.
He Barely Remembers Writing One Of His Most Popular Novels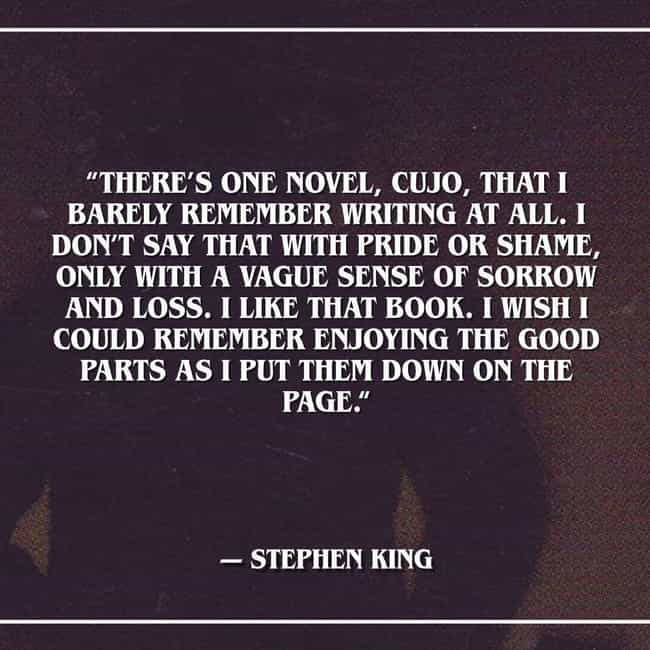 On the surface, King's 1981 novel Cujo might seem like a classic "human vs. beast" narrative, but when you dig deeper, the story examines the limits of the typical human mind under duress. In addition, the book explores how quickly we can lose all sense of humanity in the face of survival.
It's altogether a fascinating and complex thriller, but unfortunately for King, his substance use eclipsed the experience of creating his novel, as he admits in his memoir, On Writing: A Memoir of the Craft.
A Classic Character Embodied Cocaine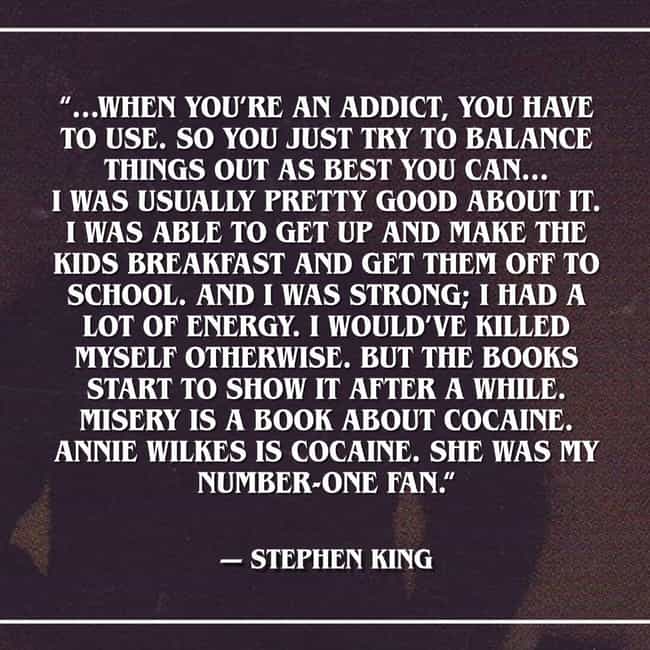 King not only battled alcohol dependence, he also used illicit substances for nearly a decade. He told Rolling Stone in 2014 that he typically didn't begin drinking until the evening, but he used controlled substances all the time, keeping it completely hidden from his friends and family.
The prolonged effects of this secret were worrisome, but the author did manage to express feelings about his habit in one of his most famous novels.
His Trash Can Contents Spelled Out The Severity Of His Dependency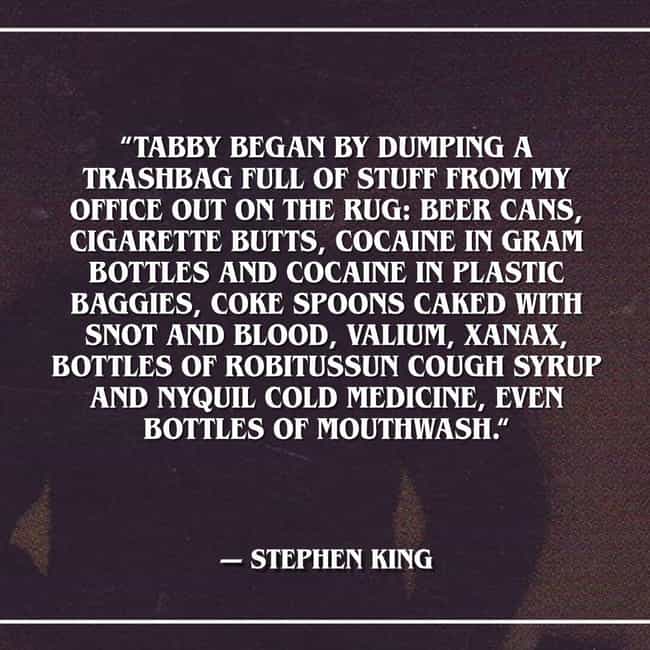 Tabitha King, who is also a successful author, staged an intervention for her husband by gathering friends and family for what King called in his book, On Writing: A Memoir of the Craft, "a kind of This Is Your Life in hell."
He goes on to note that Tabitha began the intervention by spilling out the dirty evidence of his dependency for everyone to see.
He Was Reportedly 'Normal' For About Three Hours A Day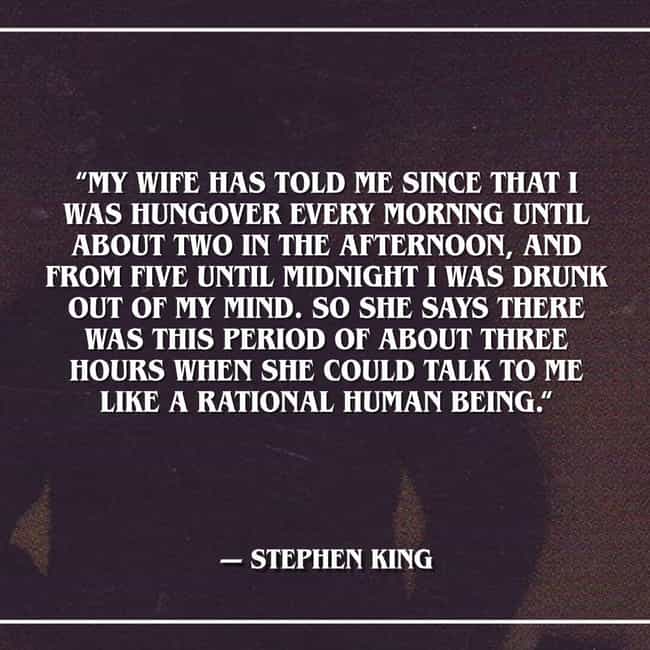 According to a Guardian interview with King, the prolific horror author's drinking problem wasn't always an impediment to his relationships. During a small window of time each day, he was neither drunk nor hungover - and this was when his wife Tabitha could converse with him.
In the same interview, King went on to say, "But [Tabitha] made it clear that she wouldn't stick if I didn't clean up my act... But that was after maybe 20 years."