TV Trivia
Behind-The-Scenes Stories From 'America's Next Top Model' That Prove This Show Is Out Of Control

Updated July 31, 2019
810.9k views
15 items
Since 2003, the beautiful stars of America's Next Top Model have been smizing (smiling with their eyes) and stomping down the runway. That means there are two dozen seasons' worth of juicy stories about America's Next Top Model. From contestants' emotional breakdowns in dishy ANTM behind-the-scenes moments to awful makeovers and feuds with host Tyra Banks, here are buzzworthy behind-the-scenes stories from America's Next Top Model.
Remember that time Tyra told off contestant Tiffany? There's much more to that interaction than we saw on screen. Whatever happened to past champs, like first season winner Adrianne Curry? Well, she claims she didn't get paid for working on the show. Other ANTM secrets include allegations the show doesn't do much to support its winning contestants, even cheating them out of their contracts. Here are a few of the most shocking things you didn't know about America's Next Top Model.
Tyra Said A Lot More To Tiffany Richardson
Tyra Banks famously eliminated contestant Tiffany Richardson by yelling at her, shouting, "We were all rooting for you!" The supermodel claimed Richardson hadn't been taking the competition seriously and made light of all the hard work that went into it, but there was a lot more to the incident and Richardson's circumstances than we actually knew. Banks also uttered some really harsh words we didn't see on TV; Richardson said the confrontation was a thousand times worse than what was broadcast, stating Banks told her, "You can go back to your house and sleep on your mattress on the floor with your baby," in front of everyone.
In a 2017 BuzzFeed article, it became apparent that current contestants are subject to tons of stress. After the judges picked them apart in front of their fellow contestants, the women were sequestered to let the judges deliberate for hours at a time. This whole process was super-taxing, and Richardson felt really out of place in this new reality.
As a result, she said:
"Every time I did something wrong, I'd shut down a little bit more, and it just got to the point where I was over it. I felt like we were just there to be humiliated. It was like, 'What the f*ck [else] could we do to them?'"
Cycle One Winner Adrianne Curry Was Never Paid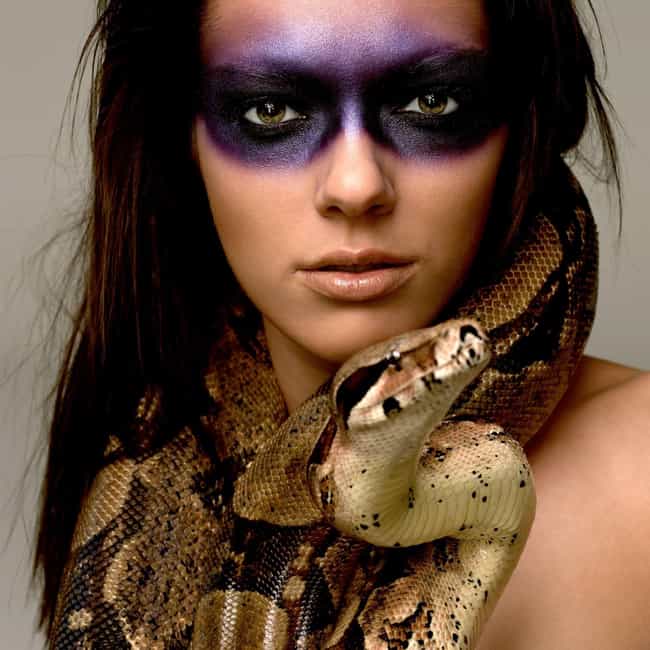 Adrianne Curry won the first season of America's Next Top Model. But the competition didn't live up to its promises, she claimed.
On her blog, Curry wrote. "We were promised a Revlon contract on my season and a contract with wilhelmina [sic]."
She added:
"When I met with Revlon, they informed me they never planned on using the winner, whoever she may be, for any ads. They hired me for 15k to model makeup in a room with 10 execs in it to honor said contract. Wilhelmina then informed me they didnt [sic] want me to be successful in any way to spite top model. They bragged how they'd push Elyse (also signed with them) and not me. I reached out to Tyra and Top Model, desperate to get out of my contract and get advice as I was not being given any castings, etc by an agency that wanted me to fail. CRICKETS. Phone calls ignored."
2009 NYC Auditions Caused A Stampede And Three People Got Arrested
In 2009, auditions for America's Next Top Model caused a near-riot in New York City. Prospective contestants swarmed the studios; one even said she had to pee in a cup and change outside.
A few thousand women were lined up in the street, some even fainting. Someone noticed smoke pouring out of a car and shouted out that there was a bomb. A stamped resulted and people fell over one another, suffocating those underneath them. The cops arrested three people and six were injured.
Season 10 Contestants Caused $500,000 Worth Of Damages To Their NYC Loft
In 2008, ANTM contestants trashed the super-expensive loft they were living in as part of the competition. Located in Tribeca, the apartment was worth $6 million, and the girls caused $500,000 worth of damage. They irreparably damaged a $15,000 chandelier, got ketchup and coffee all over the walls, and ruined the fancy wood floors. The landlord threatened to sue.