Entertainment
Behind-The-Scenes Stories That Will Change The Way You Watch 'Cast Away'

Updated December 2, 2019
436.6k views
16 items
The making of Cast Away reunited two-time Academy Award winning actor Tom Hanks with his Forrest Gump director Robert Zemeckis. The two-year production schedule was not an easy feat for the cast and crew, and resulted in many behind-the-scenes stories that will totally blow you away.
The adventure drama released in 2000 was an incredibly untraditional film, and the fact that it became a Hollywood blockbuster, grossing well over $400 million worldwide, was quite a surprise. Tom Hanks was essentially alone for a majority of the film - unless you count his washed-up buddy, Wilson the volleyball - and he even lost a total of 50 pounds for his role as Chuck Noland. The existential survival epic was nominated for two Academy Awards, including another Best Actor nomination for Hanks.
So, just how much did FedEx pay for all that product placement? Why was production shut down for one year? What was really in that package that Chuck refused to open until he got off the island? Find out the answers to those questions and discover other interesting details about Cast Away below.
back to page 1
There's A Draft Where The Audience Finds Out What Was In The FedEx Box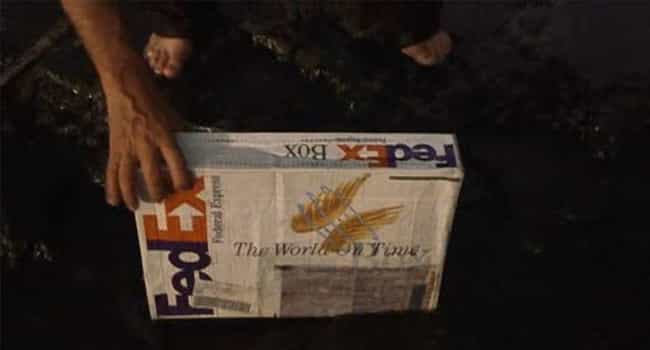 What was inside the one FedEx package that Chuck refused to open during his entire stay on the island? The ending of Cast Away is one of those open-ended, ambiguous conclusions that leaves many spectators pulling their hair out. However, there was at least a brief time when the "what was in the box" question had an answer.
The third draft of the film had a few important differences from the final draft. In this third draft, on his 1,000th day on the island Chuck figures, "what the heck," and opens up the mysterious package with angel wings. What was inside? Two bottles of salsa verde and a note from a woman named Bettina trying to convince her husband to come back home.
Chuck reads the letter:
You said our life was a prison. Dull. Boring. Empty. I can't begin to tell you how much that hurt. I don't want to lose you. I'm enclosing some salsa, the verde you like. Use it on your sticky rice and think of home. Then come home - to me. We'll find the spice in our lives again. Together. I love you. Always. Bettina.
Production Stopped For One Year So Hanks Could Lose Over 50 Pounds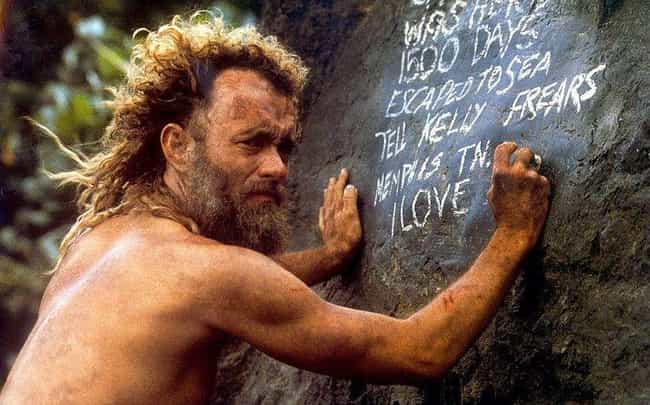 Tom Hanks looks like a different person from the beginning of the movie to the end. The actor even brought his weight down from 225 (Hanks actually put on weight before filming so he would look chubby) to 170 pounds. He also let his hair and beard grow out. In order to make his physical transformation as authentic as possible, the film took off one whole year from production.
"Bob was like 'You know what we can do? If we really wanted to do this right, we'd make the first half of this movie, then take a year off and make the second half," explained Hanks.
Tom Hanks Suffered From A Horrible Infection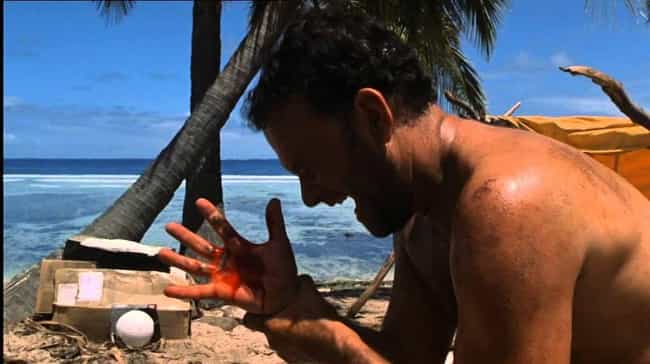 Hanks accidently cut his right leg while shooting a scene for Cast Away on the island of Fiji. He didn't think the cut was a very big deal - that is until he got an infection that could have ended him. Hanks explained,
Just before we left the island, I had this little cut and something got in there... I flew home and, boy, was my leg hurting!
The weekend we were home it swelled up really big so I finally went to the doctor, thinking he was going to clean out my knee and give me some antibiotics, but it turned out I had a staph infection that was close to giving me blood poisoning.
The doctor said to me 'What's the matter with you, you idiot? You could have died from this thing!' And I was like, 'Oh, I don't know.' But they literally had to take out a big chunk of the stuff in my leg.
It was also still highly infectious, so I had to take these super-duper antibiotics which just dried me out so much — and I was in the hospital for three days. Then we had to shut down production for three weeks because the doctors said, 'No way is this kid getting in the water.'
Filming All Alone Every Day Took A Toll On Hanks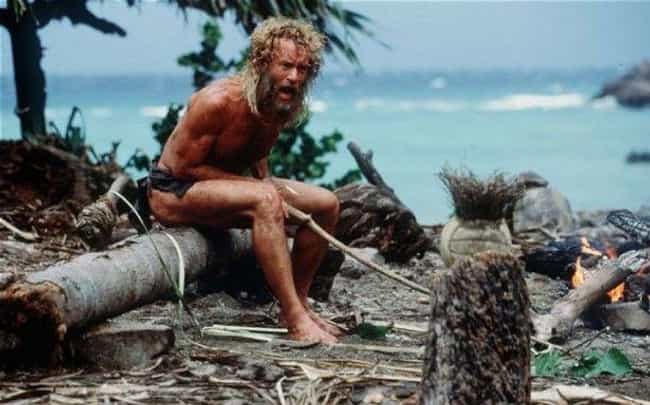 Actors often work by feeding off of each other during a scene, and a lot of acting actually comes from reacting. Keeping that in mind, what was it like for Hanks to film almost an entire movie with no other actors? It may have started out as fun for Hanks, but the isolation definitely took a toll.
He explained, "initially, it was fun. But then it became exhausting, as I had no time away from the camera. Being the sole focus of the film did wear me down after a while."