Food
Behind-The-Scenes Stories From 'The Great British Bake Off' To Make You Love It Even More
Updated April 23, 2018
2.8k views
14 items
At first glance, there's nothing particularly thrilling about The Great British Bake Off. Lacking the flashy lights and complicated gimmicks of most American reality TV and food competition shows, this quiet BBC export — formally licensed as The Great British Baking Show in the US — comes off as more adorable than addicting. Despite first impressions, though, GBBO has gained an enthusiastic following since its premiere season in 2010, first in the UK and, largely thanks to Netflix, all over the world.
The premise is delightfully uncomplicated: a cast of kind, helpful, relentlessly optimistic, amateur bakers meet in a huge tent in the English countryside every weekend, and whoever bakes the best gets to stick around. That's it — and as television fare, it's pretty refreshing.
GBBO is so simple, in fact, that it's easy to feel robbed of the inside scoop. On-set secrets aren't spilling off the pages of tabloids and there are no two-hour finale specials revealing production's inner workings. Nevertheless, people are still hungry for Great British Bake Off stories and have gone digging for those sweet, behind-the-scenes morsels.
Former Host Mary Berry Was Once Arrested On Drug Trafficking Charges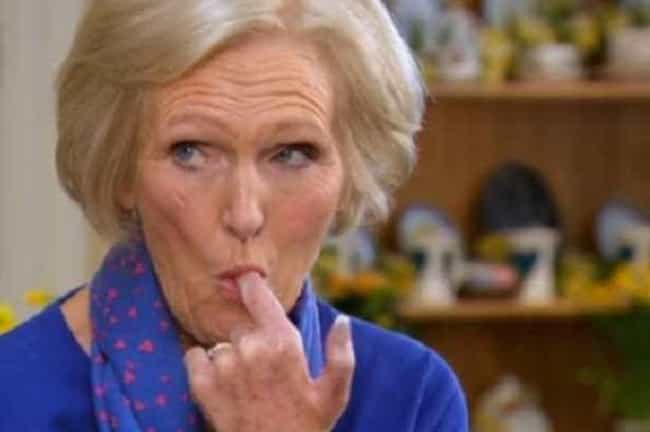 Beloved GBBO former host Mary Berry was once arrested when traveling to the US on charges that she was allegedly trafficking drugs. She was working on Britain's Best Home Cook, a show for the BBC, when airport drug dogs sniffed her out during a trip in the early 1990s. Tuns out Berry was just carrying tools of her trade — baking flour. Lucky for the rest of the hungry television world, she was able to talk her way out of the situation.
Mary Berry And Paul Hollywood Have Been Known To Binge-Watch TV While Contestants Bake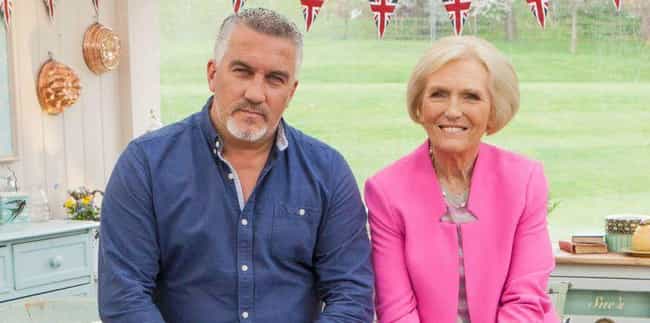 If you ever wondered where original judges Mary Berry and Paul Hollywood spent all that time while contestants hurry around the tent in a constant state of panicked baking, you're probably not the only one. Berry and Hollywood are often shown stopping by bakers' stations, asking them for status updates and seemingly playing mind games about various baking methods — but those baking days are long, and there's no way they're doing that the whole time. Right?
Right. During her season, Frances Quinn said she once saw the judges watching boxed sets of Mad Men with hosts Sue Perkins and Mel Giedroyc while the contestants engaged in a grueling baking session. This is quite possibly the most relatable kind of behind-the-scenes information that anyone could desire.
The Show Has A Food Runner Stationed At A Local Supermarket For Any Last-Minute Grocery Needs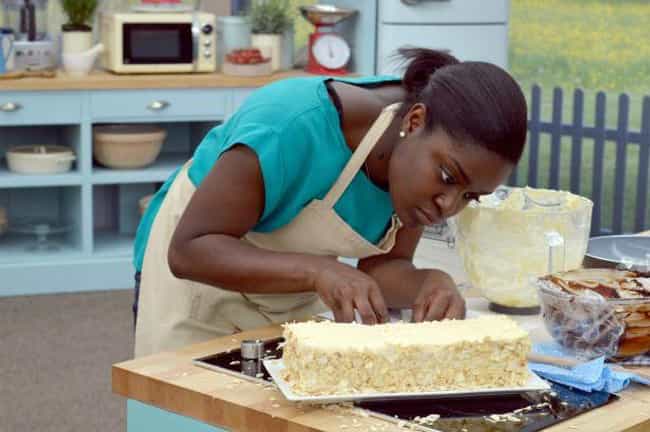 If you've ever found yourself at the edge of your seat during an episode of GBBO, panicked at the sheer possibility that one of your beloved Brits could find him or herself short of a necessary ingredient with just minutes to go until the end of the signature showstopper challenge round, you can take a deep breath. Chief home economist Faenia Moore — whose team is responsible for confirming that all bakers have exactly what they need throughout the competition — runs through each recipe with the contestants before the timer begins. She also has a food runner in place at the closest grocery store in case of any last-minute pantry gaps.
"I can call and say, 'We need more raspberries in 10 minutes — go, go, go!" Moore told BBC Good Food. The food runners who respond to urgent calls like that are the true unsung heroes of GBBO, and you've gotta love them for it.
Show Producers Don't Try To Create Drama
Reality TV skeptics are often cautious to buy into competition shows for fear that plot lines and upsets might really be the brainchildren of showrunners. Not so with GBBO. Technical bake meltdowns and last-minute decorating snafus are 100 percent real — and host Sue Perkins made it her mission to keep it that way from the start.
In a 2015 interview with The Telegraph, Perkins said that she and fellow host Mel Giedroyc actually walked off the set when producers tried to manufacture some light drama in the show's first season. It never happened again. Of the end to the drama, Perkins said:
Maybe they cry because their soufflé collapsed, but nobody's crying because someone's going "Does this mean a lot about your grandmother?" Many of the bakers have sad stories, but guess what? We never touch on any of them.