Celebrity Trivia
"Life Isn't Like A Full House Episode": Jodie Sweetin's Struggle With Fame And Addiction

Updated June 5, 2019
3.2k views
12 items
As Stephanie Tanner, Jodie Sweetin could steal a scene like few child actors before or since. The world knows Jodie Sweetin then and now as one of the breakout stars of Full House (and its Netflix reboot, Fuller House), but privately, the actress has had to battle some pretty significant demons. While her struggles and issues could have easily destroyed her, making her just another name on a long list of troubled and wounded child stars, that's not what happened at all. Sweetin lived to tell her tale, and while the details of her story are disturbing, they are proof positive that recovery - and hope - are always possible.
The Jodie Sweetin biography begins in Los Angeles, where the actress was born in 1982. She started acting just five years later, and the role of Stephanie Tanner became the second job she ever booked. As happens all too often with child actors, she became overly identified with her most famous role, so much so she lost sight of who she was. When Full House ended in 1995, Sweetin's issues began.
Read on for some stories, facts, and things you didn't know about Jodie Sweetin and her remarkable journey back to sobriety, sanity, and success.
She Snorted Meth At An Olsen Twins' Premiere
In 2004, the Olsen Twins were still making movies and not yet the toasts of the fashion world. Sweetin attended the premiere of their movie New York Minute, where she snorted meth in a bathroom stall. She was, in her own words, "high as a kite" as she walked the red carpet for the event. "I was pulling off the deceit. It was hard for people to believe I was doing that much drugs," she said. "I look at photos from that event, and I didn't even look strung out!"
Her Mother Was An Addict And Her Father Was Killed In A Prison Riot
Sweetin had already lived through substantial hardship by the time she landed her Full House role at the age of five. Her biological mother was an addict, and her biological father was eventually killed in a prison riot. She was adopted by an uncle and aunt when still a baby. Sweetin didn't know about any of this until years later, and the discovery was a game-changer. She saw, for the first time, what being an addicted parent can really do to a child.
"When I started seeing my own addiction getting in the way of being a mom, I finally understood: If you're not in the right place to get sober, you're not ready to be a mom," she said.
She Got So Drunk At Candace Cameron's Wedding She Had To Be Escorted Out
When her longtime costar Candace Cameron married Valeri Bure in 1996, Sweetin was in attendance. But after downing multiple bottles of wine, her behavior became erratic. She ended up having to be escorted out of the wedding. At the time, Sweetin was just 14 years old, but her binging would be indicative of the intense type of drinking that would become her habit. "That set the pattern of the kind of drinking that I would do," she said.
She Once Drove Drunk With Her Baby In The Car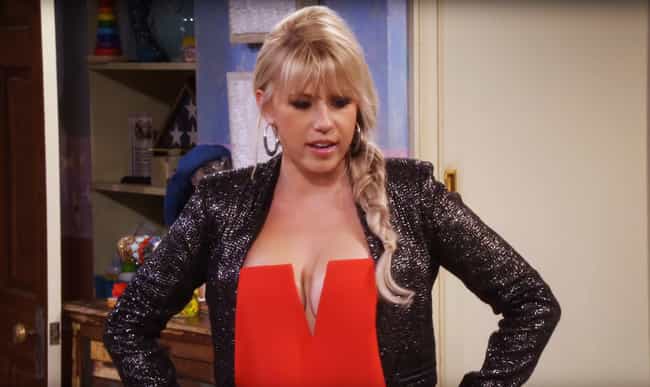 With her drinking spiraling out of control, Sweetin was engaging in riskier and riskier behavior. Sometimes, however, this behavior can be a wakeup call, as it was for Sweetin. "I had two glasses of wine and drove with [my daughter] in the car," she confessed in her memoir. "I not only put myself in danger, but also my daughter, who I loved more than anything. I felt terrible." She considers this chain of events her rock-bottom, the place addicts and alcoholics hit that open their eyes to the reality of their issues.