Culture
Every Secret Ivana Trump Spilled About The Trump Family In Her New Book

4.4k votes
1.1k voters
93.4k views
15 items
List Rules Vote up the wildest revelations about the Trump family.
In Ivana Trump's book Raising Trump, Donald Trump's first wife tells all and shares crazy stories about the Trump family that are sure to make your head turn - because, let's be real, when Ivana Trump tells all, she really tells all. Of course, the crazy stories may not surprise anyone all that much; Ivana is, after all, the woman who insisted she's actually the First Lady on Good Morning America by saying, "I'm basically first Trump wife. Okay? I'm first lady." In that light Ivana and Donald Sr. might have actually been a match made in heaven, as he has said some outlandish things of his own, not the least of which including claiming John McCain isn't a war hero, and who could forget the infamous 'grab her by the p***y' tape?
Raising Trump may reveal some insane things about the childhoods of Ivanka, Donald Jr., and Eric, but it's important to remember that both Donald Sr. and Ivana had interesting childhoods of their own. Donald Sr. reportedly punched his second grade music teacher in the face and Ivana was reportedly an alternate on the Czechoslovak ski team during the 1972 Olympics. So it seems crazy childhoods are just part of the Trump way.
Exactly what craziness unfolded in the Trump Towers? Below are the craziest stories from Ivana's Raising Trump.
According To Ivana, The Children Didn't Grow Up Spoiled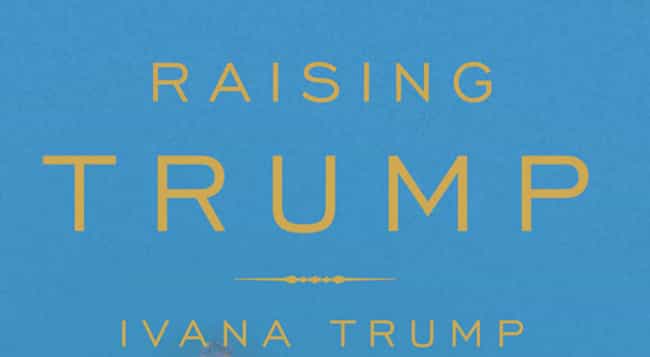 Say what you will, but Ivana does write of the lengths she went to in order to keep the Trump children from growing up to be spoiled. She writes of how she took the children to the south of France every summer, but they had to sit in coach while she sat in first class. When they would ask about it, Ivana would tell them,
"When you can afford it, you can fly first class."
As for allowances, Ivana writes that credit cards were forbidden. For money, the Trump children would work for the family business. Eric cut grass at a Trump golf course and Ivanka worked in a flower shop in the hotel.

Did this surprise you?
The Only Person Invited To Play Dates With The Kids Was Michael Jackson
When it came to play dates, Ivana had some very stern rules about who she let into her home. And oddly enough, the only guest who made the list was… Michael Jackson? Yeah, seriously. As Ivana writes,
"I did discourage play dates at Trump Tower. The triplex was just too huge and lavish…. The only person who had an open invitation to come to the triplex for play dates whenever he wanted was Michael Jackson... They'd watch MTV, play Mario Brothers or Tetris, and build Trump Tower in Legos. Michael was a thirty-year-old kid. He could relate to Ivanka and the boys better than to us."
Donald Jr. And Eric Found Their Nanny Dead In The Basement
Many of us cannot imagine what it's like to be raised in a home that employs a team of people. For the Trump children, there were housekeepers, chefs, security guards, and nannies. According to Ivana, it may be even weirder than we all think. In her book, she tells how Donald Jr. and Eric called her in hysterics while she was out of town. Her two sons had apparently found their nanny unconscious in the basement; in a dark twist it turned out the nanny was actually dead.
It does seem like the staff may have been held to some extremely high standards, however; Ivana recounts one time when Donald Jr. broke his leg because of a "negligent babysitter," even though young boys tend to break things from time to time regardless of who is watching them.
Donald Jr. Was Once Cut Off From The Trump Family
It may seem like the Trumps are a tight knit family these days, but that was not always the case. Ivana even wrote of a time when Donald Jr. was cut off from the family. It seems Donald Jr. took a year off, moved to Aspen, CO, and became a bartender. To show her disapproval for his life choices, Ivana cut him off.
Eventually, being cut off got to ol' Donald Jr., who "gave up" and moved back to New York City to join the Trump Organization.