Weird History
Firsthand Accounts From Nurses Who Served During WWI

Updated August 26, 2019
92k views
14 items
The upheaval of WWI changed the world. From 1914 to 1918, the international conflict caused many challenges throughout Europe; millions perished as a result. Many elements of conflict were unavoidable, and medical tents and hospitals were close to the perimeter to care for hurt soldiers quickly.
WWI nurses witnessed the conflict firsthand. Many of them wrote about their involvement in diaries and letters that, similar to photographs from this time, offer insight into how they were personally impacted. These accounts also include details about fighting, disease, and the hope that nurses and soldiers alike found in their darkest moments.
Nurses Witnessed The Effects Of Gas On The Battlefield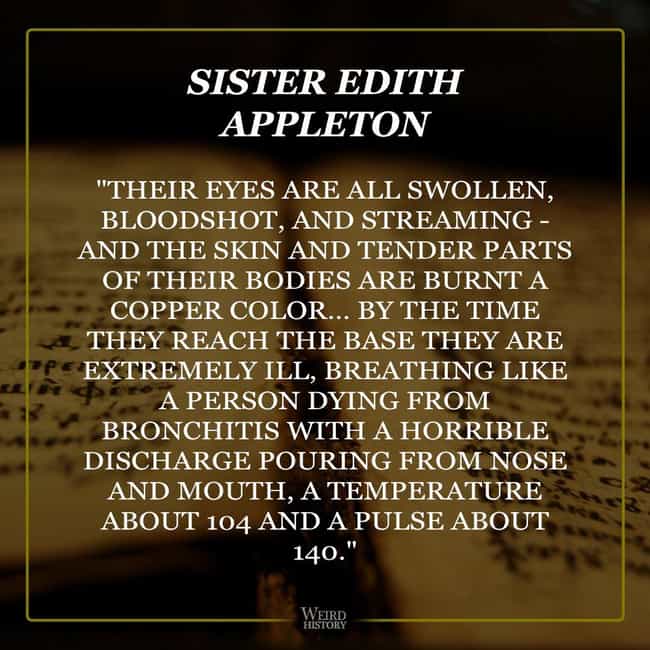 Germany introduced gas as a new form of aggression in 1915. This ushered in a different level of engagement. As gas devices became more commonplace, they were pervasive in the trenches and were among the most feared elements of WWI.
Sister Edith Appleton, a British nurse who served France during WWI, wrote about soldiers stricken by gas and the adverse physical impacts they endured.
Nurses Were Surrounded By Soldiers In Extreme Discomfort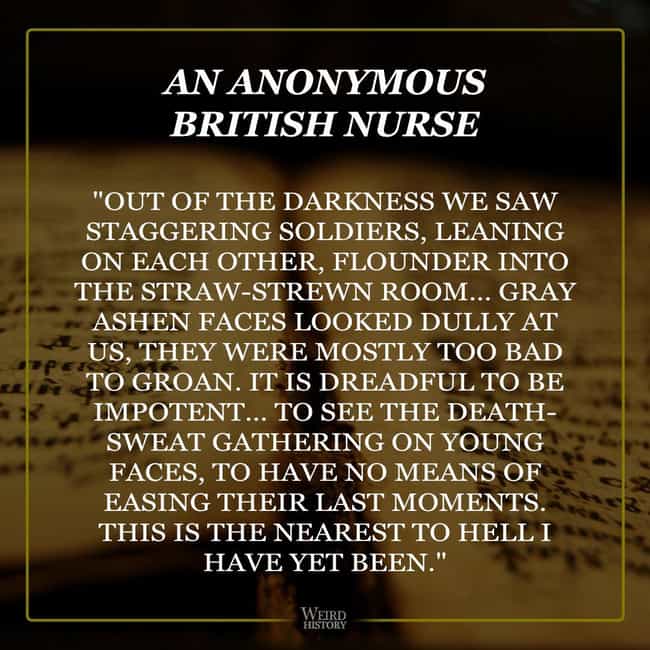 Margaret Trevenen Arnold worked as a volunteer British Red Cross nurse in France in 1915. She kept a diary of her time at Le Tréport and described "groans, and moans, and shouts, and half-dazed mutterings, and men with trephined heads suddenly sitting bolt upright... It was awful, and I really know now what [conflict] means."
An anonymous British nurse working at a field hospital in Belgium recalled caring for soldiers in a ramshackle cottage where quiet soldiers were too afflicted to make a sound.
Nurses Went To Great Lengths To Care For Patients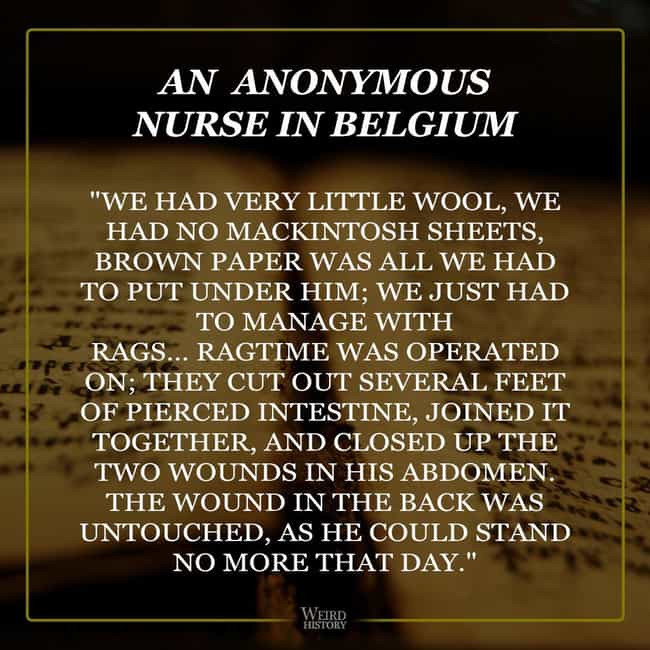 An anonymous nurse in Belgium recounted her experiences with a soldier named "Ragtime," a man she treated. Ragtime sustained a wound on his back and a broken arm. Initially, nurses changed his bandages every two hours and rolled him often to keep him comfortable before he received surgical intervention.
Nurses Struggled To Keep Dressings Clean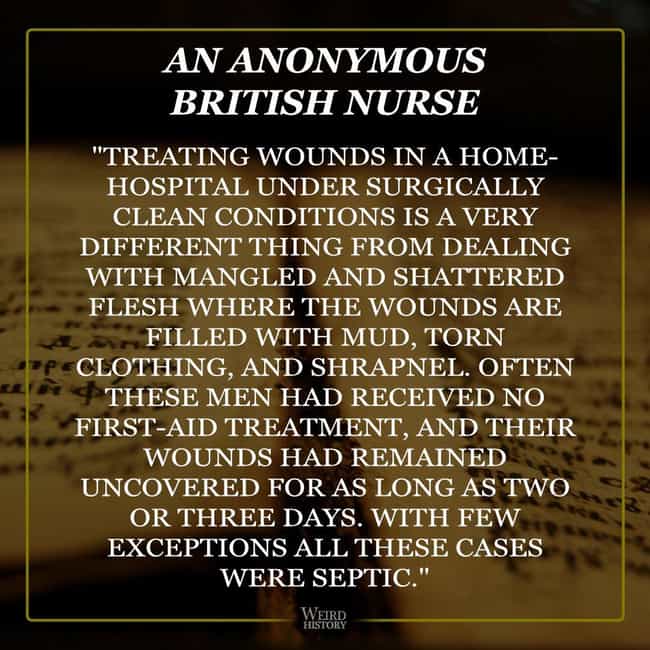 An anonymous British nurse serving in Belgium endured a siege at the Fort of Walaem and described the difficulty nurses faced when it came to clean water and sterile surroundings.