Weird Nature The Story Of Winter The Dolphin And Her Prosthetic Tail

The story of Winter the dolphin is one of the most inspiring tales in dolphin history. While dolphins are a beloved ocean mammal, there's no dolphin more admired than Winter. She is more than just a cheerful marine mammal - the amazing story of Winter the dolphin is some seriously heavy and inspirational stuff.
When Winter was only two months old, she was found tangled up in a crab trap off the coast of Florida. After a difficult rescue, she was brought to the Clearwater Marine Aquarium for medical treatment. The trap cut off circulation to her tail, which unfortunately resulted in her tail's destruction. She was re-homed at the CMA, and became the first recipient of a prosthetic tail.
Winter quickly became its most beloved mammalian attraction. Her popularity soared even higher when she starred in a 2011 film called Dolphin Tale. Of course, Winter isn't just popular - she's an inspiration to people with disabilities who see themselves in her. Whether you're a lover of dolphins in general, or just want to know more about Winter's survival story, keep reading to learn more about one of most amazing dolphins in the world.
She Survived Incredible Odds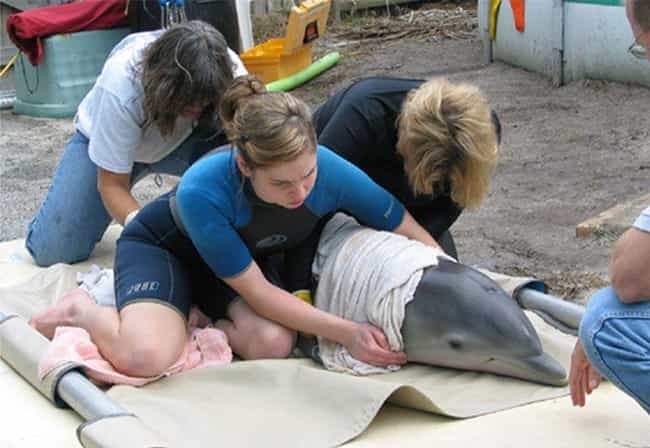 The fact that Winter is alive at all is nothing short of a miracle. Her incredible story began in 2005 when she was born. In December of that year - when Winter was only two months old - she got caught in a crab trap in the Atlantic Ocean near Cape Canaveral, FL. She was spotted by a small fishing boat, who called a team of SeaWorld rescuers. Together, with help from the Harbor Branch Oceanographic Institute, they freed Winter and brought her to the Clearwater Marine Aquarium.
Many dolphins who are caught in crab traps die before rescuers have a chance to find them at all. Those who are found often don't survive despite efforts to save them. While veterinarians at the Clearwater Marine Aquarium were unable to save Winter's tail, they did manage to save her life. The lines from the trap cut off circulation to her tail, which essentially made it a dead limb.
To everyone's astonishment, Winter made a full recovery. Today, she's a healthy, energetic dolphin who swims, plays, and gobbles up 12 lbs of fish per day.
The Technology Behind Winter's Tail Is Amazing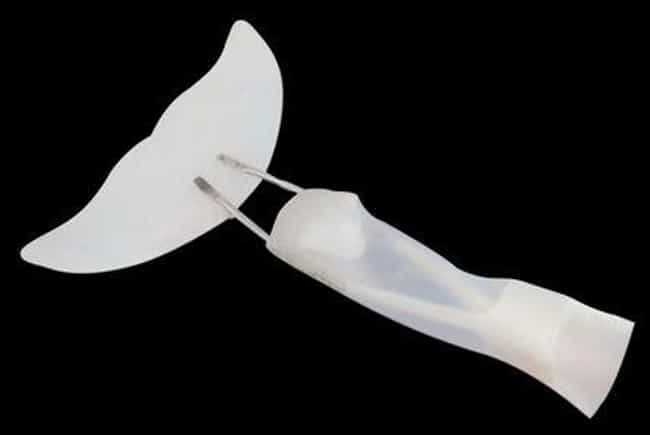 As a result of her injuries, Winter lost her tail fluke and joint. Attached to the muscular part of the dolphin called the penduncle, the fluke is critical for the standard up-and-down movement that dolphins use to swim. Winter compensated for the loss of her fluke by learning to swim side-to-side like a shark.
That's where Winter's prosthetic tail comes in. Created by Hanger Prosthetics and Orthotics, Inc., and Dr. Mike Walsh, the marine mammal veterinarian at CMA, this prosthetic encourages Winter to strengthen her penduncle and swim in a normal up-and-down fashion. Kevin Carroll, the vice president of Hangar, heard the story of winter and wanted to help the animal. But designing the one-of-a-kind prosthetic wasn't easy. It took 18 months to develop the tail for Winter. Carroll and Dan Strzempka worked on their time off trying to get the tail just right, and for it to firmly stay on the fast-moving dolphin.
Winter is the first dolphin to be fitted for a tail prosthetic. As a result, there are still some bugs to work out. The team at CMA are constantly researching and modifying Winter's tail as needed. This not only keeps Winter happy and comfortable, but it also helps the team learn more about adapting prosthetics to all kinds of different circumstances. They even managed to create a new gel material - called WinterGel Prosthetic Liners - that are used for animal and human prosthetics.
Winter Is An Inspiration To Many Disabled People, And Even Her Trainer
One of the things that makes Winter so special is her impact on the disabled people who identify with her. The challenges that Winter had to overcome as a result of her disabilities remind many disabled people of their own challenges, and inspire them to continue pursuing their dreams despite them. As Braedon Monthony, a seven-year-old boy who lost his legs to a viral infection says, "She's just like me!"
Winter struggled a lot before learning to swim with her prosthetic tail. Her trainer, Abby Stone, said she had to hold her and feed her bottled goat milk because she was too weak to swim. At the time of Winter's rescue, Stone was going through a rough time herself. Her ex-husband, marine biologist Brett Stone, was suffering from severe alcoholism, and was in and out of the hospital. She filed for divorce in 2009, and kept working with Winter. She said her time with the dolphin helped her heal from the hard times in her life. Shortly before the premiere of Dolphin Tale, Brett Stone died from complications of alcohol abuse.
Working with Winter helped her get through the pain - seeing the dolphin's strength gave her a strength of her own.
She Has A Companion Named Hope
Winter isn't the only dolphin living at the Clearwater Marine Aquarium. There's also Hope, Winter's young companion. Like Winter, Hope's early life wasn't what you'd call easy. Her mother died in 2010, when she was about three months old. When she was found, she was trying unsuccessfully to nurse from her mother's corpse. Because she wasn't getting any milk, she was severely dehydrated and weighed only 58 pounds. Though she made a full recovery with help from the CMA, she could not be returned to the wild because her mother died before she could teach her necessary survival skills. Instead, Hope lives at the CMA with Winter.