Weird Nature The True Story Of Wojtek - The Bear That Served In The Polish Military

In 1942, a band of Polish soldiers freshly released from prisons and work camps stumbled upon an unlikely mascot when they traded goods for a Syrian brown bear cub. Drawn to his friendly demeanor and his outspoken antics, the Polish troops who adopted the young cub came to think of him as one of their own. As the war progressed and the men strode into combat, the cub who would grow up to become Wojtek the military bear was right by their side.
Like a handful of other noble animal mascots, Wojtek the Polish warrior made a name for himself by raising the troops's spirits and serving valiantly in the thick of battle. The Polish military bear distinguished himself further by becoming an official part of the Polish military.
Throughout his entire life, Wojtek worked diligently to improve the lives of those around him, doing his duty and enjoying life to its fullest. Here is the story of Wojtek, the bear who went to war.
Wojtek's Mother Was Killed By Hunters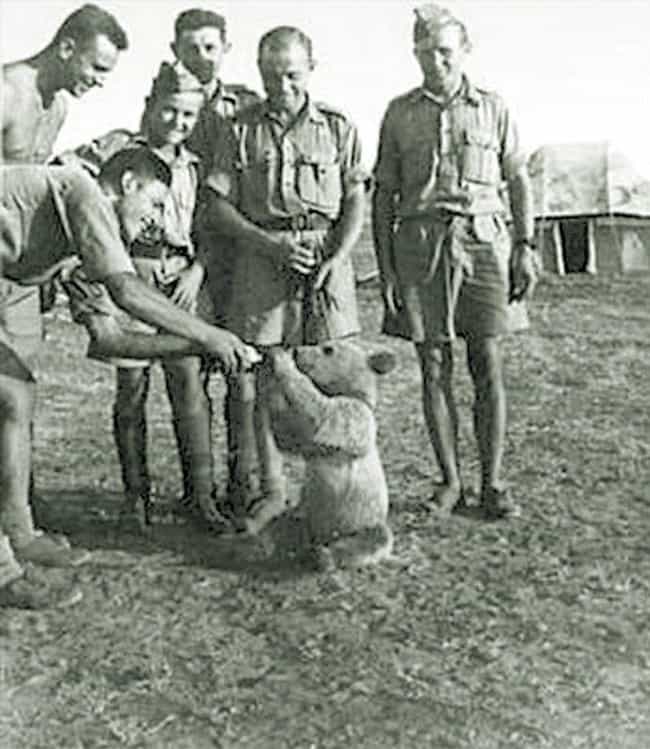 In 1939, while the German Army was claiming the front lines in Poland, the Soviets were launching their own attack on Poland in order to expand their territory. As a result of the invasion, more than 400,000 Polish prisoners were sent to work camps in Siberia. Three years later, when Hitler turned his attention to Russia, Stalin was forced to release those same Polish prisoners and recruit them into the fight.
As these new troops moved out of Siberia and into Iran, they happened upon a young shepherd who had been keeping a Syrian brown bear cub in a sack. The bear, it turns out, had been orphaned after hunters killed his mother. The Polish troops were quick to trade for the bear and take him along with them. He was named Wojtek - pronounced Voy-Tek - meaning "joyful soldier."
Wojtek Was Raised On A Bottle Before Moving On To, Well, Everything Else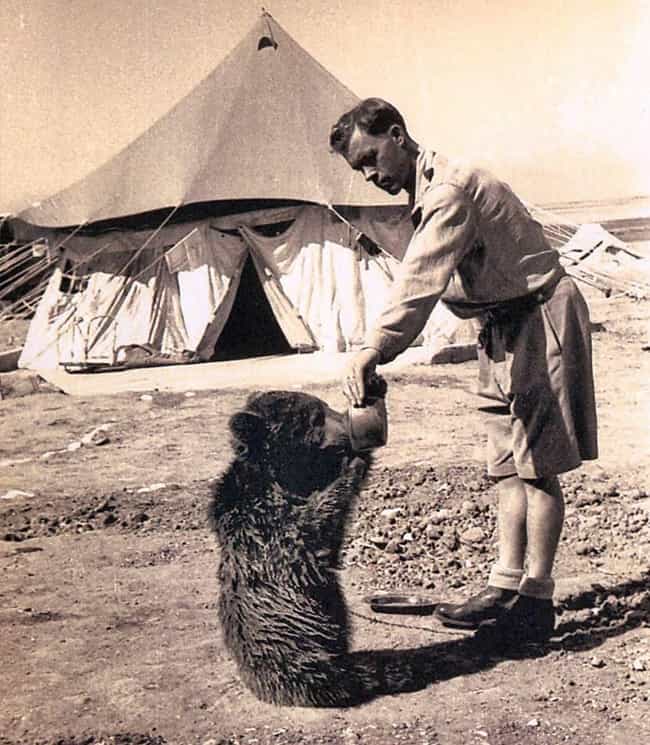 When he was originally adopted by the Polish troops, Wojtek was fed from a bottle filled with condensed milk. By and large, the responsibility of caring for the brown bear cub fell on two men - Dymitr Szawlugo and Henryk Zacharewicz. Henryk, in particular, formed a close attachment to the bear and can be seen in a majority of the films and pictures of Wojtek.
As Wojtek grew, his tastes developed to include basically anything that was fed to him. And the larger Wojtek got, the more often he would be found roaming around the camp's kitchen area.
There Was Always Time For Leisure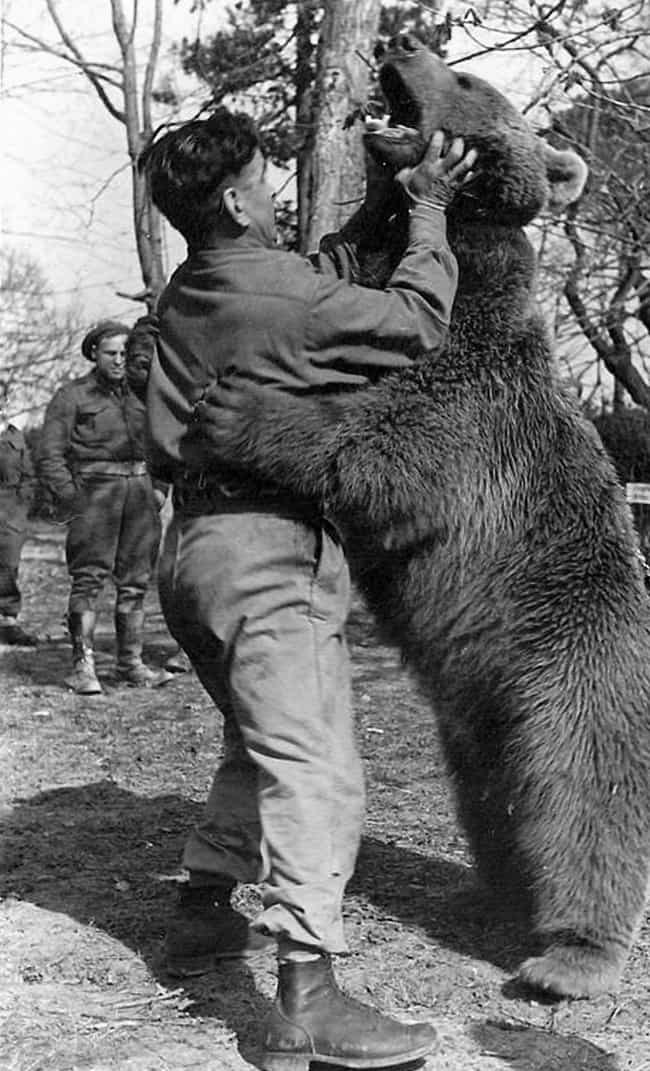 In the rare moments when his military family wasn't packing, moving, fighting, or working, Wojtek was a constant source of entertainment. Sure, he would throw back a few beers like one of the boys, but as he grew larger (and larger), Wojtek became really drawn to wrestling.
The brown bear loved to roughhouse with the men, though it was a rare soldier who was brave enough to actually tussle with Wojtek. Though none of the men ever got seriously injured, it was common for a wrestling match with the bear to end with someone getting scratched or some clothes getting torn. Perhaps that's why most of the men preferred to watch from the sidelines.
Wojtek Was A Drinker And A Smoker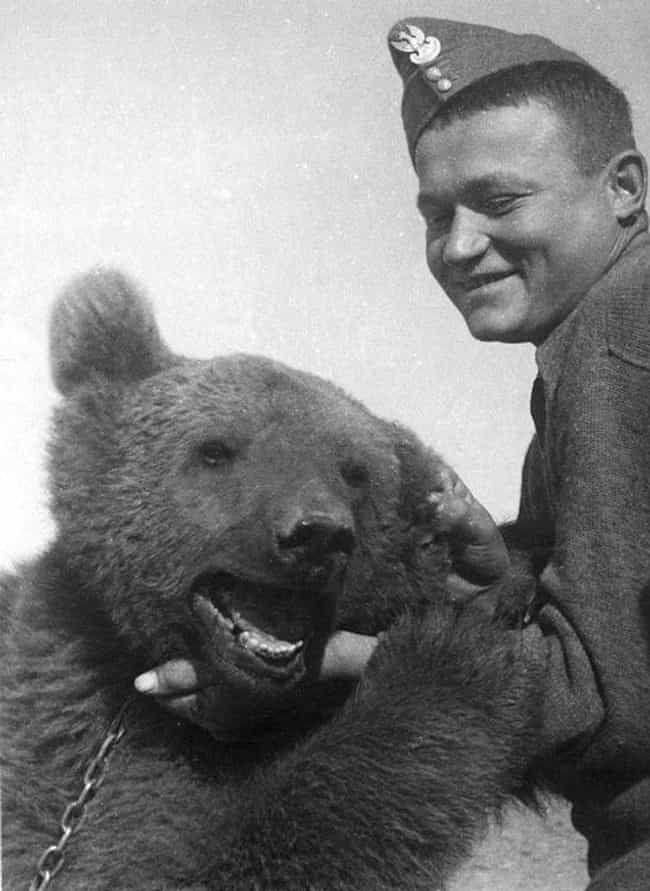 Being raised by a group of drinkers and carousers, Wojtek adopted same of those same habits as he grew. He had his own mug that was routinely filled with beer and wine and, when it was empty, Wojtek would look mournfully at the cup until it was refilled.
He also begged for cigarettes, though he always insisted that someone else light them before he would accept. Typically, Wojtek would take one puff on a smoke and then swallow it whole.