Culture

Famous Surrealism Paintings

List of famous Surrealism paintings, listed alphabetically with pictures of the art when available. The Surrealism period was a cultural awakening in the art world, so it's no surprise it produced some of the most historic paintings in the history of the world. The works of art listed below are some of the most popular Surrealism paintings, so most of the artist's names who created these works will be very recognizable. Renowned paintings from the Surrealism period are showcased in museums all around the world, so save yourself an expensive vacation by simply scrolling through this list.
Everything from Morphological Echo to The Wood is included on this list of surrealistic paintings. Featuring works from Dali and other surrealist artists, this list has it all.
This list answers the questions, "What are the most famous Surrealism paintings?" and "What are
examples of Surrealism paintings
?"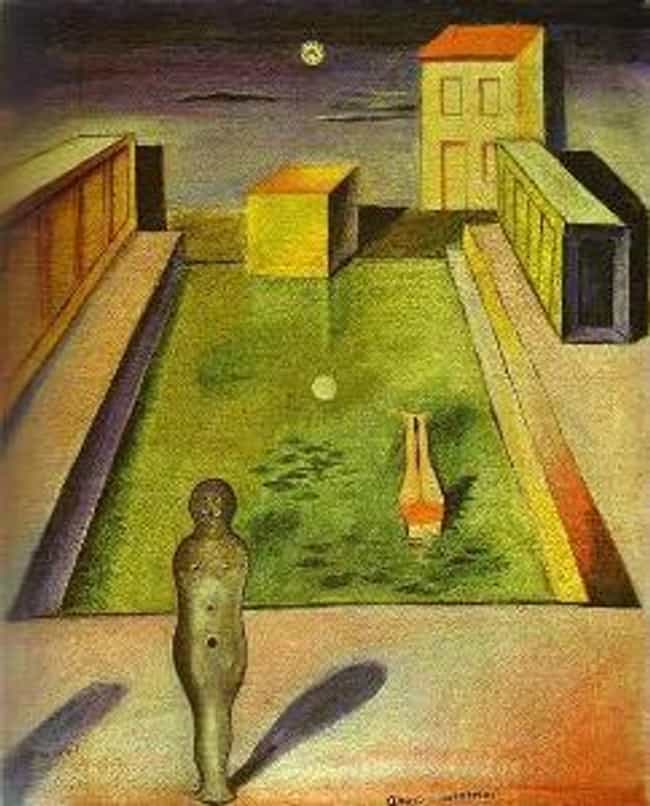 Aquis Submersus is a painting by the German dadaist and surrealist Max Ernst created in 1919. Influenced by the Italian metaphysical art it is one of Ernst's earliest works showing surrealistical accents. It currently resides at the Städel museum in Frankfurt, Germany. The painting depicts a swimming pool surrounded by buildings. The sense of dimension is unclear. The features of the buildings appear to be hand-drawn. The buildings leave shadows against the sky like a wall. Hanging in the sky is a clock that reflects on the water as a moon. In the pool, the picture shows a possibly female or childish body in an upside-down position with only the waist and legs above the water level. The ...more on Wikipedia
Artist: Max Ernst
Art Form: Painting
Period / Movement: Surrealism
see more on Aquis Submersus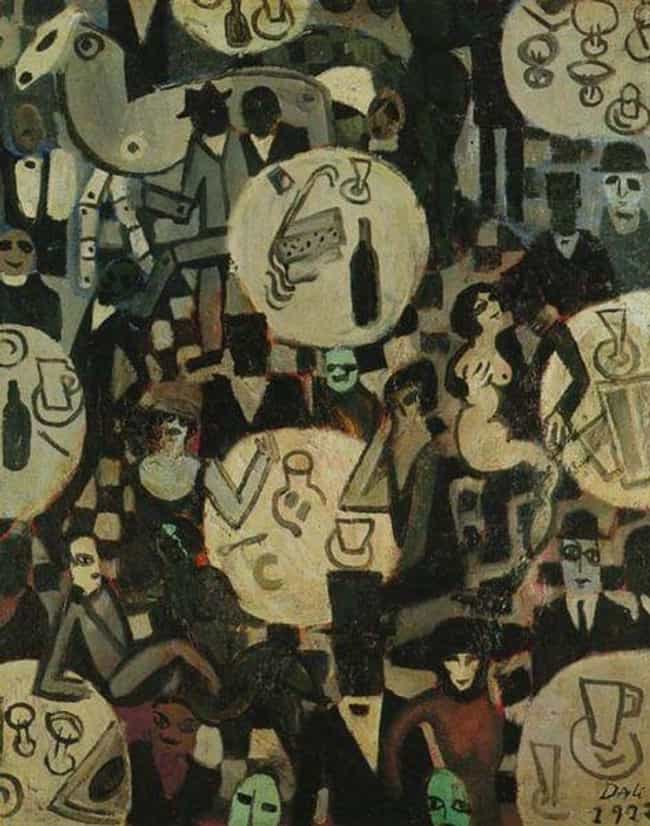 Cabaret Scene is a painting by the Spanish surrealist Salvador Dalí. This was a unique cubist experiment that came between Dalí's early impressionist work and the classic surrealist technique he would later develop. ...more on Wikipedia
Artist: Salvador Dalí
Art Form: Painting
Period / Movement: Surrealism
see more on Cabaret Scene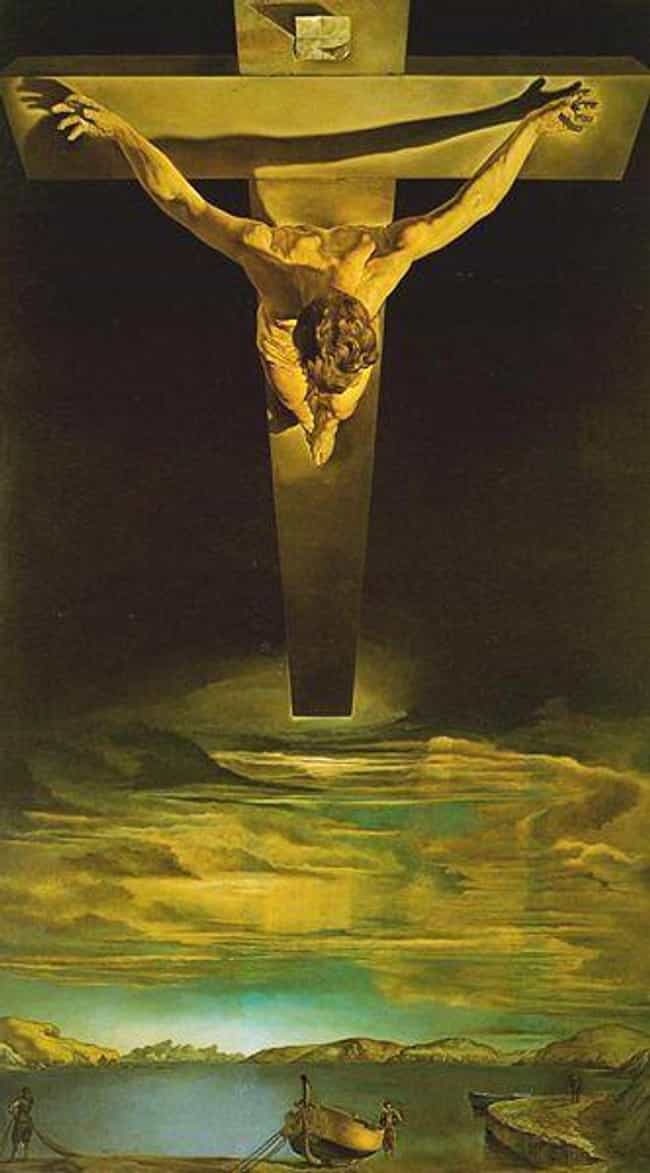 Christ of Saint John of the Cross is a painting by Salvador Dalí made in 1951. It depicts Jesus Christ on the cross in a darkened sky floating over a body of water complete with a boat and fishermen. Although it is a depiction of the crucifixion, it is devoid of nails, blood, and a crown of thorns, because, according to Dalí, he was convinced by a dream that these features would mar his depiction of Christ. Also in a dream, the importance of depicting Christ in the extreme angle evident in the painting was revealed to him. ...more on Wikipedia
Artist: Salvador Dalí
Art Form: Painting
Period / Movement: Surrealism
see more on Christ of Saint John of the Cross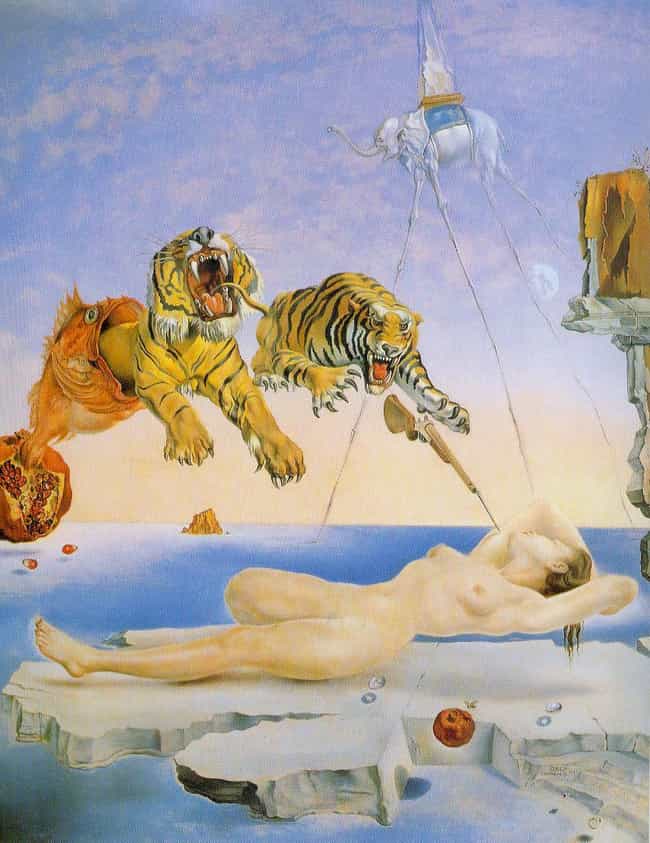 Dream Caused by the Flight of a Bee Around a Pomegranate a Second Before Awakening is a surrealist painting by Salvador Dalí. A short, alternate title for the painting is Dream Caused by the Flight of a Bee. It was painted in 1944, while Dalí and his wife, Gala, were living in America. ...more on Wikipedia
Artist: Salvador Dalí
Art Form: Painting
Period / Movement: Surrealism
see more on Dream Caused by the Flight of a Bee Around a Pomegranate a Second Before Awakening