VOTE
15 Of Wes Anderson's Most Symmetrical Shots That'll Soothe Symmetry Lovers

623 votes
226 voters
8.7k views
15 items
List Rules Vote up the most symmetrical and satisfying shots from Wes Anderson's oeuvre. (All shots included are symmetrical or nearly so, not just center-framed.)
The cinema of Wes Anderson, Prince of Quirk, one of the great American auteurs of the early 21st century, can be easily clocked thanks a few oft-repeated hallmarks. These stylistic touchstones all overlap in some way; cinematography in Wes Anderson films, for instance, would be nothing without the production design and costumes that define the images. Common stylistic elements in Anderson's films include carefully selected color palettes, '70s clothes, Bill Murray, monosyllabic dialogue, Bill Murray, eclectic retro-pop soundtracks, and Bill Murray.
But there's more at play in Anderson's films than Bill Murray in a beanie and Captain Birdseye beard and playing Portuguese covers of David Bowie songs. One of the most distinctive elements of Wes Anderson's visual style is something you may not have noticed, but see everywhere once you pick up on it: the use of symmetry.
Some of the best Wes Anderson shots are perfectly symmetrical, others nearly so. What's the big deal with symmetrical movie shots? Kubrick used them a lot, if that gives you any indication of their distinct and visually appealing nature. For his part, Wes Anderson goes to great, very meticulous lengths to achieve symmetry. So, which of all his symmetrical shots is the most symmetrically satisfying? Take a look at the contenders.
The Grand Budapest Hotel / The Grand Budapest Hotel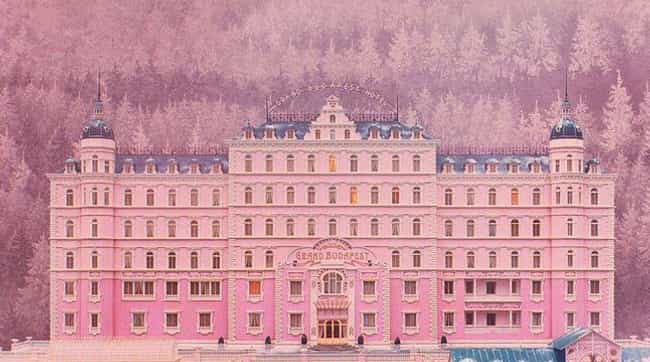 The Grand Budapest Hotel is Anderson's biggest success to date, raking in a grand $174.8 million worldwide, scoring the director his first box office number one in the UK. It was also showered with accolades and award nominations, including nine Oscar noms. Nice one, Wes.
All this buzz could be seen as recognition of the 2014 black comedy being the most 'Wes Anderson-y' of all his films to date, for better or worse.
This wide shot of the titular hotel represents how far Anderson will go in his pursuit of symmetrical perfection. After all, the hotel doesn't really exist. Not functionally, anyway. It's a miniature, standing at a not-so-tiny 9 feet tall and 14 feet wide. Because it was Anderson's creation, rather than a scouted location, the director and his design team had full creative control over its impressive symmetry.
The confectionery colors evoke the lost glamor, charm, and sophistication central to the film's thematic landscape, and are quite soothing to the eye. Thus they compliment the naturally appealing symmetry of the shot.

Agree or disagree?
M. Gustave In Prison / The Grand Budapest Hotel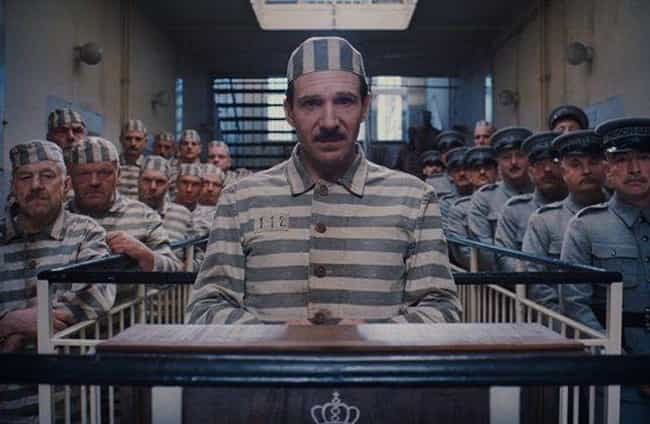 You'd think a gentile gentleman of the upper-crust like Gustave would have a tougher time than most in a prison filled with hardened thugs. You'd be wrong. Not long after his arrival, the Grand Budapest's concierge earns serious street cred by "beating the living sh*t" out of a fellow inmate for questioning his manhood.
After earning respect, Gustave and a group of prisoners plot their escape with the aid of stone-working tools smuggled into the prison by Zero inside Agatha's cakes.
In this shot, Gustave holds himself with his typical cool composure, despite his situation, with uniformed inmates and guards fanned out on either side of him. The repetition of bodies, coupled with the symmetry of the shot, is disconcerting, but achieves new levels of visual satisfaction.

Agree or disagree?
Suzy At The Lighthouse / Moonrise Kingdom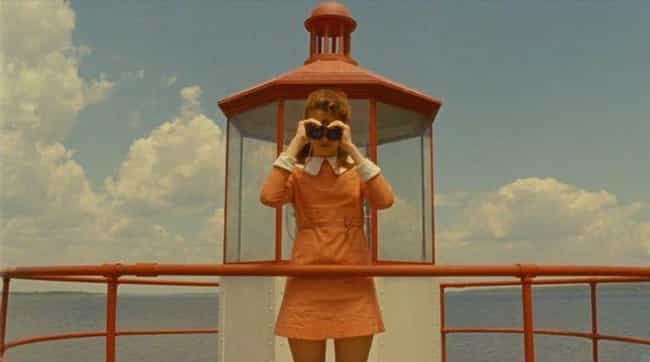 Released in 2012, Moonrise Kingdom is a typically eccentric take on the classic coming-of-age story, with some pre-teen summer romance thrown in for good measure.
In this symmetrically satisfying shot, 12-year-old Suzy stands perched at the top of a lighthouse, gaze firmly fixed down the lenses of her signature binoculars, which she claims, "helps me see things closer. Even if they're not very far away. I pretend it's my magic power." She watches the audience as the audience watchers her, confrontational.
Everything about this is perfectly balanced, right? The center-framing is exact, the color palette is minimal (blues, oranges, browns, whites), the subtle de-saturation evokes warm, hazy feelings of nostalgia for childhood memories of school-free summers, and - of course - the symmetry is clear right away. Simple, but it sure is effective.

Agree or disagree?
Mr. Fox And The Wolf / Fantastic Mr. Fox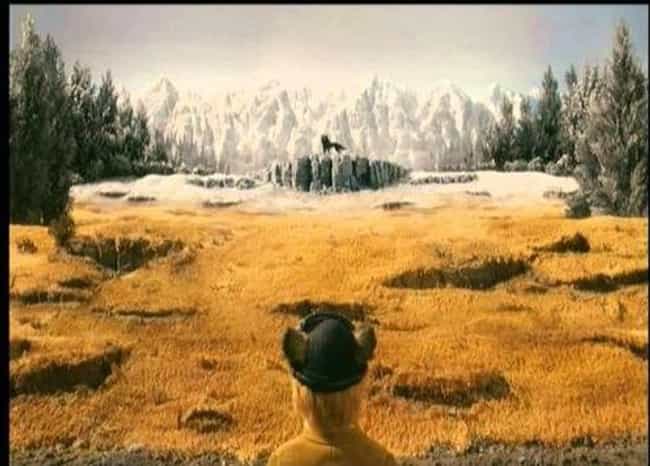 Adapted from the classic children's story of the same name by Roald Dahl, Fantastic Mr. Fox (2009) is Anderson's first stop-motion animation feature, though not his first foray in the medium. Many scenes in The Life Aquatic With Steve Zissou use stop-motion, including those with the Jaguar Shark - the largest stop-motion puppet ever created, at a monstrous three meters (about 10 feet) long.
For Fantastic Mr. Fox, Anderson collaborated with legendary stop-motion animator and director Henry Selick (The Nightmare Before Christmas and Coraline), who was responsible for all the aforementioned stop-motion wizardry in The Life Aquatic.
Anderson, typically attentive to detail, was keen to use "real trees and real sand" in miniature landscapes like the one in this shot. In this convincingly naturalistic setting, the center-framed symmetry Anderson loves reminds us that what we're watching is staged. The composition directs our eyes right at the center of the frame (the vanishing point) - to the shadowy figure of the Wolf, hence the visually satisfying nature of the shot.
Agree or disagree?