Watchworthy
Memorable T-Bone Car Crash Scenes In Movies, Ranked

Updated November 27, 2019
113 votes
29 voters
13 items
List Rules Vote up the onscreen accidents that show why you should always look left, then right, then left again before entering an intersection.
We all love a good, old-fashioned film cliche - don't we? There's something sort of comforting when an oft-used trope comes across your screen. Put on a Marvel movie and you're sure to see a "superhero landing." Pop in the latest slasher flick and you know you'll get the old "jump scare, then a fake jump scare, right back into another jump scare" routine. Hit up Netflix for another rom-com and you'll surely see a big, romantic speech at the end of the third act.
One popular film cliche is that of the "surprise T-bone" car crash. You know what we're talking about: Our characters are simply driving along, going about their business, and then BANG! A horrific jumble of bent metal and glass shards fills the frame. This trope is usually used for dramatic effect in "serious" movies - because car collisions are inherently devastating and not funny - but it has also found its way into more comedic films, as well, such as The Hangover .
Vote up your favorite scenes in which cars are completely T-boned out of nowhere for dramatic effect. And seeing as these collisions tend to happen during key moments in films, there will be spoilers!
Data-driven recommendations based on voting from over 40 million monthly visits to Ranker.
Try the free app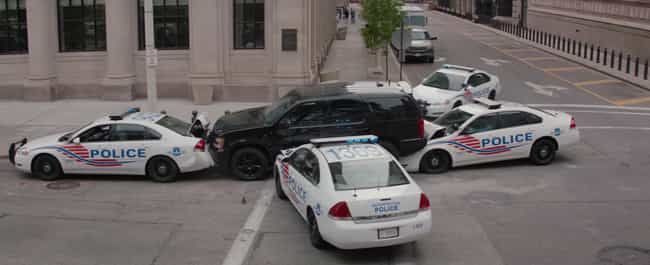 Where would the Marvel Cinematic Universe be without Captain America: The Winter Soldier? The 2014 film brought Joe and Anthony Russo into the fold, setting them up to helm Avengers: Infinity War and Avengers: Endgame, while providing Marvel Studios with some seriously awesome fight scenes. The movies also changed the status quo for both Nick Fury and S.H.I.E.L.D.
Before Fury fakes his demise and goes into hiding, he is besieged by disguised Hydra agents in a memorable moment that starts off with a T-bone crash. This is one of the least realistic accidents on this list -- comic book movies, y'all -- but is definitely fun to watch.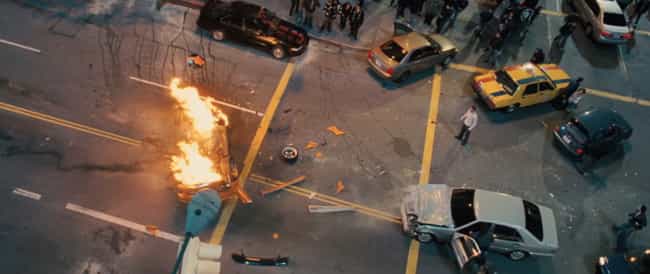 The Fast and the Furious timeline is an interesting beast to try to tame. Even though The Fast and the Furious: Tokyo Drift is the third film in the franchise, it is not third in the series' chronology because fan-favorite character Han is brought back for Fast Five and Fast & Furious 6, even though he perishes in a fiery blaze in Tokyo Drift.
During a chase scene, Han crashes while racing through an intersection, and mere seconds later, his car is engulfed in flames with Han trapped inside. This scene has since been retconned so that Jason Statham's Deckard Shaw is responsible for Han's demise, which poses a bizarre conundrum for Fast and Furious fans, as Shaw is now headlining movies in the franchise.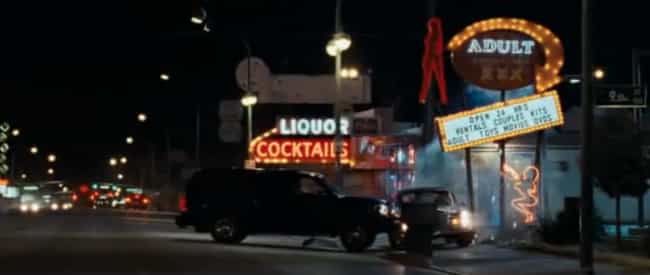 Remember when ultimate Hollywood bro Todd Phillips was making frat-boy comedies like Old School and The Hangover instead of lamenting the current state of comedy in America and arguing the importance of Joker ? Those were the days... kind of.
Like everything in The Hangover, this collision is played for laughs as the film's trio of stars (Bradley Cooper, Zach Galifianakis, and Ed Helms) is T-boned into an adult film store's sign by Ken Jeong's car. Despite the set up, the impact is visceral and unexpected, especially for a comedy movie.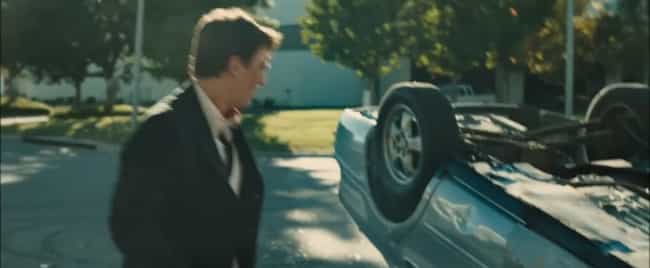 We all should've seen this one coming based on the film's title, huh? When Whiplash came out in 2014, it was met with immediate acclaim and went on to win three Academy Awards, which really ain't too shabby. It is an intense film about passion, ambition, and misuse of power that ratchets up the tension repeatedly throughout its 106-minute runtime.
This tension is brought to a metaphorical head when main character Andrew is T-boned in a rental car on his way to a performance. The impact is tremendous, but nothing compares to the crash that follows when Andrew attempts to perform, battered and bloodied, only to fail despite his best efforts.