film

Taken 3 Movie Quotes

18 votes
17 voters
7.3k views
7 items
Follow
Embed
"Taken 3" movie quotes bring the action film series back for a third and final installment. Written by Luc Besson and Robert Mark Kamen, the thriller was directed by Oliver Megaton. Closing out the "Taken" trilogy, "Taken 3," sometimes stylized as "Tak3n," opened in theaters on January 9, 2015.
In "Taken 3," Bryan Mills (Liam Neeson) reconciles with ex-wife Lenny (Famke Janssen). But just after they reunite, Lenny is murdered and the authorities suspect that Bryan is responsible. Bryan escapes the police but knows that they will be looking for him and his only loved one left, daughter Kim (Maggie Grace).
So Bryan flees, partly to keep Kim safe and also to find the true murderer responsible for Lenny's death. As if this isn't a big enough task to undertake, Bryan also must run from Inspector Franck Dotzler (Forest Whitaker), who has made it his mission to bring Bryan to justice for the murder.
"Taken 3" opens the new year with a bang and joins other great films in theaters such as
"Predestination,"
"A Most Violent Year,"
"The Interview,"
"Unbroken,"
"American Sniper,"
"Into the Woods,"
"Big Eyes,"
"The Gambler,"
"The Hobbit: The Battle of the Five Armies,"
"Annie,"
"Night at the Museum: Secret of the Tomb,"
"Mr. Turner,"
"Life Partners,"
"Comet,"
"The Hunger Games: Mockingjay Part 1,"
and
"Horrible Bosses 2.
Lenny Mills: "Hey"
Bryan Mills: "Lenny, good to see you"
Lenny Mills: "You too… Kim's doing okay?"
Bryan Mills: "Yeah, it seems like the usual Kim"
…
Bryan Mills: "Lenny? Lenny?"
Police Officer: "Sir, back away now!"
Bryan Mills: "I didn't do this."
Police Officer: "Put your hands up now!"
Bryan reconciles with ex-wife Lenny, only to find her murdered just a short time later. When police arrive, it looks as though Bryan is responsible for the crime but using his particular set of skills, he escapes.
He Knows How to Disappear
Inspector Franck Dotzler: "At 21, he joins the Army. At 23, he joins the Special Forces. He's a trained sniper, an explosives expert. No service record, no discharge record, nothing. This guy right here, he knows how to disappear."
Inspector Dotzler briefs his team on Bryan's background. He needs his team to be prepared for the battle ahead knowing that Bryan is way more skilled than the average suspect.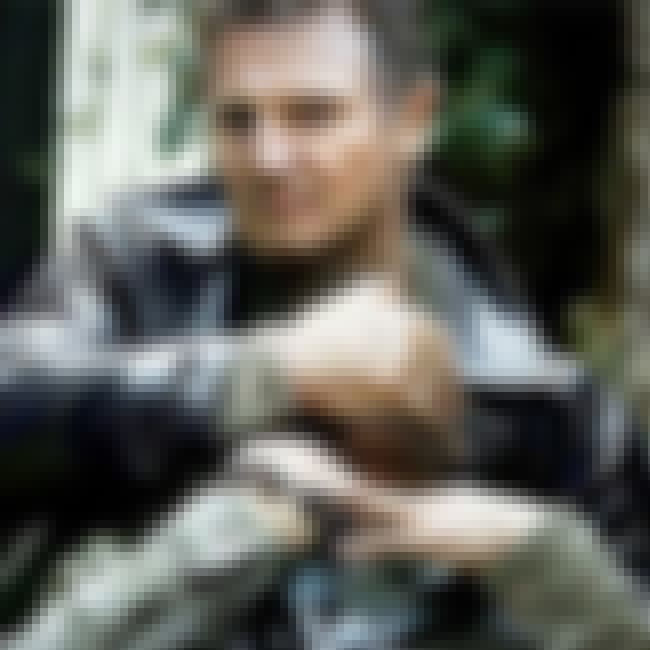 Bryan Mills: "What's your first priority here, inspector?"
Inspector Franck Dotzler: "My job is to bring you in."
Bryan Mills: "My first priority is to protect the only one I have left."
Inspector Franck Dotzler: "If you go down this road, the LAPD, the FBI, the CIA, they're all going to come for you. They'll find you and they'll stop you."
The priorities of Bryan and Inspector Dotzler are quite different. Bryan wants to protect his family, regardless of the consequences, while Dotzler wants to bring Bryan in for the murder of his ex-wife. This sets the stage for quite the chase.
Inspector Franck Dotzler: "Dotzler"
Bryan Mills: "By now I'm sure you know who I am, what I'm capable of."
Inspector Franck Dotzler: "I am beginning to. Let me ask you something, just so I'm clear. CIA operative? Division six? Division seven? What?"
Bryan Mills: "All you have to know is I'm innocent. Give me two days, I can prove it. I can find out who did it."
Inspector Franck Dotzler: "You may very well be innocent, Mr. Mills, but that's the court's job to decide. My job is to bring you in and let the law take its course. That's it."
Bryan Mills: "Good luck"
Bryan calls Inspector Dotzler to proclaim his innocence. Dotzler doesn't really care, just wants to do his job and bring Bryan in. Bryan accepts that challenge.