Weird History
That Time Teddy Roosevelt Got Shot In The Chest And Still Gave An 84-Minute Speech

Sometimes, the words of politicians save lives. In the case of Teddy Roosevelt, "Bull Moose" Party presidential candidate in 1912, that was very literally true.
Having already served as the 26th President of the United States, Roosevelt launched a third-party candidacy for a return to office in 1912. He was disenchanted with the political climate, especially with the sitting president, William Howard Taft, his chosen successor. As a result, Roosevelt started a third political party - the National Progressive Party - a group better known as the Bull Moose Party.
As the Bull Moose Party candidate, Teddy Roosevelt tirelessly campaigned on a progressive platform that called for women's suffrage, lower tariffs, and social reforms alongside the so-called "Square Deal" - a legislative agenda that endorsed fairness and egalitarianism in the marketplace and conservation of natural resources.
Roosevelt toured the United States, giving speeches that espoused the Bull Moose Party platform. On October 14, 1912, he made a stop in Milwaukee, WI. On his way to deliver his oration, Roosevelt was shot. Despite taking a bullet, Roosevelt continued on to his speaking engagement. Roosevelt talked for nearly an hour and a half with a bullet in his chest, one that passed through numerous pages of the speech he'd stashed in his coat pocket.
Roosevelt discussed his brush with mortality during his talk, even using it as a political rallying point. Here's everything that happened before, during, and after Teddy Roosevelt's famed death-defying speech.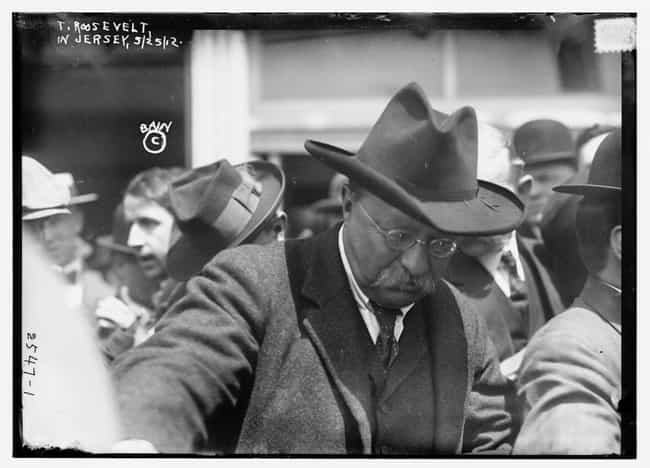 He Was Leaving His Hotel Wearing His Overcoat And Had A Folded 50-Page Speech In His Coat Pocket
Former President Teddy Roosevelt waved at the crowd as he left the Hotel Gilpatrick shortly after 8 o'clock on October 14, making his way to the car awaiting him. He'd just eaten dinner with several local dignitaries after a day of speaking engagements in Chicago, IL and Racine, WI. Roosevelt was headed to his next appearance at the Milwaukee Auditorium. Roosevelt tucked his speech - 50 pages folded over - into the breast pocket of his overcoat alongside a metal case for his glasses.
Once in his car, Roosevelt stood in the open-air vehicle to acknowledge his supporters, tipping his hat to them as they applauded. Not everyone in the vicinity was an ally, however, and as Roosevelt gestured to onlookers, a single blast rang out.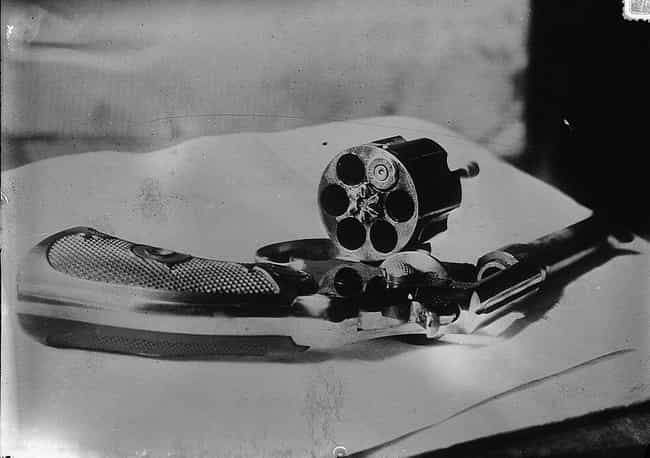 He Was Shot With A .38 Caliber Revolver From Four Feet Away
The sound and muzzle flash of the revolver shocked the crowd. On the dark autumn evening, John Flammang Schrank, an immigrant from Bavaria who had once owned a saloon, stood no more than four or five feet away from Roosevelt when he fired.
Chaos soon took over, but Roosevelt acted relatively unfazed. His knees bent slightly before he sat back in the car, continuing to smile as he lifted his hat again. When asked if he'd been hit, Roosevelt told associate Harry Cochems, "He pinked me, Harry."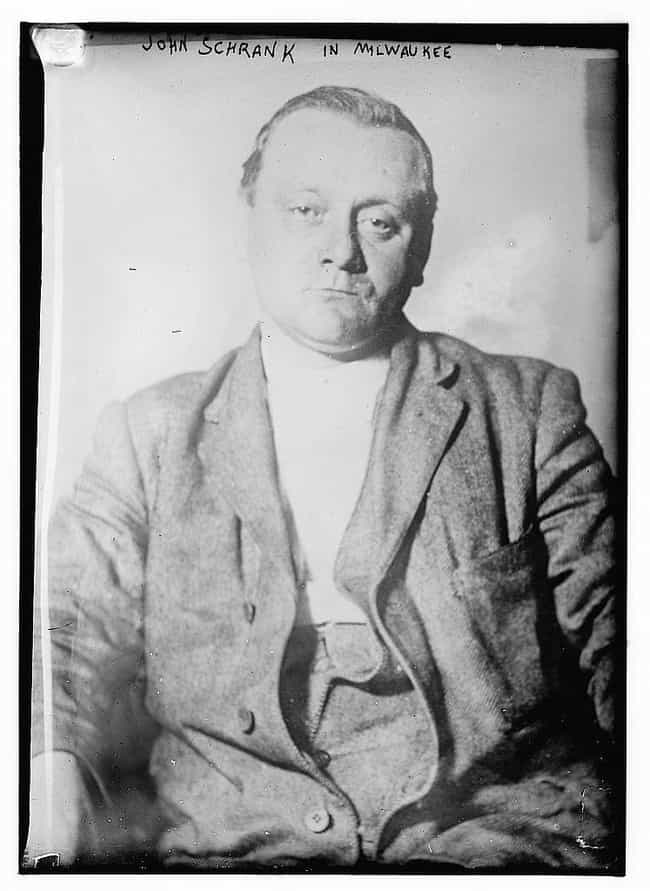 Roosevelt's Would-Be Slayer Was Detained Immediately
The instant the bullet was fired, Roosevelt's stenographer, Elbert E. Martin (a former football player) and Captain A.O. Girard (once a Rough Rider with Roosevelt) lunged toward Schrank. Martin grabbed Schrank and took the revolver away from him, determined to keep him from firing a second time. Soon accompanied by several Milwaukee police officers, the men apprehended Schrank while the crowd began to shout for his demise.
As the incensed onlookers gathered around Schrank, Roosevelt called out, "Don't hurt him; bring him here to me." The officers presented Schrank to the former President as one onlooker thought he still saw the revolver in Schrank's hand. Roosevelt's companion, Harry Cochems, took possession of the revolver as Roosevelt told the police, "Officers, take charge of him, and see that there is no [harm] done to him."
When Roosevelt looked at the .38, he commented, "A 38-Colt has an ugly drive." At that point, one of the candidate's secretaries pointed out a hole in Roosevelt's overcoat. "I know it," Roosevelt replied.
Roosevelt Coughed Into His Hand To See If He Was Bleeding Internally 
Roosevelt was aware he'd been injured, opening his coat for his companions to see that his shirt was covered in blood. He tested his condition, coughing into his hand to see if any blood came up. It didn't.
Satisfied that the bullet hadn't hit a lung, Roosevelt insisted on continuing to the auditorium to give his speech. He told his colleagues:
I know I am good now; I don't know how long I may be. This may be my last talk in this cause to our people, and while I am good I am going to drive to the hall and deliver my speech.
Roosevelt ignored the pleas of everyone around him, including his doctor, Scurry Terrell, a throat specialist kept on staff to keep the candidate from losing his voice. Once they arrived at the Milwaukee Auditorium, two more doctors from the audience were brought to Roosevelt's side. They told him it wasn't a good idea to give his speech, but he simply took a handkerchief, put it over the hole, buttoned up his clothes, and headed for the stage.