Entertainment
Teenage Mutant Ninja Turtles Movie Quotes

117 votes
28 voters
67.7k views
12 items
"Teenage Mutant Ninja Turtles" movie quotes bring the comic book characters back to the big screen for another science fiction adventure. The film was directed by Jonathan Liebesman and produced by Michael Bay using a screenplay by Josh Appelbaum, André Nemec and Evan Daugherty. "Teenage Mutant Ninja Turtles" hit theaters in 3D on August 8, 2014.
In "Teenage Mutant Ninja Turtles," the four turtles, Leonardo (Pete Ploszek, voiced by Johnny Knoxville), Raphael (Alan Ritchson), Michelangelo (Noel Fisher) and Donatello (Jeremy Howard) are summoned to protect New York City after it has been taken over by Shredder and his evil Foot Clan.
Together with reporter April O'Neil (Megan Fox), camerman Vern Fenwick (Will Arnett) and Eric Sachs (William Fichtner), the Teenage Mutant Ninja Turtles, along with their sensei mutant rat Splinter (Danny Woodburn, voiced by Tony Shalhoub), must battle Shredder in order to save the city from assured destruction, that is if they can convince the humans to overlook the fact that huge talking, ninja turtles are there to be the heroes.
"Teenage Mutant Ninja Turtles" is just one of several great movies opening in the summer of 2014 along with
"Guardians of the Galaxy,"
"Get On Up,"
"Hercules,"
"Lucy,"
"Magic in the Moonlight,"
"A Most Wanted Man,"
"Happy Christmas,"
"Planes: Fire & Rescue,"
"Sex Tape,"
"Wish I Was Here,
"And So It Goes,
"Dawn of Planet of the Apes,"
"A Long Way Down,"
"Tammy,"
"Earth to Echo,"
"Deliver Us from Evil,"
"Transformers: Age of Extinction,"
"Snowpiercer,"
and
"Begin Again,"
.
Heroes Are Not Born, They Are Created
Eric Sachs: "Crime, violence and fear have run rampant. Our great city is being destroyed. People want justice restored to this world. People want heroes, Miss O'Neil. But heroes are not born, they are created. That's what your father and I were trying to do, create heroes."
Eric explains what's happening to April, including touching on the work that he did with her father. Eric and her father worked together to try to create heroes knowing that this scary situation would one day come. That day is now.
Should this be higher or lower?
Nothing Is As Strong As Family
Splinter: "You live, you die, you fight as brothers. Remember, nothing is as strong as family."
Splinter gives the turtles a pep talk about brotherhood and family. If they will succeed, they must stay together.
Should this be higher or lower?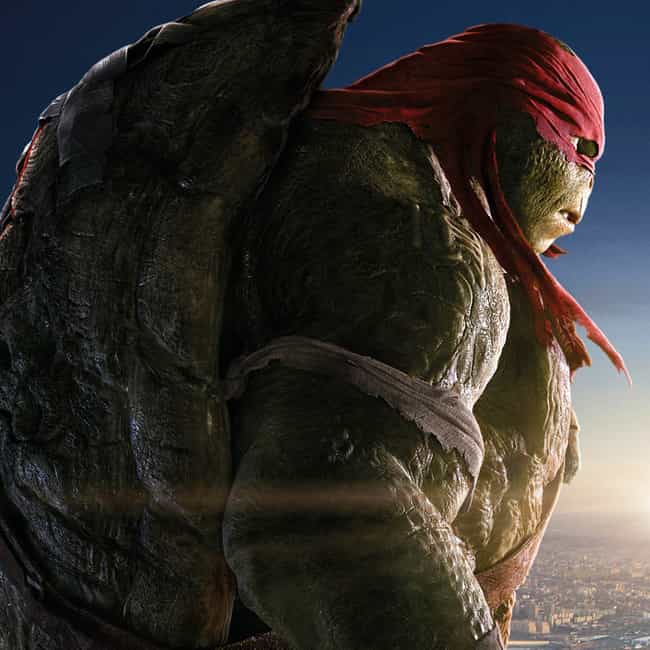 Leonardo: "Do not say a word about this to anyone. If you do, we will find you."
Michelangelo: "Yeah, we'll find you! I'm sorry, that came across super-creepy. We will find you, though!"
The turtles know that they need to keep their existence quiet if they will save the city and urge April to keep their meeting on the hush-hush. Their request, however, comes off as a little creepy.

Should this be higher or lower?
Allow Me to Be the Badass for Once
Donatello: "Allow me to be the badass for once."
Donatella requests his spot as the badass. The techie is always taking a back seat to the others and wants that to change for once.
Should this be higher or lower?