Music
All Of The Controversies Surrounding Tekashi 6ix9ine

He's made as many headlines for his behavior and legal issues as for his music, but who is Tekashi 6ix9ine? Since entering the spotlight in 2017, the SoundCloud rapper has managed to score several hit songs, multiple run-ins with the law, and legions of enemies. But his actions go far beyond the typical "bad boy rapper."
Born Daniel Hernandez, Brooklyn rapper Tekashi 6ix9ine began releasing original songs and accompanying videos in 2014 and hit big with 2017's hit "POLES1469." But his music remains overshadowed by his appearance: rainbow-colored hair, equally-colorful grills, and multiple face tattoos. Of course, that's saying nothing of the controversies.
He Claimed Rappers Jim Jones And Cardi B Were Gang Members
While giving testimony on his July 2018 abduction and robbery, Tekashi 6ix9ine said he lied about the details of his kidnapping - in particular that he was pistol-whipped and knocked unconscious at the scene. 6ix9ine said he was struck, but after the initial incident.
The rapper also said he didn't publicly identify the man who led the incident against him, his former bodyguard Anthony "Harv" Ellison, because he preferred to discuss the matter with his former manager, Shotti, and Mel Murda (AKA rapper Mel Matrix). During a later conversation between 6ix9ine and Mel Murda - captured via wiretap - 6ix9ine suggested he wanted to slay Harv.
As reported by TMZ, 6ix9ine also claimed during his testimony that rappers Jim Jones and Cardi B were members of the Nine Trey Bloods. This followed his admission that he'd offered Nine Trey $50,000 to retaliate against Harv.
A representative for Cardi B told TMZ the artist was no longer a member of the Bloods. The singer then tweeted (and deleted) a statement that she was associated with "Brim" Bloods, but not Nine Trey. The artist discussed her teenage involvement with the group in a 2018 interview with GQ.
He Entered A Plea That Dramatically Reduced His Sentence
After pleading guilty to nine crimes, 6ix9ine was facing about 50 years to life. The details of his plea deal reveal, however, as long as he continues to cooperate with authorities by identifying several dangerous offenders, his sentence could be reduced significantly.
According to the prosecutors that are working on 6ix9ine's complicated case:
Should the defendant successfully cooperate, the government agrees that it will file at the time of sentencing a motion for a sentence below any mandatory minimum.
TMZ also reported the rapper is likely to enter witness protection due to the nature of the deal.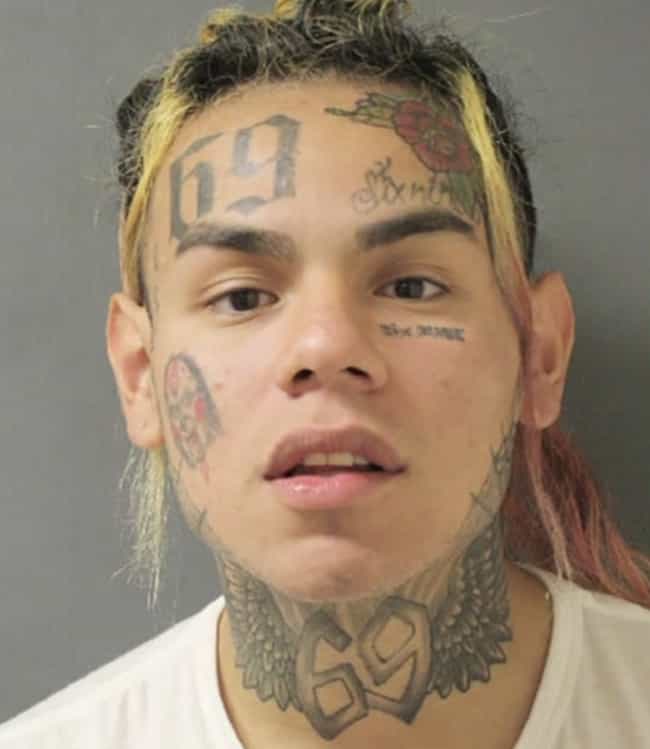 His Charges Were Federal In Nature 
Two months after he was detained in November 2018 for nine counts of various offenses, 6ix9ine reportedly pled guilty to each one. Some of his crimes focused on taking out members of a rival group.
His plea opens up the possibility he will face a lenient sentencing given he continues to participate with prosecutors regarding details about the members of his alleged criminal group.
He Might Spend His Life Behind Bars
On November 18, 2018, the rapper, his former manager Kifano Jordan, and three others were arrested for federal charges. Apparently, Daniel Hernandez is part of a criminal group. Hernandez faces a minimum of 32 years in the slammer for his actions.
Prior to this incident, Hernandez was on probation for misconduct, some of which involved minors. His 2015 plea deal required he not commit any offenses for at least two years, which he did not honor.