Law

A Complete Timeline Of Tekashi6x9's Legal Troubles

Daniel Hernandez, otherwise known as Tekashi 6ix9ine, has had one of the most controversial careers in recent hip-hop history. His multiple run-ins with the law culminated on November 18, 2018, when he was booked on charges of racketeering and armed robbery. This latest entry into the 6ix9ine saga did not come as much of a surprise to those familiar with the rapper, whose outlandish personality and past offenses have earned him a less-than-stellar reputation. On February 1, 2019, 6ix9ine pled guilty to nine federal charges carrying a minimum sentence of 32 years. However, there are reports that 6ix9ine may be looking for a reduced sentence in exchange for his cooperation with investigators.
The 22-year-old rapper was born in Brooklyn, NY, on May 8, 1996. He was raised by his Mexican mother and Puerto Rican stepfather, with whom he was very close before the older man unexpectedly passed when Hernandez was 13. The Brooklyn native is intrinsically tied to New York City, where he spent most of his life.
In 2014, Hernandez began rapping as Tekashi 6ix9ine; he released his career-defining video, "Gummo," in 2017. The song was his first viral hit and eventually went platinum, propelling 6ix9ine into the spotlight and uncovering his complicated relationship with the law.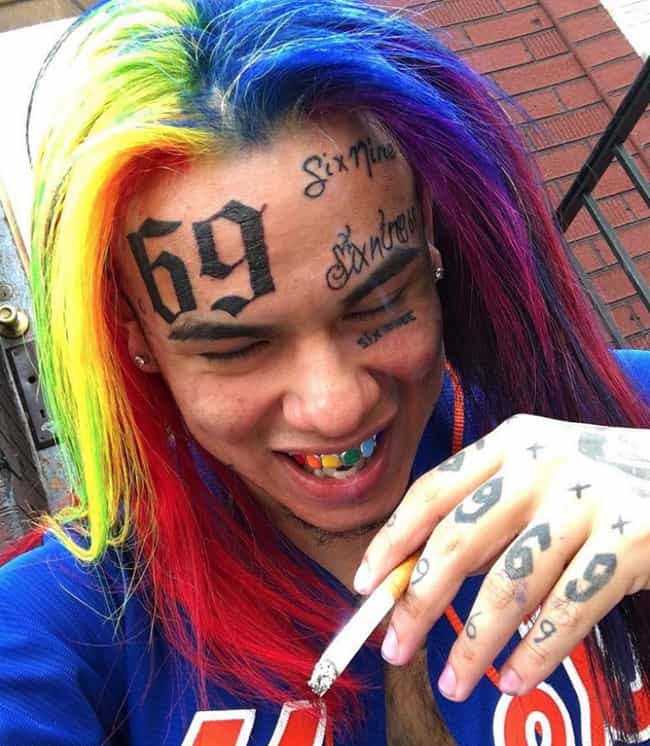 Early 2010: He Leaves School And Begins Dealing
When 6ix9ine was 13, his stepfather unexpectedly passed. The older man was returning from a grocery trip when he was taken out by an unknown assailant a block away from his apartment. No one was ever charged with the act.
The young rapper began acting out after the event. A few months later, 6ix9ine was expelled from school and never went back. Instead, he worked several odd jobs to support his mother and family. He landed employment at a local Brooklyn bodega. Around the same time, 6ix9ine began selling substances on the street to supplement his income.
February 21, 2015: He Makes Explicit Videos With A 13-Year-Old Girl
While 6ix9ine was slowly carving out a career as a rapper, he made three explicit videos with a 13-year-old girl without clothes and posted them to Instagram.
6ix9ine, who was 18 at the time, later claimed he believed the girl was of age.
March 5, 2015: He Is Taken In For Posting Explicit Videos
In connection with the Instagram videos, 6ix9ine was charged with taking part in an illicit performance including a minor. He was booked on March 5, 2015.
October 20, 2015: He Pleads Guilty
In October 2015, 6ix9ine agreed to plead guilty in exchange for reduced penalties. He was given two years of probation. The requirements of his probation included 300 hours of community service and a mandatory mental health program. In addition, 6ix9ine was ordered to write an apology letter to the girl and her family and was banned from making illicit posts about women or children online. He was also ordered to complete his GED.
6ix9ine was told that if he failed to meet the requirements of his probation, his case would be opened back up and he could face jail time.