Total Nerd
There's Already A Future Of The Marvel Universe Where Thanos Has Won (And It Is Awesome!)

Updated September 30, 2019
852.4k views
12 items
Long-time comic book readers have no doubt visited a Marvel alternate universe or "possible future" in their time - whether it be in a classic What If? story or a time-bending Summers' family tale. However, few alternate continuities have been so memorable as the one depicted in the Thanos Wins comic series written by Donny Cates, who began his run in 2017.
Thanos hasn't been the star of too many solo series in his publishing history, and there's good reason for that. There's only so long one can follow a story about a cosmic tyrant slaughtering heroes before it becomes boring or Marvel runs out of heroes. However, Cates masterfully evaded this issue by setting his story millions of years into the Marvel future. In doing this, Cates is able to actually tell the tale of what happens when Thanos wins - and the results aren't pretty for anyone, with the notable exception of Marvel readers.
back to page 1
A Multi-Million Year Reign Can Get Rather Boring
What's one to do after wiping out the vast majority of life in the universe? Not much, as it turns out. After his multi-century killing spree, the Thanos of the future is a very bored individual. Though he has a few diversions to occupy his mind, King Thanos spends most of his time sitting and thinking.
The far-flung future action of Thanos Wins takes place millions of years beyond the modern Marvel Universe, which means Thanos sits around on his space-throne sulking for longer than the human race has existed.
Even Death Is Bored When Thanos Wins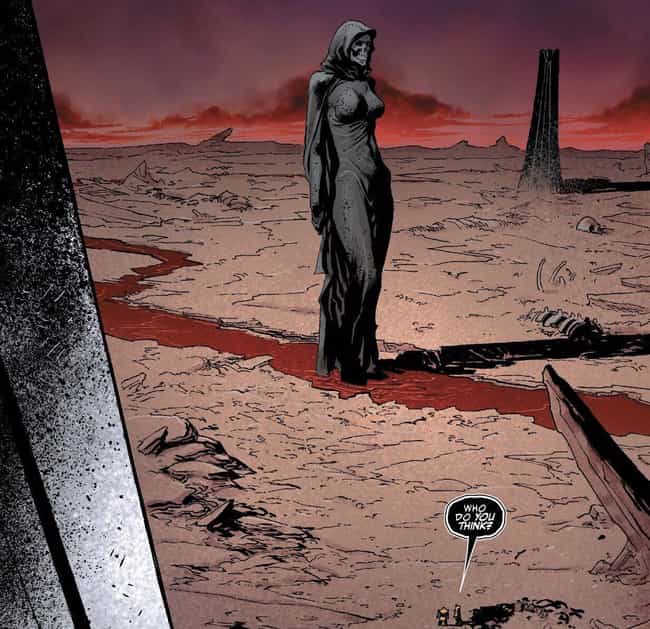 Those well-read in Thanos's publishing history know nothing motivates him more than his foolish pursuit of Death's heart. Thanos is usually accompanied by his bony mistress, but the King Thanos of the future hasn't seen his beloved in millennia. Apparently, once Thanos runs out of sentient lifeforms to kill, Lady Death loses her interest in following him around.
The lovesick Titan erects a mountain-sized statue in her honor, and he spends the intermittent centuries plotting ways to win her back.
He Has A Pit Of Despair He Throws All Of His Enemies Into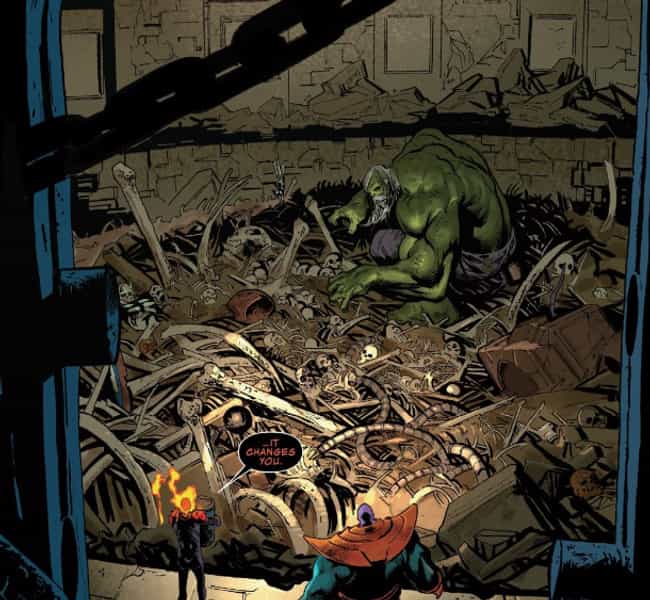 For the first couple decades of his rule, King Thanos has plenty of fun diversions to occupy his time. One such hobby is his actual pit of despair, into which Thanos throws his defeated enemies so he can watch them slowly starve and then eat one another. That is, until the Hulk ends up in the pit, and then it becomes more of a Hulk-feeding zone.
One of King Thanos's companions specifically recalls feeding Captain America to the Hulk, and Steve Rogers's shield is visible among the skeletons, along with Wolverine's claws and the Red Skull's, uh, red skull.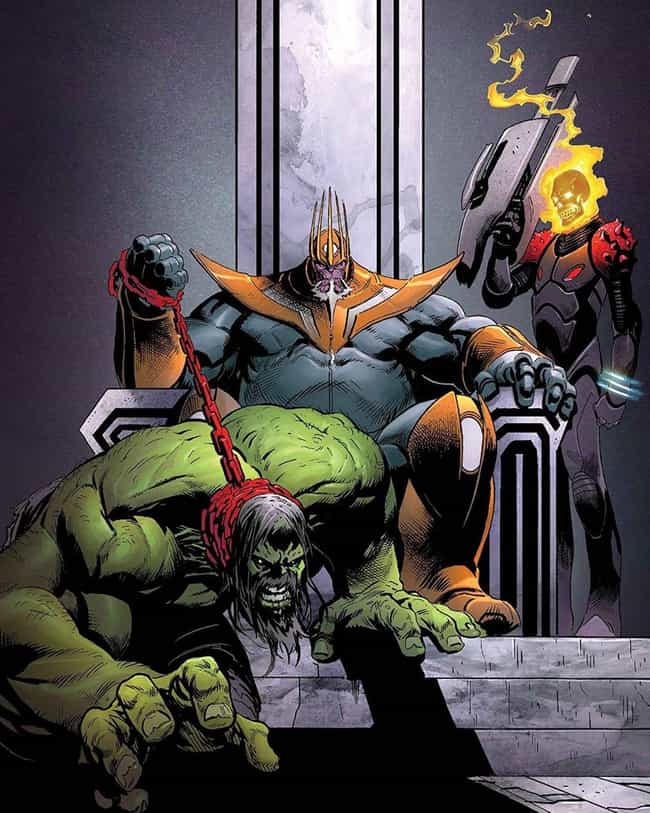 Sometimes pets can be a fashion statement, and nothing says "I Conquered The Universe" better than a Hulk on a leash. Although King Thanos usually keeps the now-millions-of-years-old Bruce Banner in his pit of despair, he occasionally slaps a leash and collar on the gray-bearded goliath in a truly impressive display of dominance.
The sight of Thanos on his throne with the strongest of Earth's heroes cowering at his feet is a sight that truly encapsulates the title Thanos Wins.