Hiking
The 10 Coolest Historical Ruins in the LA Mountains

You don't have to go far from the city to find traces of Los Angeles's past in the surrounding mountains. At the turn of the century little 'roughing it' camps were a huge fad and tons of Angelenos swarmed into the mountains to get away from it all. From a specatular resort hotel and rail car to the smallest of rustic camps, folks at the end of the 19th century flocked to find the wilderness. And you can still find traces of those places if you know where to look.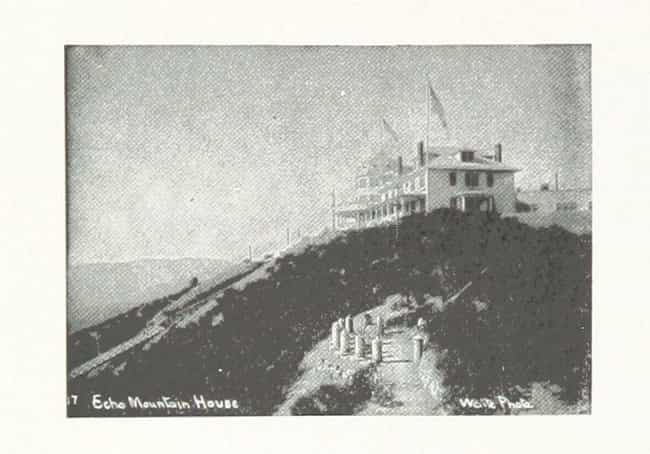 Construction began in 1894. It was the dream of Professor Thaddeus Lowe to create the ultimate getaway experience for the busy denizens of Los Angeles. Believe it or not, but a rail used to run from Downtown LA (and Long Beach) all the way up to Altadena. It was just orange orchards then, but the trains would deliver people to the foot of Echo Mountain where they would hop on the great incline funicular that would carry them straight up the side of Rubio Canyon.
There, guests could stay in the white, 4-story hight hotel - finished in natural wood and containing 70 rooms, a 40 x 80 foot social hall, a dining room, souvenir shop, Western Union office, bowling alley, billiard room, barbershop and shoeshine stand. There was also a no-smoking ladies drawing room filled with rocking chairs perfect for crocheting, or whatever ladies were supposed to pass the time with back then. AWE-SOME.
Naturally, fires and floods were an issue -- this being the Angeles, after all. Although, ironically, it wasn't a forest fire that got the hotel in the end, it was a kitchen fire that started - they think - from a faulty flue in one of the stoves.
Oh. My. God, how much do I wish this thing was still there?
To get there now:
you park at the top of Lake Avenue in Altadena. From there, follow the trail up Echo Mountain for 2.7 miles to the area where you can still see remains of the train tracks, the foundation of the hotel and other bits and pieces of awesomeness. Keep going another 2 miles up Castle Creek to Inspiration Point to see the turn of the century lookout built there --- OR --- hike up the old rail bed that used to carry to Mt. Lowe Camp for a more rustic experience. Which leads us to our next entry: