true stories

The Worst Amusement Park Ride Accidents

3.4M views
25 items
Follow
Embed
A day at amusement parks like Disneyland and Six Flags is usually a mix of endless waiting in line and a few short minutes of pleasure - but sometimes the ultimate nightmare of riders comes true and rides break, causing horrible accidents. What are the worst amusement park accidents? Many people fear the incidents that are on this list. Roller coaster cars flying off the tracks, harnesses not working properly, and cables coming loose.
Most amusement park rides get your adrenaline pumping but are completely safe. Occasionally though, there is an all out disaster where the machinery goes crazy and someone loses a limb or dies. Whether due to malfunctioning or park-goer error, these amusement park disasters have certainly scarred these people for life.
The most horrible amusement park accidents, tragedies, and fatalities that have ever happened appear on this list, leaving us to wonder why so many onlookers took out their camera phones instead of helping.
Ohio State Fair Ride Leaves One Dead
In July 2017, a ride at the Ohio State Fair in Columbus malfunctioned, killing one man and sending at least seven others to the hospital. The ride - called the Fire Ball - malfunctioned, sending two people airborne and causing more to crash on the platform below. Ohio Gov. John Kasich said the state is investigating the crash. Warning: The video of the incident (found here) is very hard to watch.
River Rapids's Watery Grave
Four people died on Thunder River Rapids Ride at Dreamworld, Australia's biggest theme park, on October 25, 2016. Accounts of the accident don't immediately make clear how the victims died; two were ejected from the ride and the other two trapped on it, though what actually killed them remains unclear.
Three of the four victims have been identified. Two were siblings: Kate Goodchild, brother Luke Dorsett, his partner Roozi Araghi. Their mother, Kim Dorsett, said, "I have three children and have lost two of them today... I have two granddaughters — an eight-month-old and a 12-year-old — and it truly breaks my heart to know that my eight-month-old is never going to get to know her mum."
According to an eyewitness, at least one of the victims drowned, while children nearby screamed. "There were kids onboard screaming while their mum was trapped under. I'd rather not talk about what I saw," a man recalled.
Claire Wooley, another witness, said "She just kept screaming 'Where's Mummy? Where's Mummy?"
No reason for the incident was given other than a "malfuction." The park, located about 30 miles south of Brisbane, on Australia's Gold Coast, shut down operations the day after the accident, out of respect for the dead.
Ten-year-old Caleb Schwab tragically fell to his death in 2016 while riding the Verruckt - a waterslide at Schlitterbahn Waterpark in Kansas City billed as the tallest in the world. Witnesses said that Caleb's raft went airborne and hit the netting over the slide after coming down the first 168-ft tall slope at roughly 60 mph. Other riders had reported earlier that the slide's safety harnesses had not been working properly that day, although police and park officials did not say exactly how Caleb had died. Caleb was the son of Kansas State Rep. Scott Schwab, and was at the park with his family to celebrate "Elected Official Day."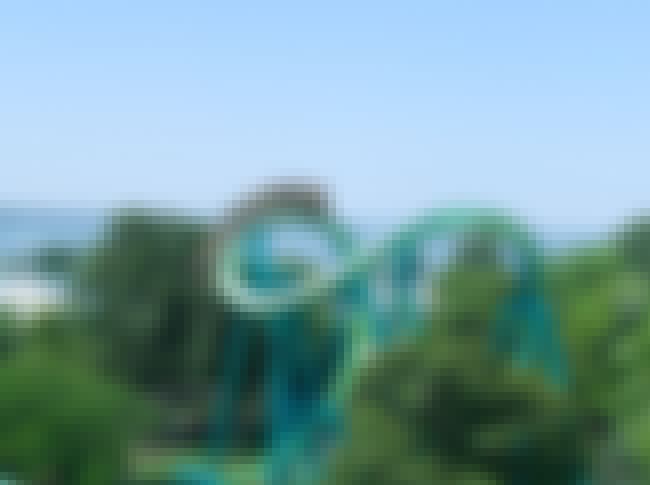 Reason number one why you should always respect those "Restricted Area" signs at an amusement park:
Cedar Point
park-goer James Young, 45, died when he sneaked past a
fenced-off area
near the Raptor roller coaster at the Ohio theme park. He was hit by a speeding car on the ride while trying to
retrieve his cell phone
. Perhaps the second worst death-by-raptor imaginable.