Music
I Saw 100+ Bands in 2015 and Ranked Them

I didn't set out to see over 100 bands this year... it just... happened. I don't control the touring calendar. Clearly, it controls me - even though I'm 47, work "startup hours," and have young kids. Being the founder of Ranker, if there's one thing on my mind, it's lists. Because it's year-end "list season," and because I hit a personal record of rock shows in 2015, my ranking compulsion took over.
If you just scan the top of this list, you may think, "eh, classic rock dude." Not true, though this list is indeed mostly rock bands; I have no interest in contemporary country, pop, R&B, or hip-hop. The reason the top of these rankings are dominated by bands of the '70s and '90s is the (cue the violins) reality that rock was better then. Sure, it's a middle-aged white dad's opinion, but I listen to massive amounts of new music and also strive in life (and rankings!) to keep a fair perspective on things. These days there aren't as many artists producing enough timeless songs to fill a two hour show, and frankly there aren't as many outstanding new rock singers (or guitar players) coming out as there used to be.
Which was one of the reasons I hit so many shows this year - the dinosaurs are dying out with each passing year. Last year it was the mighty Allman Brothers; this year, Rush. This long AC/DC tour is probably their last; ditto Scorpions. The Stones are always one major health issue away from retirement. I can't imagine seeing the Dead without Phil and with John Mayer.
Rock isn't dead. There is always great new rock coming out. Just not as much awesome new rock, and one of the amazing things about the live experience is seeing artists well past their recorded prime actually playing better live than they were back in the day. I saw plenty of great younger bands - 2015 was a hell of a year that encompassed said dinosaurs, great younger talent (Tame Impala, Jack White, Lucero, Jason Isbell, etc), and plenty of resurgent '90s vets.
Photo credit: my iPhone, from where I was standing (I just take a quick snap to document the show; please do kick me if you ever see my camera blocking your concert view for more than 20 seconds) - clearly we can't all be professional photogs, and you will never see me on Instagram.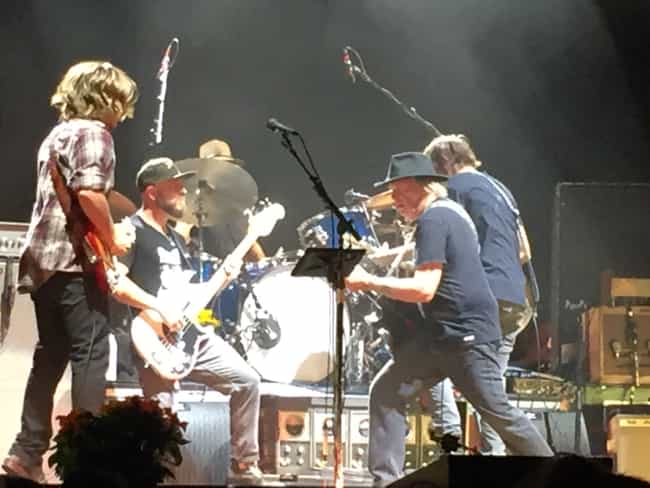 1
Neil Young & Promise of the Real - Santa Barbara Bowl, Oct 10; The Forum, LA Oct 14
Neil Young is my all-time favorite musician* and I will go see him in just about any incarnation he plays - in fact Neil is about the only artist I will go out of my way to go see solo acoustic these days. That said, I prefer seeing him with Crazy Horse, and I know the lights are dimming on the chances of another Horse tour, so I must admit to being slightly disappointed when I first heard that Neil would be touring with a band led by Willie Nelson's kids (I'm not a fan of the general concept of rock nepotism and hadn't heard anything by Promise of the Real). Thankfully, after glancing at a positive report from earlier dates in the summer (didn't read the whole article - I hate setlist spoilers), I got excited enough to plan to see two shows.
Good call. These shows had it all. The tour checked almost every box of my "awesome live rock" criteria:

- Long shows
- Different songs played from prior recent tours
- Rarities
- Significantly different setlists from night to night
- Guitars, guitars, guitars
- Jamming
- Unique stage show (sorta... we'll get to that)
The set was structured in three parts, without a break. A relatively short classics-laden acoustic segment, followed by an hour of Harvest-heavy Americana (or in Neil's case, North-Americana), followed by 100 minutes of Crazy Horse-like stomp. Those Willie-spawn can really play, moving from psychedelic rock to country rock to extended guitar workouts with equal fluency. Promise of the Real have a percussionist as well - first time I've ever seen Neil with two drummers, which added something to the sound. They absolutely nailed the country-rock stuff, and were damn close to Horse level on the heavy rockers. Playing with these guys seems to have given Neil - already someone with amazing energy for age 70 - another burst of fuel in the tank. Neil was on stage for every minute of the shows, both of which ran slightly over three hours. And this tour was routed tightly - five nights on stage a week, unlike the Stones who may tour for two months, but are only playing twice a week.
In "quirky Neil" fashion, roadies dressed as farmers occasionally came out onstage "planting seeds," and in both shows Neil stopped for five minutes to pass out packets of seeds to the audience as a "mass protest" (apparently these seeds are Monsanto-patented and technically illegal to distribute in California; unsurprisingly no cops came onstage and arrested Mr. Young). This was a bit distracting (and caused some booing in Santa Barbara), but hey, give me a three hour show like this and you have fully-earned five minutes of preaching as far as I'm concerned.
And the song choices... While the Monsanto Years album is a mixed bag (the tunes and playing are great, but as the years go on Neil's time spent editing lyrics seems to have dwindled to zero), all but "Wolf Moon" really worked live, given the ferocious playing. In addition to dusting off catalog gems like "Out on the Weekend" for the tour, a third of each show was unique - setlist.fm clocks 65 different songs played in 29 shows. In Santa Barbara he pulled out "Alabama," "Winterlong," and a to-die-for "Time Fades Away." LA's highlight was definitely a super-long "Cowgirl in the Sand", though I was equally ecstatic to hear über rarities "LA" (first time played since '73) and "Vampire Blues" (second or third time since the mid-'70s), along with Buffalo Springfield's "Burned" and Ragged Glory's classic "Mansion on the Hill." Seeing some of the last shows on the tour proved to be a massive blessing from a rarities point of view.
Which brings up the final question, Ranker that I am. At age 70, was this actually the best Neil Young tour ever? At least on a pound-for-pound quantity of great sh*t level it would be hard to argue otherwise. The Horse never did more than two hours**. The playing was somewhat reminiscent of other electric tours he's done without the Horse, like the '93 tour with Booker T. & the M.G.'s and the '00 "Friends and Relations" tour, but I liked this band even more, and definitely more than the group he toured with circa '07 with the late Rick Rosas on bass. The best single Neil show I have ever seen was the epic Bonnaroo '03 Crazy Horse set, but that was a one-off show on the Greendale tour. I've seen every Neil US tour since '87, and the two that would rank at the top before this would be the '91 and '96 Crazy Horse tours, though I think I'd give this year the nod for including an hour+ more music. I have a feeling the Rust Never Sleeps tour that spawned the Live Rust album and film would take the prize, but damn, this was special.
*That said, I try to be impartial with my rankings, for example you won't find Neil's latest album in the top 30 on my year-end list. In other words, homeboy earned his #1 spot.
**Well, they did on the Greendale tour, but that had like actors on stage for long stretches and was just... different.
LA: Setlist via setlist.fm
SB: Setlist via setlist.fm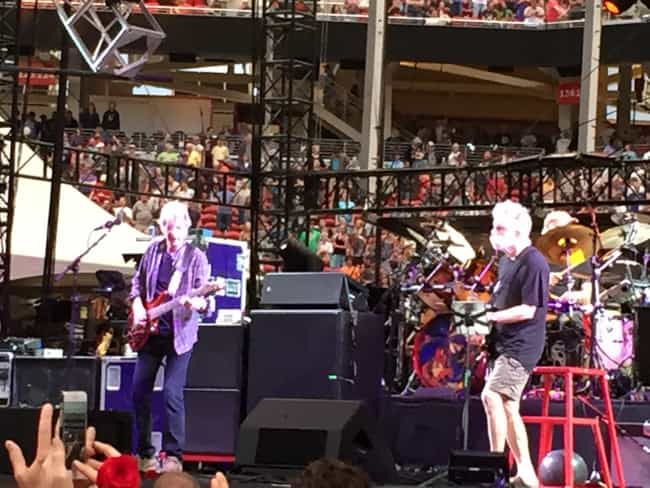 2
Fare Thee Well - Levi's Stadium, San Jose Jun 27-28
Well, these were special shows. Tough to rank - I'm sure some hippies will call me out with some "you can't judge the music, man," BS. Whatever. Bottom line - the Dead pulled it off. These shows were at the level of the best Grateful Dead shows I ever saw with Jerry (I started going in '88), as well as the best Phil Lesh and Friends shows I have caught to date, and the one-offness of the situation, along with being super close to the stage in a stadium, really made these special. Oh, and the pic => shows the "Weir chair" (the red thing) described below.
Here are the notes I made on site those days:
First set Sat: 7.8/10
Good jams, sloppy at times, Hornsby and Mickey particularly kept looking for cues from Phil, weird 'super early years' setlist. Weir has this 'leaning chair' that he occasionally sits back on. Trey is adding massive value but rarely singing lead.
Second set Sat: 9.8/10
Live/Dead era setlist, insane jams, Weir steps it waaay up. Perhaps most shockingly, this was the best Drums I have ever seen, with Mickey playing some Orb-like electronica. Wow.
Theory: is each of the 5 shows going to be focused on a distinct era? If so should be a nice 'Skull & Roses'/Europe 72 set Sun.
First set Sun: 7.9/10
Started strong but veered off course at times. Weir clearly picked the first set, and compounded the problem by singing too many Jerry leads, tho Hornsby took a few welcome cuts (BEWomen and Loser) at the mic. Trey finally gets to sing and rocks out an infectious Alabama Getaway but this is followed by Weir again singing perhaps the dullest-ever Black Peter. That said, great jams throughout, barring a few Weir stumbles. Hornsby and Chimenti are really jelling, and the set is almost 20mins longer than last night's (I).
Second set Sun: 9.something high/10
Oh the jamz... Phil takes over? and/or gives Trey the proper nod. I know some don't like Phil on the mic but I got my Eyes, and that joyous 1/2 Step. Minor quibble that Trey still not singing lead, but damn Weir stepped it up vocally this set and wasn't leaning on that chair. About the same level as last night's (II) ie very strong. Bill Walton keeps following me and Luber around...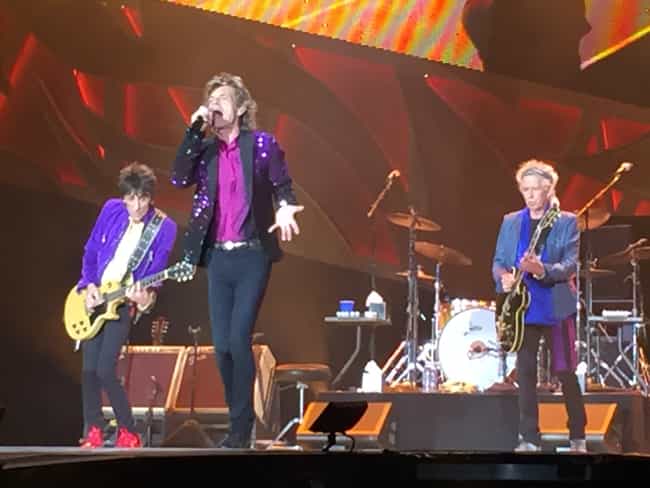 3
The Rolling Stones - Petco Park, San Diego May 20
About five days before this tour opener, the Stones announced a club show at the Fonda Theatre in LA 10 minutes from my house. After the tickets were snapped up instantly, said show became my biggest concert regret of recent memory. I didn't attack Craigslist early enough to pay through the nose for a single scalped ticket. The Stones announced that they would be playing the Sticky Fingers album in its entirety at this show for the first time ever, and I knew in my heart of hearts it would be the only time. Out of the over 10,000 albums I own, Sticky Fingers is my absolute fave, and has held that title for a good 25 years. Sigh. Shut out.
That said, the Petco Park show was a nice consolation prize and certainly one of my rock highlights of the year. Even with an average age close to 70, the Stones are still just about the greatest live rock band in the world. Mick hasn't lost a single step; the band still sounds great and still plays loose enough that no two shows sound the same. This is the case even though much of the setlist consists of the warhorses - the big hits I've heard 'em do way too many times and I've heard way too many times and classic rock radio ruined for me by the mid-'80s or so.
Not that it's a bad time hearing the Stones play "Brown Sugar," "Honky Tonk Woman," "Start Me Up," etc. every few years - but to me the highlight of any Stones show in their relatively heavy touring years through the aughts has been the slot about five songs in, when they play a batch of songs (usually four) that are different every night. Herewith I was treated to some major deep Fingers action.
They played a smoking version of "Bitch" with Gary Clark Jr. guesting and letting loose on guitar, but also surprising Mick at the mic stand. And they pulled out "Moonlight Mile," so I was pretty setlist-stoked. I was also just happy to see them still playing at the top of their game, after all these years. Keith did seem slightly off at points that night, but Woody had his back and I'm sure the average fan didn't notice a thing. Mick still covers miles on stage, Charlie is immaculate as always, and I don't miss the removal of Blondie Chaplin (though Bobby Keys, replaced by Karl Denson, was missed). Given the insane prices, stadiums, and samey setlist, every time I see the Stones I keep thinking "this may be the last time." And I keep leaving the show happy to have proven myself wrong...
Setlist:
Jumpin' Jack Flash
It's Only Rock 'n' Roll (But I Like It)
All Down the Line
Tumbling Dice
Doom and Gloom
Bitch
Moonlight Mile
Can't You Hear Me Knocking
Street Fighting Man
Honky Tonk Women
Slipping Away
Before They Make Me Run
Midnight Rambler
Miss You
Gimme Shelter
Start Me Up
Sympathy for the Devil
Brown Sugar
Encore:
You Can't Always Get What You Want
(I Can't Get No) Satisfaction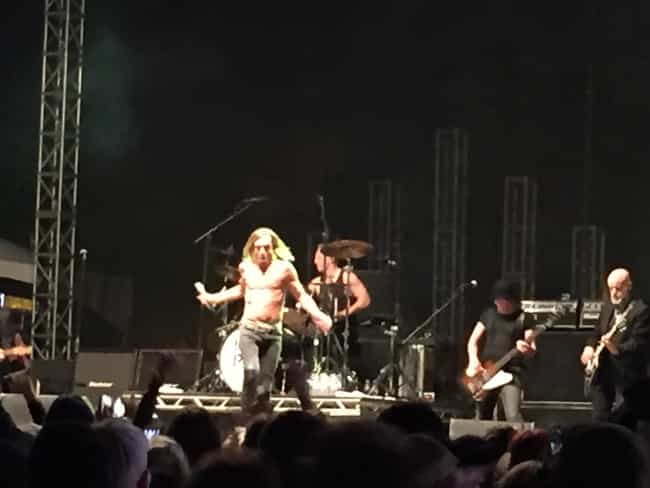 Iggy has been touring almost entirely with two different incarnations of The Stooges for the last 12 years or so, so I was looking forward to a solo show, since he always leaves it all on the stage. But I didn't expect this. What a set it was - at least as good as the three or four Stooges reunited shows I was lucky to catch. Iggy, at age 60-whatever, has - like Mick - not lost a step as a frontman (nor gained an ounce of body fat). Voice was in fine form and intensity was 100% there, with Iggy screaming, "nothing matters more than this," early on in the set as he stalked the stage.
But most importantly, Iggy's band (nobody whom I recognized) was fantastic. All of Iggy's solo touring from the late-'70s through the Stooges reunion was done on tight budgets, and this fiscal reality was generally reflected in the bands he brought out. Some were too metal, others were the opposite and couldn't play the heavy stuff as well. None of these bands were A players. But this 2015 band is super-tight, and well-suited to carry that druggy Lust for Life / The Idiot / late-'70s Iggy sound.
Which brings us to the other reason this set transcended: the setlist. He played handful of Stooges songs (including the latter-era "Skull Ring," which I quite like), but otherwise it was exclusively '77-'80 era classics. Hearing top-notch live versions of "Lust for Life," "Some Weird Sin," and others was an unexpected treat (and it looks like when he gets longer-than-hour sets he's digging even deeper into that era). Joyous. The highlight of Riot Fest, and one of my live rock highlights of 2015.
Setlist via setlist.fm
see more on Iggy Pop