Entertainment
The Best Notebook Movie Quotes

463 votes
241 voters
136k views
13 items
The best quotes from The Notebook capture the tone of undying love present in both the original book by Nicholas Sparks and its movie adaptation.
What are the top quotes from The Notebook movie? This now-classic film is a romantic melodrama that sends some women into swoons - and their significant others scrambling madly for the remote. Quotes, with movie clips, from The Notebook are numerous and memorable. The lifelong romance between Allie and Noah is one for the ages -- somewhat formulaic, but nevertheless, sweet and bittersweet. This 2004 movie features an all-star cast, including Ryan Gosling, Rachel McAdams, James Garner, Gena Rowlands, James Marsden and Joan Allen.
Love it or hate it, enjoy these memorable 'Notebook' movie quotes and vote for your favorite lines below!
"Picture Your Life For Me"
Young Allie: "Stay with you? What for? Look at us, we're already fightin'."
Young Noah: "Well that's what we do, we fight... You tell me when I am being an arrogant son of a bitch and I tell you when you are a pain in the ass. Which you are, 99% of the time. I'm not afraid to hurt your feelings. You have like a 2 second rebound rate, then you're back doing the next pain-in-the-ass thing."
Young Allie: "So what?"
Young Noah: "So it's not gonna be easy. It's gonna be really hard. We're gonna have to work at this every day, but I want to do that because I want you. I want all of you, for ever, you and me, every day. Will you do something for me, please? Just picture your life for me? 30 years from now, 40 years from now? What's it look like? If it's with him, go. Go! I lost you once, I think I can do it again. If I thought that's what you really wanted. But don't you take the easy way out."
Noah pushes Allie hard, and of course, the high-spirited Allie pushes right back, even harder. But Noah has a point here: He and Allie compliment each other, fighting or not. And he's clearly laying it all out here - asking her to envision her life without him, if she can.
Should this be higher or lower?
Young Allie: "Why didn't you write me? Why? It wasn't over for me, I waited for you for seven years. But now it's too late."
Young Noah: "I wrote you 365 letters. I wrote you everyday for a year."
Young Allie: "You wrote me?"
Young Noah: "Yes... it wasn't over, it still isn't over."
No, it's definitely not over. Poor Allie. Poor Noah. She never knew he wrote every single day? Evil mother, EVIL!
Should this be higher or lower?
"I Know What We Had Was Real"
Young Noah: "My Dearest Allie. I couldn't sleep last night because I know that it's over between us. I'm not bitter any more, because I know that what we had was real. And if in some distant place in the future we see each other in our new lives, I'll smile at you with joy and remember how we spent the summer beneath the trees, learning from each other and growing in love.
The best love is the kind that awakens the soul and makes us reach for more, that plants a fire in our hearts and brings peace to our minds, and that's what you've given me. That's what I hope to give to you forever. I love you. I'll be seeing you."
This is the last letter Noah sends to Allie - at this point, all his previous (364) letters have gone unanswered, so he's resigned to the fact that she's gone forever. But he describes the "best love" and it's spot on - the kind that plants a fire that never goes out, no matter the time or the distance.
Should this be higher or lower?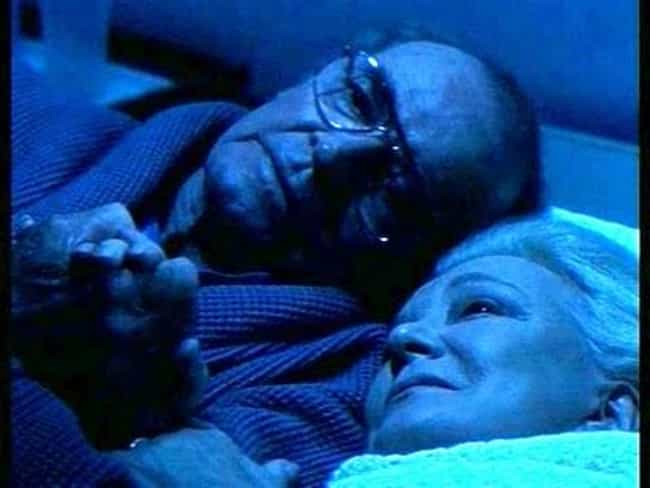 Allie: "Do you think our love can make miracles?"
Duke: "I do."
He does, and they did. Many miracles. And we got to see each and every one of them.

Should this be higher or lower?