Weird History
The Most Infamous Irish Mobsters of All Time

List of famous Irish gangsters in America, with photos and even a few mug shots of the Irish mobsters. From bootleggers to syndicate bosses, the most infamous gangsters from Ireland represent some of the worst criminals in history. These Irish mob bosses and enforcers were on the wrong side of the law for years, and now they're compiled into an infamous Irish mobsters list.
Who are the worst Irish mobsters? These are the notorious godfathers – the top crime bosses from the Irish mob and associated crime syndicates, listed from earliest to most recent. Who are the most infamous Irish mobsters in U.S. history? Narrowing down a list isn't easy. From Chicago to Boston to Philadelphia, Irish mobsters have controlled everything from bootlegging (during Prohibition years) to horse racing, and everything in-between.
This
list of gangsters
includes all of the top Irish mobsters in U.S. crime history. From Bulger to Spillane, check out this list of infamous Irish mob members and learn how these mob kings rose to infamy.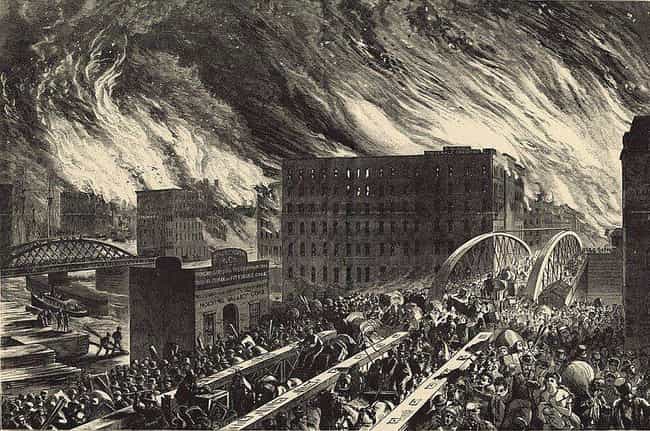 Big Jim O'Leary was a powerful Irish mob boss in Chicago for over a decade, controlling gambling on the city's South Side with an iron fist.
His criminal career started as a teenager, when O'Leary worked for bookies in Long Beach, Indiana. He later began operating his own illegal gambling ring on the steamship The City of Traverse on Lake Michigan. Both of these early operations failed to gain traction, largely because of O'Leary's refusal to pay off local police. He only found financial success following the death of Chicago crime lord Michael Cassius MacDonald, which led to O'Leary's assuming control of gambling in Chicago's South Side in the 1890's.
And yes, if the O'Leary/Chicago connection seems familiar, it should: Big Jim's parents, Patrick and Catherine O'Leary, owned the barn where the infamous Great Chicago Fire in 1871 is thought to have started. Though it's never been proven, their cow was supposedly the arsonist responsible.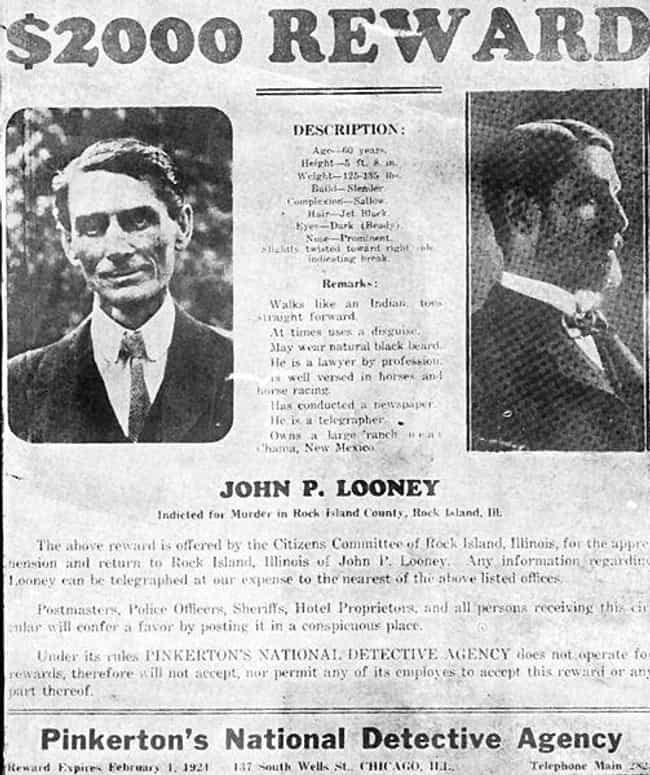 A surprisingly educated and sophisticated gangland figure, John Patrick Looney was admitted to the Illinois Bar in 1889, was active in Democratic Party politics, and had started his own newspaper – the Rock Island News of Rock Island, Illinois – in 1905. He would go on to use the publication to extort powerful local residents (threatening to publish unflattering stories unless he received a payoff) and to attack other personal enemies. Looney eventually sold his stake in the paper in 1908, though he continued to harass and threaten the purchaser – W.W. Wilmerton – who had hoped to dismantle it (He even got into a gunfight with Wilmerton at one point during which Looney was wounded).
During and following his tenure at the Rock Island News, Looney got involved in gambling and prostitution in addition to his extortion ring. Once Prohibition became the law of the land, he extended his enterprise into the protection racket as well, offering cover for law violators.
In 1922, his fortunes changed after Looney allegedly killed William Gabel, a man who had provided evidence against Looney to Prohibition agents. In retaliation, Looney's son was murdered by rivals, and police raids shut down his speakeasies and brothels. Though he fled, first to Canada and then New Mexico, Looney was eventually apprehended, convicted of Gabel's murder as well as "conspiracy to protect gambling, prostitution and illicit liquor traffic" and sentenced to 14 years in prison. He died in 1947 in a tuberculosis sanitarium.
Looney is the inspiration for Paul Newman's character, John Rooney, in the Oscar-winning 2002 movie
Road to Perdition
. The character was originally named "John Looney" in Max Allan Collins' graphic novel of the same name.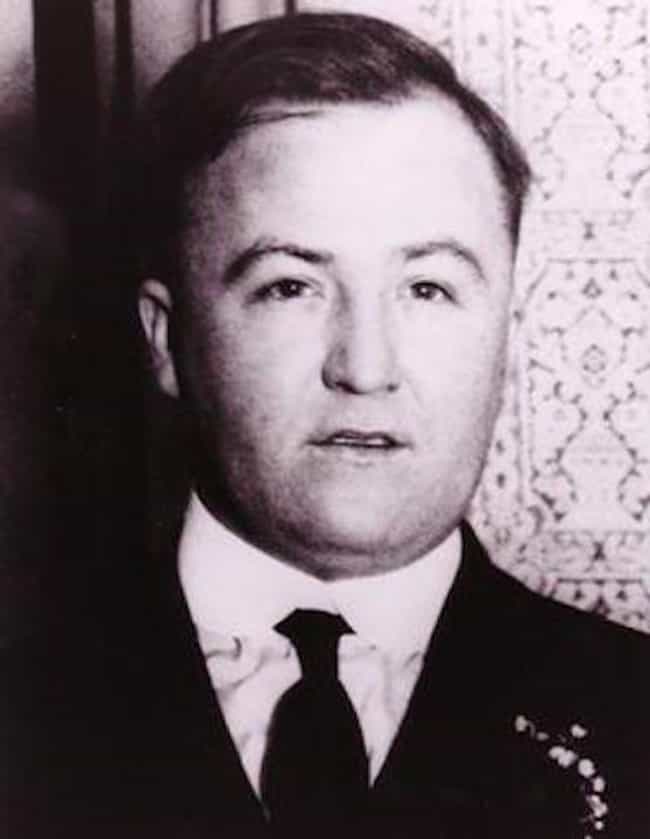 Dean O'Banion (sometimes referred to as Dion O'Banion) was a native of Chicago's North Side neighborhood and, during the beginning of the Prohibition era, united with Italian South Side mobsters (including boss 'Papa' Johnny Torrio and his associate, Al Capone), to ramp up their bootlegging operations and avoid turf battles. In 1924, O'Banion decided to break with his former partners, and unsuccessfully attempted to frame Torrio for murder, leading to a bloody struggle for dominance of North Side bootlegging.
In November of 1924, O'Banion was shot and killed while working in his flower shop. The murder started a gruesome 5-year Chicago gang war that culminated in the infamous St. Valentine's Day Massacre in 1929.
O'Banion was the basis for the character played by Jimmy Cagney in the 1931 film
The Public Enemy
.
see more on Dean O'Banion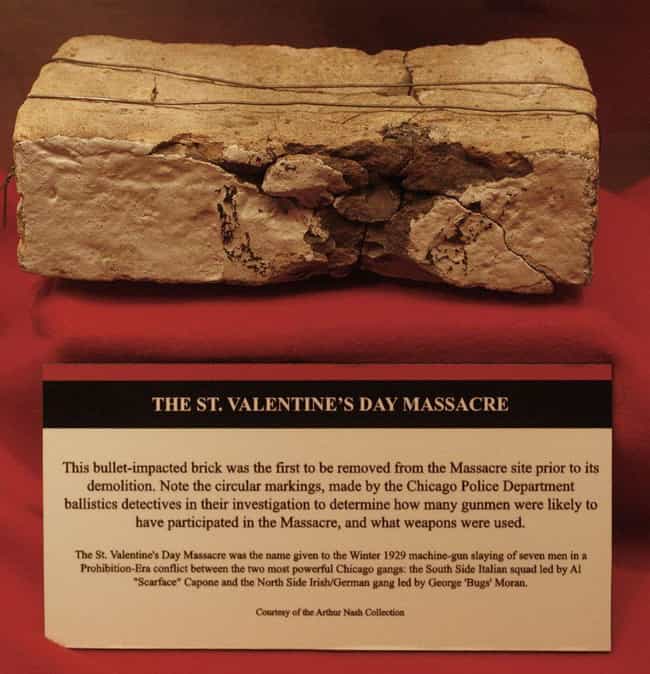 'Bugs' Moran was a gangster during the Prohibition era in Chicago. After embarking on a criminal career as a teenager, he gained a reputation as a lunatic with a ferocious temper, earning the nickname 'Bugs' (which at the time, was slang for "crazy"). Before the age of 21, he had already been incarcerated three times.
During Prohibition, Moran found his own bootlegging operation in direct competition with the Chicago "Italian" family set up by Al Capone, triggering a turf war (and lifelong rivalry) between the two men. Their back-and-forth series of attacks and retaliations lasted through the rest of the Prohibition era, and led Moran to popularize the technique of driving by Capone's properties and peppering them with gunfire, an iconic image of organized crime from the era and the inspiration behind the crime of "drive-by shooting."
Moran was convicted of robbing a bank messenger in Ohio in 1946, and spent most of the remainder of his life in prison. He died destitute in 1957, mere weeks after beginning a new prison sentence for bank robbery.