Button Mash
The 12 Most WTF Fighting Games of All Time

Updated March 6, 2020
453 votes
134 voters
185.5k views
12 items
After Street Fighter made it big, the gaming industry decided to pump out fighting game after fighting game - some decidedly better than others. Why were these absurd games made? It's a mystery, but since they were, let's explore some of the weirdest/worst fighting games of all time.
What are the worst fighting games? There are some pretty bad video games on this list.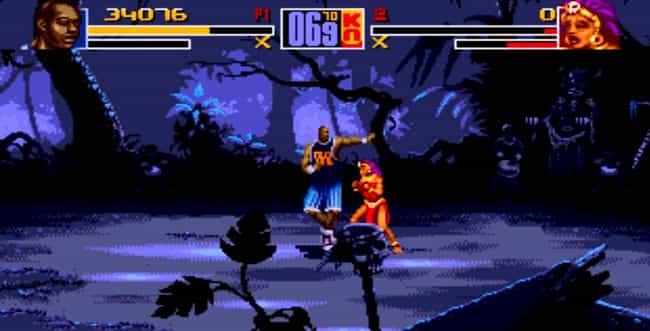 Based on the classic Mortal Kombat format, the game featured a progression through a world where Shaq could hurt people with his magic flaming basketball.
Shaquille O'Neal casually wanders into a Kung Fu dojo on his way to a charity basketball game in Tokyo, Japan where, after speaking with a kung fu master, he stumbles into another dimension where he's got to rescue a boy named Nezu from an evil mummy. This game could have been at least guilty-pleasure-worthy if it handled well, but Shaq's limbs are so long throughout every fight that you struggle with your basic depth perception, and have to get far away from your enemies just to hit them.
This game was basically Dead or Alive, only with the Mortal Kombat, real-human capture going for it.
Back when the graphics from Lawnmower Man were the most amazing thing that we had ever seen, Rise of the Robots was released boasting the same type of graphics. To be fair, it looked great at the time. The only problem was that its controls felt like you were driving a go cart in the Indy 500.
The basic premise was that an evil nano virus had made all the robots evil, except for one, and he has to save humanity by fighting other robots. Plus, the main boss was called The Supervisor.
Clayfighter was a straight Street Fighter 2 rip off, but it used pseudo-claymation style graphics. Instead of pixelated heroes, players got nightmarish clay versions of characters like Frosty the Snowman.
The story was that a clay meteor landed at a circus, transforming all the performers into clay versions of themselves with super powers.