Entertainment
The Adventures of Tintin Movie Quotes

107 votes
32 voters
15.9k views
12 items
'The Adventures of Tintin' movie quotes represent some of the best lines from this long-awaited, 3D adaptation of the 'Tintin' graphic novels. This action-adventure, motion-capture film from Steven Spielberg and Peter Jackson includes gorgeous film sequences, but it also offers up some really memorable movie quotes, too. I've listed many of them here, along with some great trailers and clips from the film, but if your personal favorite 'The Adventures of Tintin' quote isn't listed, feel free to add it to the list! And if you do see a favorite line, vote it up.
'The Adventures of Tintin' tells the tale of young journalist Tintin and his dog, Snowy. Together, they wind up on a huge adventure, as they try to find a secret treasure hidden in one of three different models of the ship the 'Unicorn.' 'The Adventures of Tintin' includes an amazing cast, with Jamie Bell as Tintin, Andy Serkis as Captain Haddock, Simon Pegg and Nick Frost as detectives Thompson and Thompson and Daniel Craig as both the pirate Red Rackham and his descendant, Ivan Ivanovitch Sakharine. This movie is a long time coming, as Steven Spielberg actually purchased the rights decades ago (in the early 80s), shortly after 'Tintin' writer/creator Herge (aka George Prosper Remi) passed away.
2011 proved to be a great year for gorgeous action-adventure and family films, 'Tintin' among them! If you're a fan, you might enjoy these other lists of the best quotes from
'Hugo,'
'Arthur Christmas,'
'The Muppets,'
'Happy Feet Two,'
'Puss in Boots'
and
'Harry Potter and the Deathly Hallows,' Parts 1 and 2.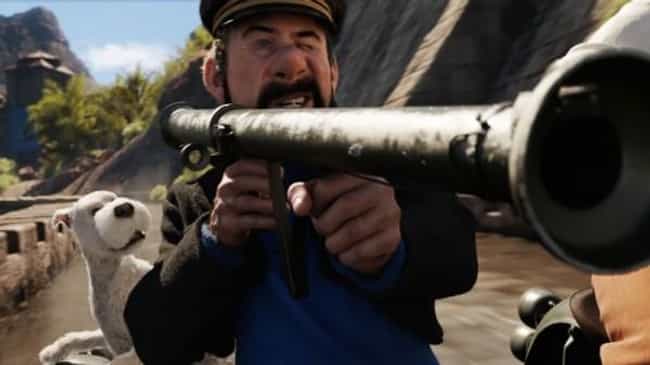 Captain Haddock: "I'll not be doubted by some pipsqueak tuft of ginger and his irritating dog. I am master and commander of the seas!"
Uh oh, Captain Haddock went there: a ginger reference! Tintin's a brilliant journalist and might just save your tail, Haddock. And his dog, for the record, is adorable, clever and so NOT irritating.

Should this be higher or lower?

Captain Haddock: "You do know what you're doing, right?"
Tintin: "Relax! I interviewed a pilot once!"
Tintin: The Typical Journalist, always up for adventure and believing that he can do just about anything, including flying a plane. Interviewed a pilot, did you? Well of course that qualifies you to fly!
Should this be higher or lower?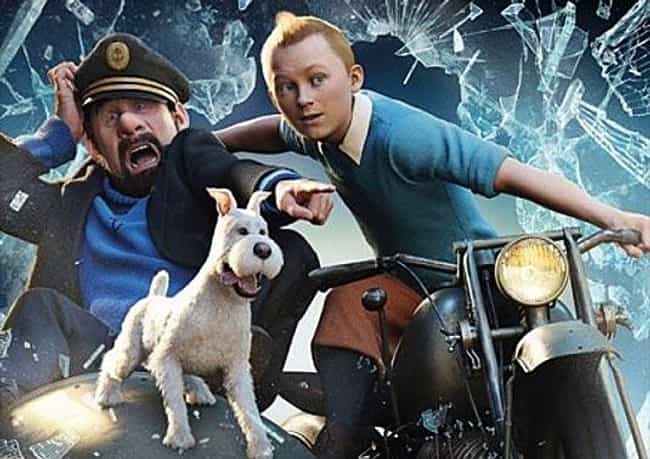 Tintin: "What have you done?"
Captain Haddock: "I lit a wee fire..."
Tintin: "In a BOAT?!" (large explosion) "Well, this is a fine mess!"
A fine mess, indeed. Captain Haddock (Andy Serkis) definitely meant what he said about having a thirst for adventure - more like a knack for finding and creating trouble!

Should this be higher or lower?

Thomson: "Great Scotland Yard! That's extraordinary!"
Tintin: "What is?"
Thomson: "Worthington's having a half-price sale on bowler hats!"
Inspector Thompson: "Really Thomson!" (Grabs the paper) "This is hardly the time...Great Scotland Yard!"
Tintin and Thomson: "What is it?"
Inspector Thompson: "Canes are half-price too!"
Ah, great comic relief from Thomson (Nick Frost) and Inspector Thompson (Simon Pegg). This movie is chock full of incredible talent, including Frost and Pegg (and Andy Serkis, Daniel Craig and Jamie Bell).
Should this be higher or lower?