Music
Insane Backstories of the Most Famous Rap Disses

Updated September 13, 2019
3.8k views
10 items
Rap battles are nothing new. It's always been fun to hear other musicians be torn apart by lyrics, waiting with anticipation for a response. It is even satisfying when it is one of your favorite rappers seeing clear victory. Most recently, reactions to the diss tracks between Meek Mill and Drake have made their way into everyone's social media feeds somehow and have been referenced ever since. Here are a few known diss tracks from feuding rappers that have used the art of diss as a weapon.
1
When 2Pac Threatened To Kill All His Rival East Coast Rappers
Song: "Hit Em' Up" (1996)
Artist: 2Pac ft. Outlawz
Dissing: The Notorious B.I.G. and other East Coast rappers
Grab your Glocks when you see 2Pac
Call the cops when you see 2Pac
Who shot me, but your punks didn't finish
Now you 'bout to feel the wrath of a menace
N***a, I hit 'em up
There is nothing more classic in rap than the rivalry between the East Coast and West Coast, and nobody better to represent that rivalry than 2Pac (Death Row Records) and The Notorious B.I.G. (Bad Boy Records).
The backstory of "Hit 'Em Up" starts when Tupac was shot and robbed at a recording studio in New York on November 30, 1994. Biggie and Puff Daddy also happened to be recording in the same building at the same time. Tupac survived and was led to believe that Biggie was involved after Biggie released a song called "Who Shot Ya?" three months after the incident.
Tupac responded with "Hit 'Em Up," a diss mainly aimed at Biggie and Puffy but also at other artists involved with Bad Boy Records or the East Coast.
Although it was later revealed that "Who Shot Ya?" was recorded before the shooting, the Tupac Biggie rivalry reached its peak when Tupac was shot dead three months after his own song's release in 1996, which was followed by Biggie's murder six months after that. The closeness of event dates and the similarity between the murders of the two rappers leave behind many suspicions and the biggest myths in rap history.
Tupac's diss still remain as one of the most. . . notorious raps in history because of the deep hatred heard in Tupac's voice and the violence involved in the lyrics, as well as the actual violence committed outside and even literally inside the studio.
2
That Time Kendrick Lamar Stopped the Rap World for a Moment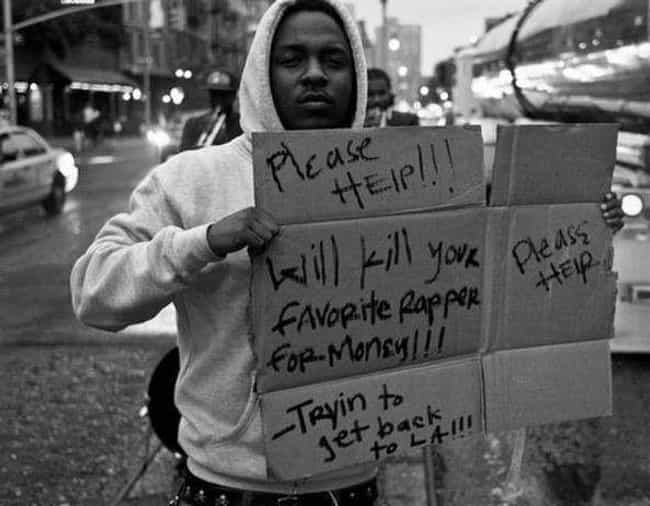 Song: "Control" (2013)
Artist: Big Sean ft. Kendrick Lamar and Jay Electronica
Dissing: J. Cole, Big KRIT, Wale, Pusha T, Meek Mill, A$AP Rocky, Drake, Big Sean, Jay Electonica, Tyler, the Creator, Mac Miller and every other rapper in the game

And that goes for Jermaine Cole, Big K.R.I.T., Wale
Pusha T, Meek Millz, A$Ap Rocky, Drake
Big Sean, Jay Electron', Tyler, Mac Miller
I got love for you all but I'm tryna murder you n****s
Tryna make sure your core fans never heard of you n****s
Despite not being on the track list for Big Sean's album Hall of Fame (2013) because of sampling issues, Big Sean decided to drop this song online a few hours before he opened up pre-ordering of the album. Kendrick Lamar's verse, where he explicitly calls out multiple rappers, quickly became a topic of conversation in the hip hop world. He called out very relevant rappers like J. Cole, Wale, and even Big Sean himself.
Despite having worked with all the artists he mentioned, except for Tyler, the Creator, he made it clear that since this was rap, it was all a competition and he was going to make sure every rapper except for him was forgotten.
Lamar made a similar diss before on a freestyle over Kanye West's song "Monster" in 2010 where he called out Kanye, Lupe Flasco, and Nas. However, that diss was disregarded since he wasn't famous enough to be taken seriously.
Lamar's verse has become one of the most provocative disses in recent rap history for its direct mention of artists without discretion, despite not having any kind of problem with them prior to the release. Many artists responded soon after, some of which were inspired rather than offended.
3
When Lil Wayne Told Jay-Z He Was Going to Hold Beyonce For Ransom (Not Literally)
The Song: "It's Good" (2011)
The Artist: Lil Wayne ft. Drake and Jadakiss
Dissing: Jay-Z

Talkin 'bout baby money? I got your baby money
Kidnap your b***h, get that 'how much you love your lady' money

After Jay-Z dissed Birdman and Lil Wayne on his track, "HAM," where Jay stated that the two rappers did not make a lot of money, or "baby money," Lil Wayne quickly barked backwith his own track, "It's Good."
Lil Wayne was first shown Jay-Z's song by Kanye West, a collaborator in the song, and it instantly brought back the ongoing feud about who makes more money in the industry. Although Wayne did not explicitly call out Jay, the various references to the rapper's "99 Problems," business endeavors, and "baby money" comment, made it clear that Wayne was attacking back. After Wayne's release, the song received a lot of attention for its line where he depicts kidnapping Beyonce for ransom. Obviously Wayne did not actually go through with it, but he clearly portrayed himself as a person Jay-Z should not mess with.
Jay-Z would follow up two years later on the feud with his track, "
La Familia
."
4
When Drake Put an End to His Feud With Meek Mill (Or So We Thought)
Song: "Back to Back" (2015)
Artist: Drake
Dissing: Meek Mill
You love her, then you gotta give the world to her
Is that a world tour or your girl's tour?
I know that you gotta be a thug for her
This ain't what she meant when she told you to open up more
One of the most mainstream feuds in rap history has to be the one between Meek Mill and Drake. It all started one night on Twitter, when Meek Mill called out Drake for not promoting his new album, Dreams Worth More Than Money, where both rappers collaborated on a song called "R.I.C.O.." He stated that this was because Drake supposedly did not write his own verse on it.
Fellow rappers responded on Twitter, many taking sides. Some said Meek was just being honest while others, like Roscoe Dash, called it karma (for not getting his own support from Meek.) Quentin Miller was claimed to be the ghostwriter for Drake but quickly proven wrong as he was a credited collaborator and not "ghostwriter."
Everyone anticipated Drake's response which soon came in a track called "Charged Up," where Drake stated he was flattered and that he only collaborated with Meek out of pity. Meek Mill responded on Twitter by calling the song "baby lotion soft." But four days later, Drake released yet another diss track, "Back to Back."
The song's noticeable disses include "trigger fingers turn to Twitter fingers," which calls out Meek's lack of confrontation, and "is that a world tour or your girl's tour," which refers to Meek's partner, Nicki Minaj, who often overshadows him.
After performing the song
live at OVO Fest
with fan-made memes showing in the background, it was clear that Drake won the battle.
Meek Mill
ultimately responded
with "Wanna Know," which received
negative reviews
from critics and audiences.