Entertainment
The Best Dead Poets Society Quotes

Updated June 13, 2018
4.9k views
24 items
Dead Poets Society quotes are certainly quotable for movie fans. These are some of the best quotes from the drama Dead Poets Society as determined by you and your votes. Directed by Peter Weir, Dead Poets Society centered on a poetry teacher (portrayed by the late Robin Williams) and his inspiring teaching at a conservative Vermont boarding school in 1959. Released on June 9, 1989, the tagline for Dead Poets Society was "He was their inspiration. He made their lives extraordinary."
What are the best Dead Poets Society quotes? Is it the emotional "Oh captain, my captain" line? Or do you like some of the lesser known lines from the film? Let it be known. Vote for your top Dead Poets Society quotes and watch them rise to the top of the list.
Keating
: "Seize the day. Gather ye rosebuds while ye may." Why does the writer use these lines?
Charlie
: Because he's in a hurry.
Keating
: No. Ding! Thank you for playing anyway. Because we are food for worms, lads. Because, believe it or not, each and every one of us in this room is one day going to stop breathing, turn cold and die.
Keating:
Language was developed for one endeavor, and that is - Mr. Anderson? Come on, are you a man or an amoeba? Mr. Perry?
Neil:
To communicate.
Keating:
No! To woo women!
Charlie Dalton
: Welton Academy. Hello? Yes, he is. Just a moment. Mr. Nolan, it's for you. It's God. He says we should have girls at Welton.
...
Keating
: Phone call from God. If it had been collect, that would have been daring!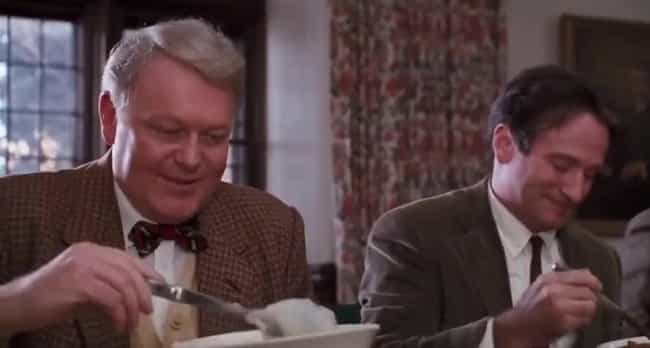 McAllister
: You take a big risk by encouraging them to be artists, John. When they realize they're not Rembrandts, Shakespeares or Mozarts, they'll hate you for it.
Keating
: We're not talking artists, George, we're talking freethinkers.
McAllister
: Freethinkers at seventeen?
Keating
: Funny — I never pegged you as a cynic.
McAllister
: Not a cynic, a realist. "Show me the heart unfettered by foolish dreams, and I'll show you a happy man."
Keating
: "But only in their dreams can man be truly free. 'Twas always thus, and always thus will be."
McAllister
: Tennyson?
Keating
: No, Keating.