Entertainment
The Best A League of Their Own Quotes

The best A League of Their Own quotes make you realize how great the movie really is, even if you haven't seen it in a while. Let's rank the greatest quotes from A League of Their Own, with the help of your votes. Starring Geena Davis, Tom Hanks, and Madonna, A League of Their Own was directed by Penny Marshall and released in 1992.
What is your favorite A League of Their Own quote? One memorable line was when Dottie Hinson said, "Yeah. It is only a game, Jimmy. It's only a game, and, and, I don't need this. I have Bob; I don't need this. At all." Another great line from A League of Their Own is, "Sh*t, Dottie, if you want to go back to Oregon and make a hundred babies, great, I'm in no position to tell anyone how to live. But sneaking out like this, quitting, you'll regret it for the rest of your life. Baseball is what gets inside you. It's what lights you up, you can't deny that," spoken by Jimmy Dugan.
Vote up your top A League of Their Own quotes, regardless of which character they come from.
Ranker may collect a commission from links on this page.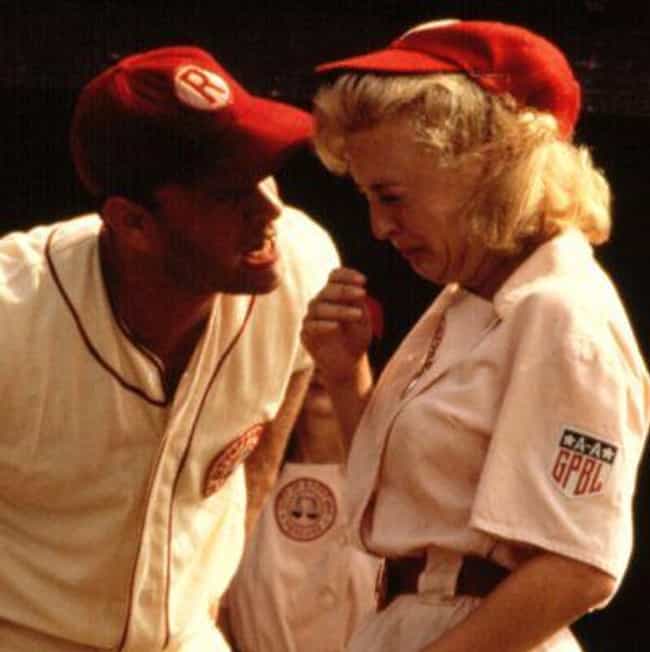 Jimmy: Evelyn, could you come here for a second? Which team do you play for?
Evelyn: Well, I'm a Peach.
Jimmy: Well I was just wonderin', 'cause I couldn't figure out why, you throw home when we got a two-run lead! You let the tying run get to second, and we lost the lead because of you. You start using your head. That's the lump that's three feet above your ass.
[Evelyn starts crying]
Jimmy: Are you crying? Are you crying? Are you crying?! There's no crying! There's no crying in baseball!
Doris: Why don't you leave her alone, Jimmy?
Jimmy: Oh, you zip it, Doris! Rogers Hornsby was my manager and he called me a talking pile of pig shit! And that was when my parents drove all the way down from Michigan to see me play the game! And did I cry?
Evelyn: No, no, no.
Jimmy: No! And do you know why?
Evelyn: No.
Jimmy: Because there's no crying in baseball. There's no crying in baseball! No crying!

Agree or disagree?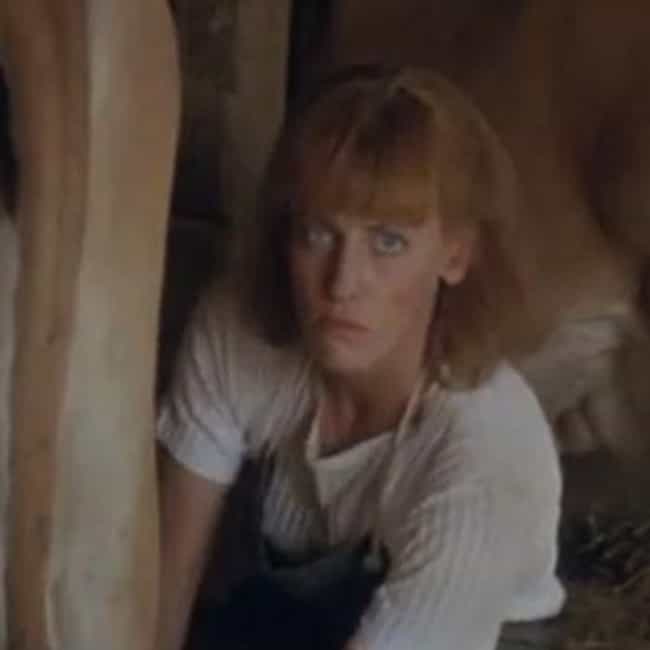 Ernie Capadino: Ow. Doesn't that hurt them?
Dottie Hinson: Doesn't seem to.
Ernie Capadino: Well, it would bruise the hell out of me.
Dottie Hinson: Can I help you with something?
Ernie Capadino: I'm Ernie Capadino. I'm a baseball scout. I saw you playing today. Not bad, not bad. You ever heard of Walter Harvey, makes Harvey bars - you know, the candy?
Dottie Hinson: Yeah. We feed them to the cows when they're constipated.
Ernie Capadino: That's the guy. He's starting a girls' baseball league, so he can make a buck while the boys are overseas. Wanna play?
Dottie Hinson: Huh?
Ernie Capadino: Nice retort. Tryouts are in Chicago. It's a real league, professional.
Kit Keller: Professional - baseball?
Ernie Capadino: Mmm-hmm. They'll pay you 75 dollars a week.
Kit Keller: We only make 30 at the dairy.
Ernie Capadino: Well then, this would be more, wouldn't it?
Agree or disagree?
Ira Lowenstein: Until you did that, I couldn't tell if you were... drunk or dead.
Jimmy Dugan: It was made very clear to me what I'm supposed to do here. I smile, wave my little hat... I did that, so when do I get paid?
Ira Lowenstein: Now, Jimmy, you have some pretty good ballplayers here. You ought to give them a little bit of your...
Jimmy Dugan: Ballplayers! I don't have ballplayers, I've got girls. Girls are what you sleep with after the game, not, not what you coach during the game.
Ira Lowenstein: If we paid you a little bit more, Jimmy, do you think you could be just a little more disgusting?
Jimmy Dugan: Well, I could certainly use the money.
Ira Lowenstein: This is what it's going to be like in the factories, too, I suppose, isn't it? "The men are back, Rosie, turn in your rivets." We told them it was their patriotic duty to get out of the kitchen and go to work; and now, when the men come back, we'll send them back to the kitchen.
Walter Harvey: What should we do - send the boys returning from war back to the kitchen?