Watchworthy
The Cabin in the Woods Movie Quotes

Updated June 14, 2019
96 votes
27 voters
17.1k views
8 items
'The Cabin in the Woods' movie quotes represent the best lines from this horror thriller written by Joss Whedon and Drew Goddard. The film follows a group of five unsuspecting college students who stay in a remote cabin for a vacation. On the surface, the cabin/lake house looks idyllic, but something menacing lurks in the woods. This list includes some of the most memorable quotes from 'Cabin in the Woods,' so if you see a favorite, vote it up. And, if you've seen the movie and want to add a quote that isn't listed, feel free (but try not to give away any spoilers in the process).
The storyline for 'The Cabin in the Woods' appears, on the surface, to be pretty standard slasher movie fare: Five friends, Dana (Kristen Connolly), Jules (Anna Hutchison), Curt (Chris Hemsworth), Marty (Fran Franz) and Holden (Jesse Williams) are holed up in a (very) remote cabin, surrounded by a lake and some creepy-looking woods. At first, everything seems great -- but quickly, this group of five realizes that something is terribly wrong. 'The Cabin in the Woods' also stars Richard Jenkins, Bradley Whitford and Amy Acker, among others.
Data-driven recommendations based on voting from over 40 million monthly visits to Ranker.
Try the free app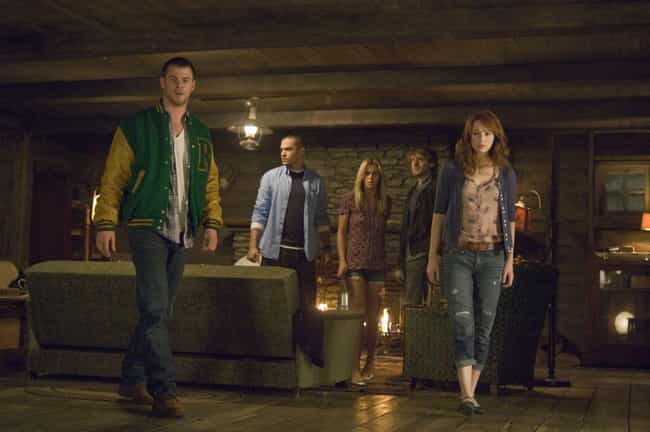 Curt: "This isn't right. We should split up."
Holden: "Yeah, good idea."
Marty: "Really?!"
Curt is the hunky jock guy, so he's automatically in charge (such is the case with most horror movies, right?). Initially, he suggests that the friends stick together, but for some reason, he changes his mind. It seems like Marty is the only one in this group who has any sense. Leave it to the stoner to be the one with his head screwed on straight...
Should this be higher or lower?

Marty: "Somebody sent those things here to get us!"
It's hard to tell exactly what the "things" are that have arrived to "get" this group, but chances are, they're super creepy and quite deadly.
Should this be higher or lower?

Gas Station Attendant: "Sign says closed."
Curt: "We're looking for," (turns to Jules) "What's it called?"
Jules: "Tillerman Road."
Gas Station Attendant: "I could get you there, but getting back -- that's your concern."
Dear Five Friends on Vacation: Listen very carefully to the creepy gas station attendant guy. Getting back to the world from this particular vacay spot you've chosen could be difficult. Why not go to a nice, crowded resort instead?
Should this be higher or lower?

Marty (to Dana): "I seriously believe something weird is going on."
Again, here's Marty the Stoner Guy, making total sense. He's the first to voice his concerns that something is amiss in and around this cabin. The non-stoners? Not a clue.
Should this be higher or lower?