Total Nerd
The Coolest Moments from the Jessica Jones Comics

Updated February 14, 2020
51.4k views
15 items
From the new Netflix original series to the classic Marvel comic books, Jessica Jones has some of the best storylines in the Marvel universe. From her early run in the Alias comics, to her supporting work in some of the Avengers storylines, Jessica's character has never lost her unique charm or persona, regardless of the medium of storytelling. We've put together some of the coolest moments from the Jessica Jones comic book series below.
Jessica Jones was an unknown character in the Marvel Universe for decades, despite making a brief appearance in an early Spider-Man comic book. However, when the character was introduced in the Alias comic books just over a decade ago, that all changed, as the limited run quickly made her character one of the most relatable and beloved heroines in comic book history.
Being one of the most tragic and deeply nuanced characters in the comic book universe, however, means that there are a number of moments throughout history that have tenured Jessica Jones as one of the greatest comic book heroines of all time. Check out this list of cool moments from the Jessica Jones comic books below.
Perfect First Impressions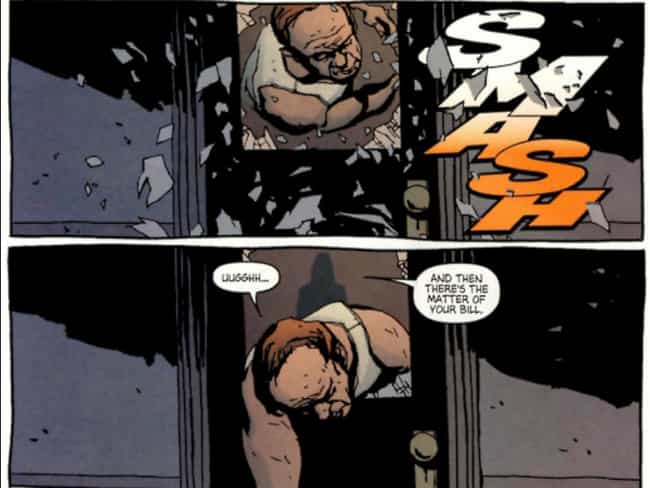 Story Found In: Alias, Issue #1
When a writer is introducing a reader to a new character, first impressions are everything, especially when it comes to such a visual art form like comic books. This is probably why this specific panel in the first issue of Alias is so beloved.
Within just a few panels on a page, the reader learns almost every basic piece of information that they'll need to know about the character. The first is that she is a private investigator running a business called "Alias Investigations." The second is that she doesn't deal with the best of clientele, and the third is that she also doesn't have much tolerance for idiots or jerks.
After being harassed long enough by this certain client, the superpowered Private Investigator reaches her limit and smashes his head through a glass door.
It's easy to see why the Netflix Original Series copied this sequence frame-by-frame in its first episode too, and nothing seems to embody the character of Jessica quite like this
piece of artwork
does.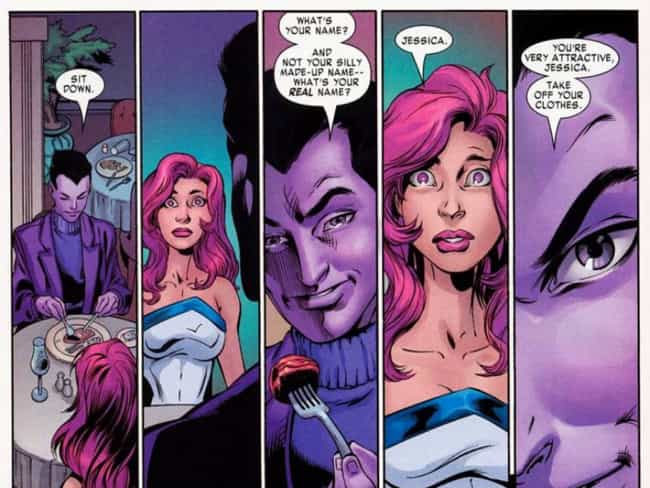 Story Found In: Jessica Jones, Issues #25-26
While Alias gave comic book readers one of their most relatable and emotionally complex heroines yet, it also gave them one of the most despicable villains as well. Pulled out from obscurity much like the title character, the introduction of Zebediah Killgrave, a.k.a. The Purple Man, is one of the most sickening moments in this rather dark series.
We know that he's the reason for all of Jessica's PTSD and emotional trauma, and in this issue, the readers finally see the moment when Jessica's life changed forever. After she was drawn to a fistfight started by Killgrave, the character is rendered helpless rather quickly as The Purple Man forces her to remove her clothes in public, and fend off any unwanted visitors while he finishes his meal.
In terms of living up to his previous hype, the Purple Man did that - and so much more - within the confines of just a few small panels on a page.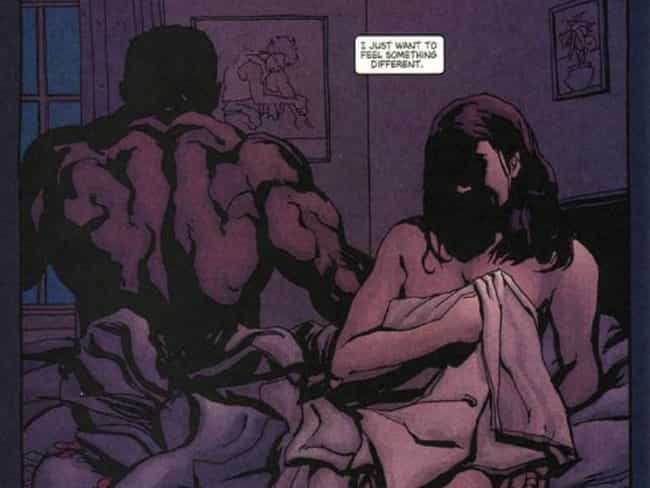 Story Found In: Alias, Issue #1
In a lot of ways, Jessica offered a refreshing change of pace for readers looking for a strong, complex female comic book character. Seeing the way she managed to take control of different situations has been one of the strongest and most recurring aspects of her character over the past few years.
The best example of this was the moment when she slyly seduces Luke Cage at a bar, letting him believe he's in control of her, while the readers are treated to her inner monologue throughout. Basically, she was always in control Luke, even if you didn't realize it.
Punching Marvel's Favorite Son: Spider-Man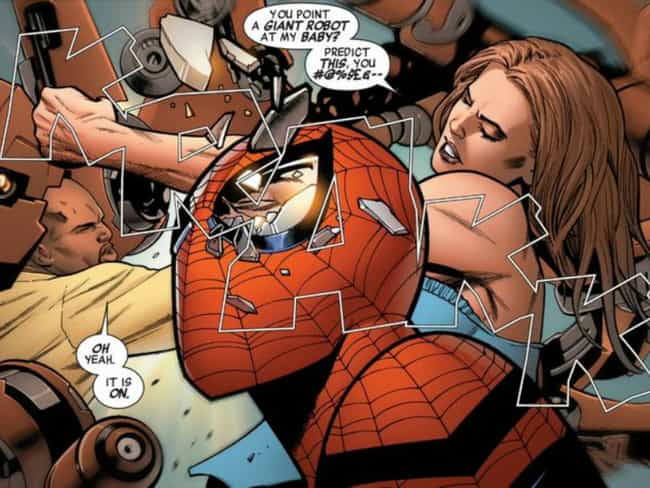 Story Found In: Mighty Avengers, Issue #5
Not many characters in the comic book universe can get away with punching such a beloved character as Spider-Man - whether it be the Peter Parker or Doc Ock version - and manage to become even more beloved for it. However, Jessica Jones totally pulled it off.
Ever since her baby, Danielle, was born to father Luke Cage, Jessica has developed a certain protective nature that makes her both stronger and snarkier. Leading up to this particular issue, many fans believed that it would be Luke that would be the one to throw down with the Superior Spider-Man, but many were quite pleased to see Jessica throw her hand in.
It's pretty clear from this panel that if you're a comic book character you should never, ever threaten Jessica's family.