Unspeakable Times
9 Startlingly Evil Baby Farmers Who Abused And Murdered Children

Updated June 14, 2019
532.4k views
9 items
While adoption is a huge part of modern society, that wasn't always the case. Around the turn of the 20th century - before adoption and abortion were legal - many women in the Western world turned to baby farmers to find homes for their unwanted children. Baby farmers were men and women who offered to help mothers find homes for their newborns in exchange for a fee. Although not all of the people who operated baby farms were dedicated to finding loving homes for the babies in their care. Some just posed as loving, nice people to make a buck.
A number of these alleged childcare givers saw an opportunity to profit off desperate mothers. They would kill the children and pocket the cash. While some of these baby farmers may not have intentionally killed the infants left in their care, others admitted to deliberately and repeatedly murdering children, including one woman who was suspected of ending 400 young lives. The vicious crimes of baby farmers show the dark underbelly of what happens when women become desperate and are forced to leave their children in the hands of a stranger. These murderous baby farmers and their horrific crimes are sure to terrify you.
In April 1896, police visited the home of Amelia Dyer. They were led to her home after the body of a dead infant was discovered in the reeds near the River Thames, wrapped in paper bearing the middle-aged midwife's London address. When they entered Dyer's home, they were confronted with the unmistakable odor of decomposing human flesh, and a search of the property revealed the corpses of 50 infants, as well as vaccination records, a massive collection of baby clothes, and letters regarding newspaper ads she'd placed to advertise her services as an adoption agent.
Eventually, the authorities learned Dyer had been operating as a baby farmer. But instead of finding homes for the children, she pocketed the fee paid by their desperate mothers and strangled the infants to death by wrapping tape tightly around their necks. The police determined Dyer may have murdered as many as 400 babies over the course of 20 years, making her one of the most prolific serial killers in history.
However, while she was suspected of killing hundreds of babies, Dyer was only convicted of one murder, and she was executed by hanging on June 10, 1896, when she was approximately 60 years old.
Margaret Waters's Crimes Were So Horrible, A Law Was Made To Protect Children
Margaret Waters was a baby farmer in London who allegedly told pregnant women she could find good homes for their kids, would help them give birth, and them take the children. She would then kill the babies by drugging them with "laudanum or syrup of poppies." Waters crimes were eventually discovered after she reportedly took the lives of more than 40 infants, and she was convicted of murder and hanged for the killings in 1870.
Waters's crimes lead to the establishment of the Infant Life Protection Act in 1872, which attempted to regulate the practice of baby farming by requiring homes with more than two children under a year old to be subjected to inspections by government officials.
Amelia Sach And Annie Walters Took In Children And Immediately Killed Them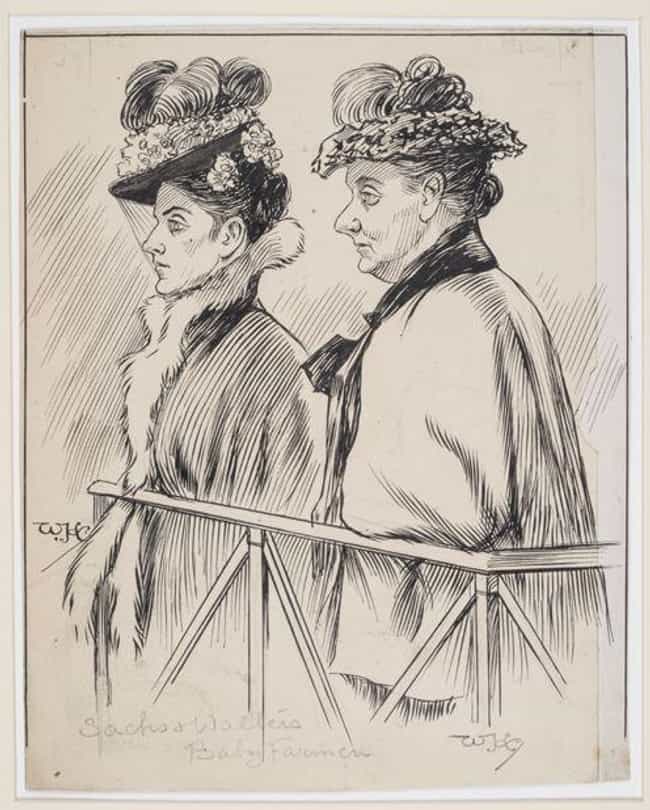 Amelia Sach was a midwife who ran a nursing home in the late 1800s. She helped women deliver their babies and eventually got involved in baby farming, telling mothers she would find homes for their children with wealthy couples in exchange for a fee. Sadly, these desperate young women didn't realize that shortly after they left the facility, Sach, along with her employee Annie Walters, killed their babies by poisoning them with cholorodyne.
After killing the infants, Sach and Walters would throw their tiny corpses in a dump or the River Thames. Their crimes were eventually uncovered when Walters's landlord, who was also a police officer, became suspicious when babies his tenant brought home simply disappeared without a reasonable explanation.
When Walters was arrested, she was holding the dead body of a baby, but she denied being responsible for the child's death. In January 1903, Sach and Walters were tried and convicted of murder, and both women were executed by hanging on February 3, 1903.
Hans Oftedal Killed 30 Babies And Was Never Charged
From June 1908 to September 1909, nearly 30 infants died while in the care of Hans Oftedal. He was a Minneapolis baby farmer who, despite not having any legitimate medical qualifications, advertised himself as a doctor and ran a hospital. Following the deaths of 27 babies, Oftedal closed down the hospital that had served as his baby farm, leaving five of his young "patients" to be taken care of by his staff of two teenage girls.
While accounts of the deaths don't indicate Oftedal was suspected of murdering the children, they do seem to show that many of the babies died as a result of neglect and malnutrition. Oftedal initially left Minneapolis for Seattle, but he eventually returned to the city where he'd operated his baby farm. He was never charged with any crimes in connection with the deaths of nearly 30 babies.