Entertainment

The Finest Hours Movie Quotes

34 votes
32 voters
4.1k views
The Finest Hours movie quotes bring the true story of the 1952 Coast Guard rescue of the SS Pendleton during a wicked snow storm. The historical disaster drama was adapted into a screenplay by Eric Johnson, Scott Silver and Paul Tamasy from the book The Finest Hours: The True Story of the U.S. Coast Guard's Most Daring Sea Rescue by Michael J. Tougias and Casey Sherman. Craig Gillespie directed The Finest Hours, which opened in theaters on January 29, 2016.
In The Finest Hours, Bernie Webber (Chris Pine) and love interest Miriam Pentinen (Holliday Grainger) are planning to get married when they are torn away from one another. See Bernie is a Coast Guard crewman who, despite a huge winter storm approaching, has been tasked with venturing into the storm to rescue the SS Pendleton. The T2 oil tanker, due to said storm, has broken in half and is stranded.
Despite many objections including by Miriam, Chief Warrant Officer Daniel Cluff (Eric Bana) orders Webber, along with his crew including Richard Livesey (Ben Foster) and Ervin Maske (John Magaro), out to rescue the Pendleton and its crew, including Ray Sybert (Casey Affleck). But with only a tiny lifeboat, Bernie's crew's mission must be their finest hours if they want to return safely and with the stranded crew of the Pendleton.
The Finest Hours
joined theaters which were already showing other films including
The Revenant
,
Ride Along 2
,
13 Hours The Secret Soldiers of Benghazi
, and
Norm of the North
.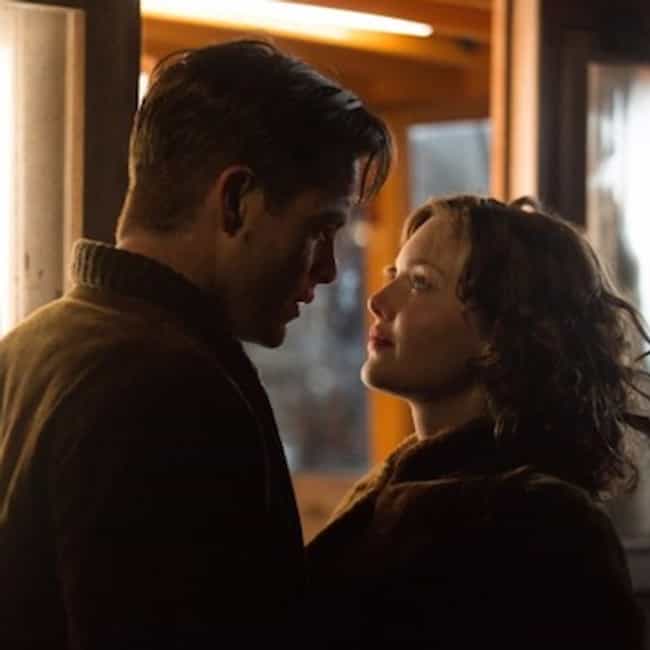 Bernie Webber: You know we all get scared out there.
Miriam Pentinen: I'm not afraid of the water, Bernie. It scares me at night is all. You can't see what's underneath.
Bernie Webber: Just more water
...
Bernie Webber: Why'd you wait so long before you said yes to going out on a date?
Miriam Pentinen: I just didn't know if you'd be attracted to me.
Bernie Webber: You're exactly how I pictured you.
Miriam Pentinen: Yeah?
Bernie Webber: Better
As Bernie and Miriam are courting, it's clear that they have some attraction to one another. They, however, do not agree on the sea with Miriam not a fan and Bernie, well, in the Coast Guard.

Should this be higher or lower?
The Biggest Storm to Hit the East Coast
Bernie Webber: You know they're saying it's going to be the biggest storm to hit the east coast.
Andy Fitzgerald: It's going to be hurricane strength in an hour.
...
Bernie Webber: What's this on the radio, a ship breaking up?
Andy Fitzgerald: She's a T2 tanker, split right in half.
Normally a huge winter storm or a tanker in need of assistance wouldn't be out of the ordinary, at least when they happen separately. Since these two things are happening all at the same time, that adds up to quite the scary situation for all involved.
Should this be higher or lower?
He's Sending You Out to Die
Frank Fauteux: That man in there don't know what he's doing. He's sending you out to die.
Bernie Webber: In the Coast Guard they say you go out. They don't say you gotta come back in.
While Bernie knows that going into the storm with the goal of rescuing the tanker is close to a suicide mission, as Frank points out, but he also knows that he signed up for the Coast Guard knowing the risks. He doesn't want to die, but he does understand his duty.
Should this be higher or lower?
Ray Sybert: We've got maybe two, three hours and then we sink.
Ray Sybert makes no claim to the rest of the ship's crew that they have a good chance of surviving this tragedy. He knows that their time is limited and without rescue, and fast, they're done for.
Should this be higher or lower?