Entertainment
The Florida Project Movie Quotes

Updated August 15, 2019
102 votes
58 voters
5.8k views
8 items
List Rules Vote for your favorite The Florida Project movie quotes!
Here are the best quotes from The Florida Project, telling the story about a little girl growing up in a cheap motel steps away from the happiest place on earth.
In The Florida Project, life through the eyes of six-year-old girl Moonee (Brooklynn Prince) is portrayed as she lives with mother Halley (Bria Vinaite) in a purple motel near Walt Disney World in Orlando, Florida. While it's an impoverished life, Moonee remains positive and enjoys the simple things like rainbows and ice cream purchased by kind tourists.
Halley struggles to pay rent and often scams tourists for profit before turning to prostitution to earn money. She allows Moonee to run free where Moonee and other children who reside in the motel get into trouble. This irks motel manager Bobby (Willem Dafoe), who tries his best to protect the resident children, even when their parents won't. But as things with Halley get worse, there's only so much he can protect Moonee, especially when Child Protective Services get involved.
Be sure to vote for your favorite lines from The Florida Project, and be sure to check out the best quotes from other 2017-18 award season movies, like Mudbound, Battle of the Sexes, Roman J. Israel, Esq., and Phantom Thread.
I Failed as a Mother, Moonee
Bobby: Halley, got a situation here. Open up! It's only the second week of the summer and there's already been a dead fish in the pool...
Moonee: We were trying to get it back alive.
Bobby: Water balloons thrown at tourists
Halley: I failed as a mother, Moonee!
Moonee: Yeah, mom, you're a disgrace!
When Bobby approaches Halley about the havoc her daughter, Moonee, and the other kids who live at the motel have caused, Halley and Moonee think it's hilarious. Clearly Bobby and Halley have different acceptable standards of responsibility.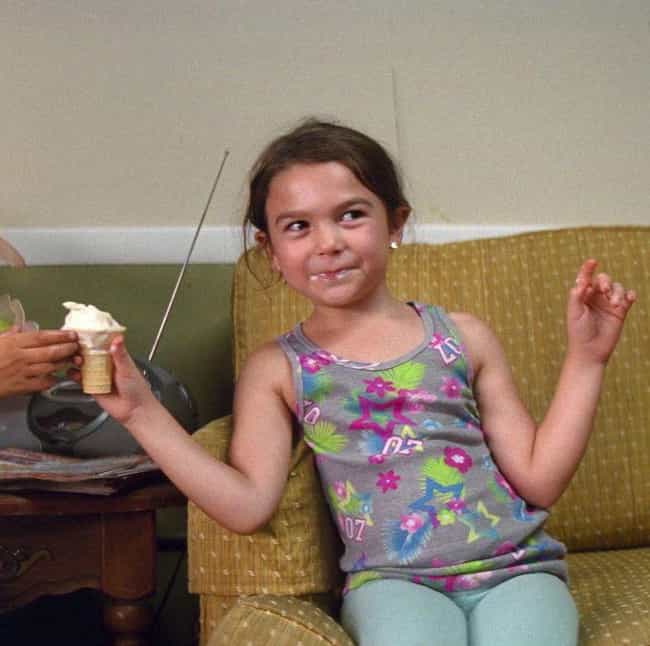 Bobby: Ok, I warned you. One drip and you're out.
Moonee: Oh, come on!
Bobby: Out now!
Scooty: It's gonna melt outside.
Bobby: It's meltin' inside too.
Moonee: But Bobby!
Bobby: Out! ... Thank you very much!
Moonee: You're not welcome!
As Bobby reminds the children in these The Florida Project movie quotes, he warned them about dripping ice cream over the floor in the motel office. While Moonee and Scooty do not do so willingly, they listen to Bobby's orders and take their mess outside.
Moonee: Where is my mommy now?
Bobby: They're just talking. They're going to figure something out.
Moonee is confused and worried in these The Florida Project movie quotes when her mother speaks with authorities. Bobby tries to comfort her but he knows the outcome of this is unlikely to be a good one.
Who's Looking After Moonee?
Bobby: New job?
Halley: Yeah
Bobby: If you're working, who's looking after Moonee?
...
Halley: You're not my father!
Bobby: I don't want to be your father.
Halley: You can't treat me like this!
Bobby confronts Halley in these The Florida Project movie quotes over how she leaves Moonee alone while she works. Halley isn't interested in what Bobby has to say and pushes him away for getting involved in her life.