Total Nerd
The Geekiest Themed Hotels Of All Time

Themed hotel rooms have always been a staple of honeymoon suites and hook up motels from Vegas to Niagra Falls, but recently the tourism industry hasn't gotten more competitive world wide and more hotels are getting in on the niche geek theme hotel rooms. The nerd hotel rooms featured here run the gamut from anime themed hotel suites to specific movie motel rooms to comic book hotel rooms. See this list to check out some equally impressive geek themed home theaters.
So what are the geekiest hotels of all time? Is it the Batman themed hotel or the superhero themed room you can stay at for real? There are plenty to choose from, so take a peek at some of these hotels and maybe you'll find one you'll want to stay at on your next vacation. Whether you love
Star Wars
or Star Trek, there's surely a geeky hotel just for you!
1
Live Your Childhood Dreams and Sleep in a Sandcastle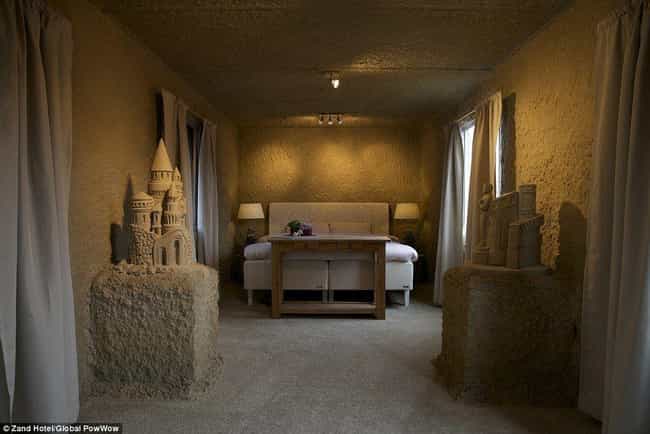 Plagued with fears of being buried alive? This 60-room sandcastle hotel (which, yes, is made entirely of sand) may not be for you. Created for the sand sculpture festival in the Netherlands, the Zand Hotel is basically a huge sandcastle where you can actually sleep in a room made of sand! The hotel took four weeks to build and rooms cost about $170/night-- pretty affordable considering the fact that you're sleeping in the castle of your childhood beach dreams. Creators have plans to expand the the sand hotel business and create even more castles in UK and Germany.
... Unless a rogue wave hits and ruins the whole thing.
Source:
Mashable
2
Technophiles Can Fall in Love with an All Robot Hotel Staff
The Henn-na Hotel in Japan's Nagasaki prefecture figured out the perfect way to creep guests out the minute they arrive: employ multilingual gynoid robots as receptionists. These "actroids" can respond to body language and make eye contact, so guests have to choice but to stare into the bots' cold, dead eyes as they check in.
The rest of the staff is robotic as well, though they don't look like terrifying almost-humans that might kill you like the lady in Ex-Machina. Robots at the hotel are also capable of carrying your luggage, making your coffee, cleaning your room, and delivering your laundry. If that's not enough technology for you, the rooms also open by facial recognition software and can detect your body temperature to regulate the air temp.
Source:
Engadget
3
Harry Potter Fans Can Stay in These Hogwarts-Themed Rooms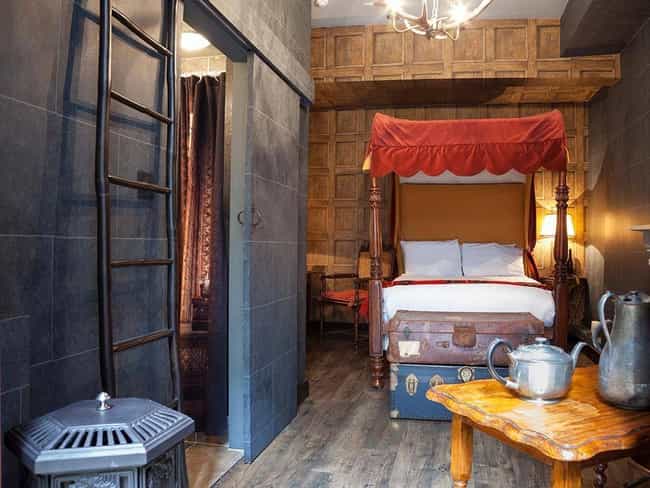 The four-star Georgian House hotel in Central London is the perfect respite for Harry Potter-obsessed fanboys and fangirls. Their "Wizard's Chambers" rooms look like they've been plucked straight from the classic fantasy series.
Source
4
Travelers Can "Let It Go" in this Frozen-Themed Hotel Room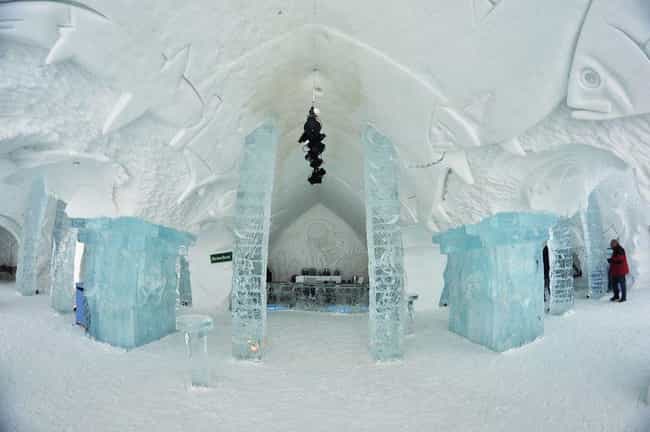 Even if you're not a fan of the movie, you have to admit that an entire hotel sculpted from ice seems really cool! (Horrible pun intended.) You'll find the "Frozen Suite," a room modeled after Anna & Elsa's bedrooms at The Hotel de Glace in Quebec City.
Source