Entertainment
The Hunger Games: Mockingjay Part 1 Movie Quotes

Updated November 6, 2017
123 votes
35 voters
6k views
13 items
"The Hunger Games: Mockingjay Part 1" movie quotes continue the Hunger Games film series in the third installment of the science fiction adventure film franchise. Francis Lawrence directed the film which Danny Strong and Peter Craig adapted from the novel "Mockingjay" by Suzanne Collins. "The Hunger Games: Mockingjay Part 1" opened in theaters in the United States on November 21, 2014.
In "The Hunger Games: Mockingjay Part 1," the action picks up after the events of "The Hunger Games: Catching Fire" as Katniss Everdeen (Jennifer Lawrence) was rescued from the Quarter Quell. With the help of the likes of Plutarch Heavensbee (Philip Seymour Hoffman), President Alma Coin (Julianne Moore), Haymitch Abernathy (Woody Harrelson) and others, Katniss has become the face of a revolution to take down the Capitol and President Snow (Donald Sutherland).
But this rebellion has the potential to turn into a full scale war, something that would most assuredly take out many of Katniss's loved ones, her sister Primm (Willow Shields) and love Gale (Liam Hemsworth) included. It also won't be easy, especially as Katniss's former ally Peeta (Josh Hutcherson) is now working for the Capitol, only making Katniss's love life that much more complicated.
As one of the most highly anticipated movies of 2014, "The Hunger Games: Mockingjay Part 1" opens alongside other great films including
"Dumb and Dumber To,"
"Foxcatcher,"
"Beyond the Lights,"
"The Homesman,"
"Interstellar,"
"The Theory of Everything,"
"Nightcrawler,"
"Big Hero 6,"
"Before I Go to Sleep,"
"Horns,"
"John Wick,"
"White Bird in a Blizzard,"
"Fury,"
"The Best of Me,"
"The Book of Life,"
"Birdman or (The Unexpected Virtue of Ignorance),"
"The Judge,"
"Alexander and the Terrible, Horrible, No Good, Very Bad Day,"
"St. Vincent,"
and
"Gone Girl."
I Never Wanted Any of This
Katniss Everdeen: "I never wanted any of this, I never wanted to be in the Games, I just wanted to save my sister and keep Peeta alive."
President Snow: "Miss Everdeen, it is the things we love most that destroy us."
Katniss tries to smooth things over with President Snow but he is not hearing any of that. What Katniss did has consequences and President Snow knows her weaknesses, her loved ones.
Should this be higher or lower?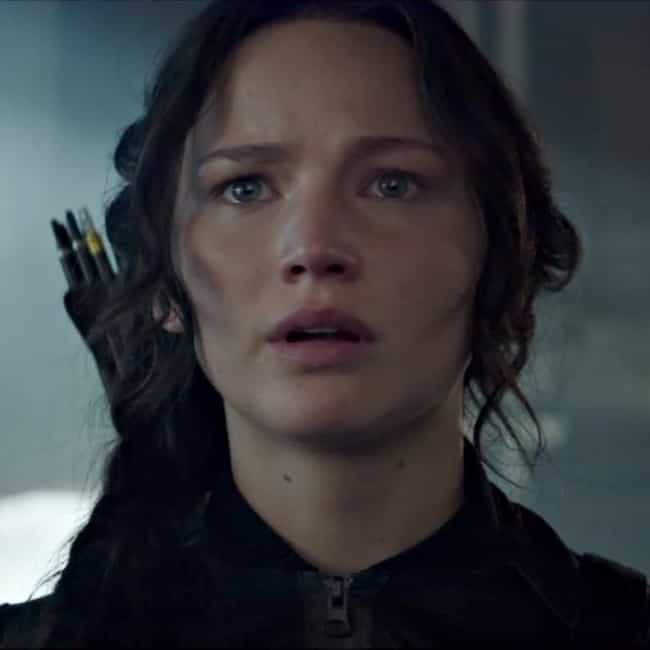 Katniss Everdeen: "When you love somebody, you don't leave them behind."
Katniss has never been about revolution or starting a war. Her intentions are simple. She wants to protect those she loves.
Should this be higher or lower?
Are You Fighting, Katniss?
Eddy: "Are you fighting, Katniss? Are you here to fight with us?"
Katniss Everdeen: "I am. I will."
Katniss meets up with the others in the rebellion crew and they are eager to know if she is with them or against them. She is very much ready to fight alongside them.
Should this be higher or lower?
Any Association of the Mockingjay
President Snow: "Any association of the Mockingjay symbol is forbidden."
President Snow makes a hard and fast rule against anything associated with the revolution. Nothing Mockingjay is allowed, end of story.
Should this be higher or lower?