Weird History
Sadie Hawkins Day Has A Much Darker Origin Story Than You Would've Imagined

The Sadie Hawkins Day dance is an annual event where young women ask that special guy they have their eye on to accompany them, turning the tables on the boy-asks-girl tradition. While the ritual turns gender norms and common social practices on their heads, the real story of Sadie Hawkins Day is full of contradictions.
Created by cartoonist Al Capp as part of his Li'l Abner comic strip, Sadie Hawkins was a Great Depression-era woman who chased after men, trying to get someone to marry her. Capp championed traditional values, and his satirical representation of the relationships between men and women demonstrated his attitude toward the opposite sex. Sadie Hawkins might be celebrated for her nontraditional gender role today, but when she first landed on the funny pages, she existed for her creator to mock.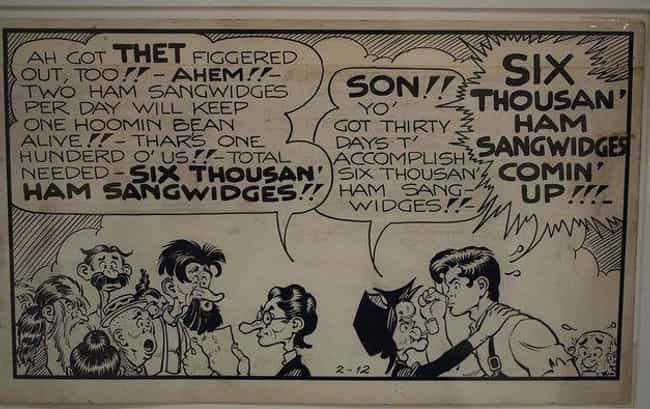 Li'l Abner Was The Star - And Was Notably Simple-Minded
When Al Capp started his comic strip in 1934, he introduced the world to Li'l Abner, a somewhat dimwitted, muscle-bound young man living in Dogpatch, USA, a town made up of stereotypical hillbillies. Abner was the son of Mammy and Pappy Yokum.
Mammy, the leader of Dogpatch, was an honest and industrious woman married to the illiterate Pappy. Abner spent his days in Dogpatch or the surrounding region of Lower Slobbovia, blissfully unaware of the cynicism all around him.
Hekzebiah Hawkins Was Desperate To Find A Husband For His Daughter, Sadie
Al Capp introduced Sadie Hawkins in 1937 as the daughter of prominent Dogpatch resident Hekzebiah Hawkins. In Capp's telling, Sadie is plain and, as a grown woman still living at home, in need of a man. Dubbed "the homeliest gal in the hills," Sadie's prospects for marriage worry her father.
Mr. Hawkins eventually takes matters into his own hands and organizes the Sadie Hawkins Day race. All the single men in town run to the finish line, while all the single women, Sadie included, chase down the bachelors and get to marry the first one they catch.
The comic strip featuring the first Sadie Hawkins Day race was published on November 15, 1937. Sadie snags a man, and the other single Dogpatch women like the idea so much that Sadie Hawkins Day becomes an annual event.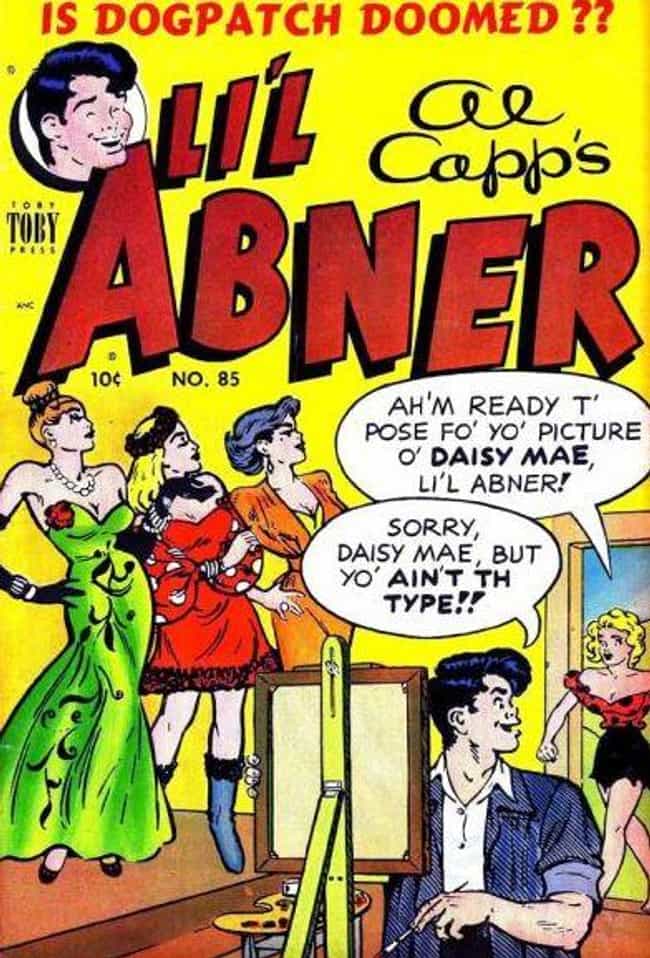 In Contrast To Sadie Hawkins, Daisy Mae Scragg Was A Busty Bombshell
Daisy Mae Scragg, a beautiful young resident of Dogpatch, pines for Li'l Abner and chases him until the two finally get married in 1952. Unlike Sadie Hawkins, "the homeliest gal in the hills," Daisy Mae is conventionally attractive.
Daisy Mae may be the physical opposite of Sadie, but she also wants to get married. She chases Li'l Abner each year during the Sadie Hawkins race, hoping to catch him. For his part, Li'l Abner is aloof, evasive, and never that affectionate toward Daisy.
After Li'l Abner and Daisy Mae get married, they have a child, Honest Abe, and Daisy Mae becomes the faithful workhorse of the household.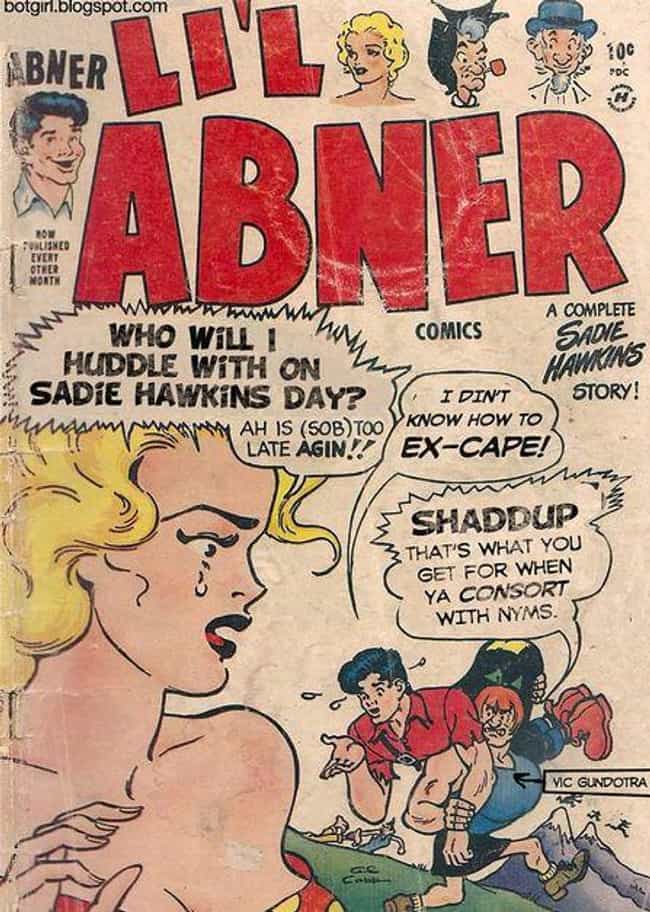 The Sadie Hawkins Day Foot Race Showed Men Running For Their Freedom
The object of Sadie's affection in the first Sadie Hawkins Day race is Adam Olis, a young man attached to Theresa, another girl in town. Since Adam and Theresa aren't engaged, Adam is included in the race. But Adam comes in fourth place, so John Jonston, who comes in last, becomes Sadie's prize.
The gloom-and-doom that accompanies the Sadie Hawkins Day race is evident in panels that feature men lined up on race day grimly hoping to avoid being caught. The men run for their freedom while the women run for matrimony.