Total Nerd
The Many Girlfriends of Peter Parker / Spider-Man

45.4k votes
8.3k voters
608.9k views
20 items
List Rules Vote up your favorite love interests for Spider-Man!
In the comics, Peter Parker was always written as a dork/science nerd, but that never seemed to stop him from getting the hottest women in comics.
Blondes (Gwen Stacy), Brunettes (Kitty Pryde), Redheads (Mary-Jane Watson) – none were immune to Spider-Man's apparent charm. None of Norman Osborn's money nor Flash Thompson's popular jock charm could keep the ladies away from the dweeby photographer. As you can see, there have been many Spider-Man GFs through the decades.
We've decided to take a look back over the years at all the woman tangled up in Spider-Man's web. If you are having trouble remembering a particular Spiderman girlfriend's name, you'll probably find it on this list. Otherwise, vote up your favorite girlfriends of Spider-Man!
Who is your favorite Spider-Man love interest or spider man girlfriend (or just spider man girl)? After you are finished with this list, head on over and check out this list of Wolverine's girlfriends.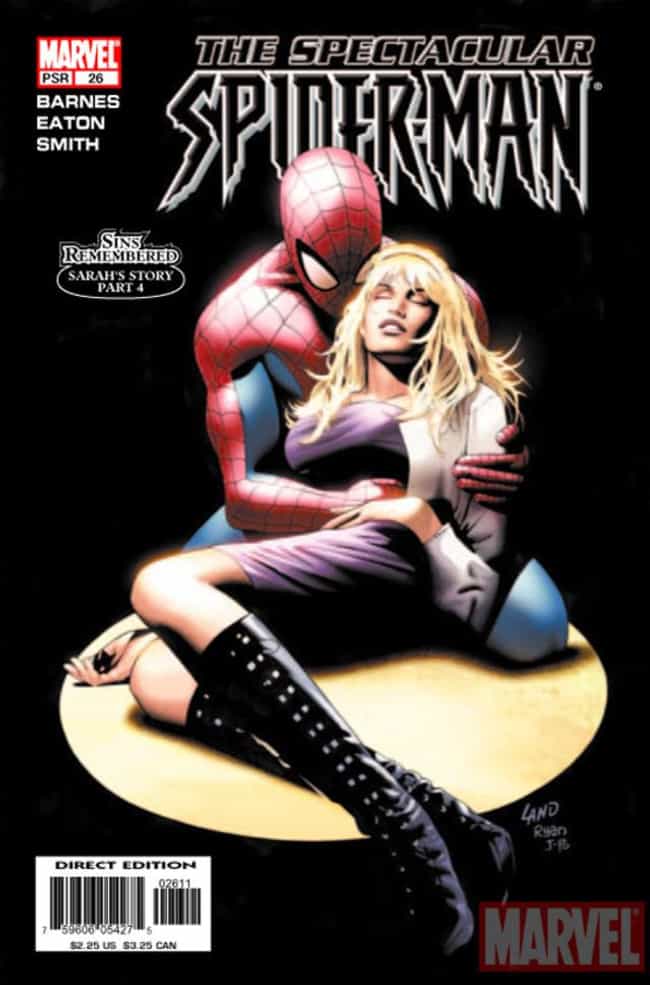 Peter Parker's first true love. The One.
Gwen Stacy was the girl at Empire State University, and she was struck by Peter's brains (and later brawn). After getting over his infatuation with Betty, Pete falls hard for the platinum, blonde bombshell, and they begin seriously dating. The word marriage is tossed around, and the two couldn't be more in love.
All of this is going on when Green Goblin tosses her off the Brooklyn Bridge, and Spider-Man catches her by a webline, snapping her neck.
Did he kill her? Could he have saved her? This moment haunts Peter Parker to this day.
Gwen Stacy from a different universe (and with Spider powers) made her way into the 616-Universe. Does Peter have a second chance?

Is she your favorite?
see more on Gwen Stacy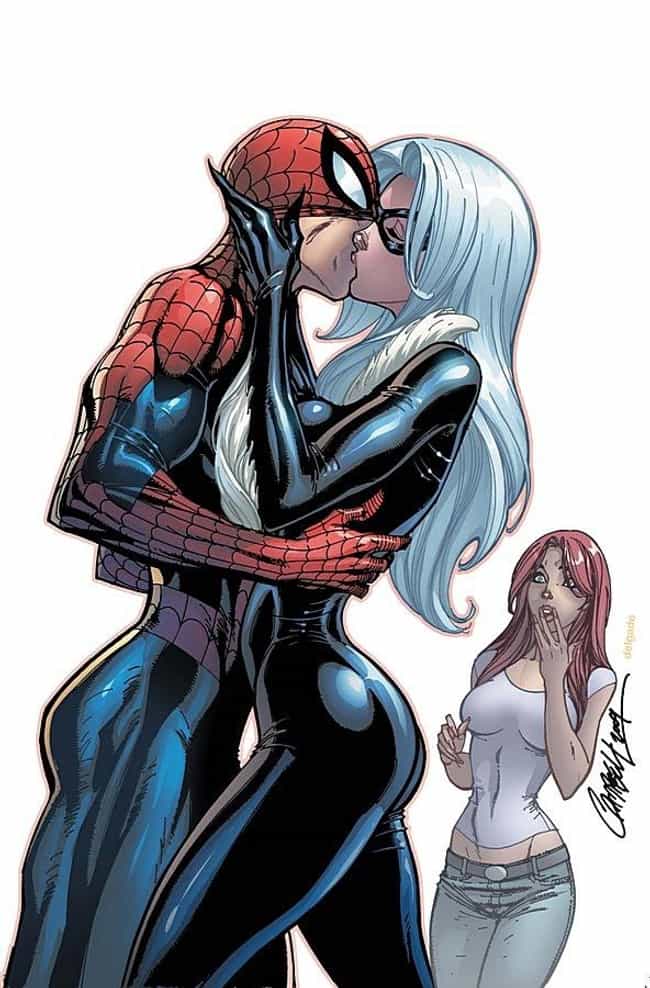 This one was always interesting because she loves Spider-Man and NOT Peter Parker, in all continuities. She falls hard for "Spider" and vice versa, after Parker and Mary-Jane break up. They date seriously for a long time, being fun, spontaneous, and playful.
Eventually, after Mary-Jane takes a trip, Peter realizes how much he loves MJ, that plus the fact that Black Cat can't fully accept civilian Peter Parker, is enough for them to call it quits. But they still banter and flirt constantly.


Is she your favorite?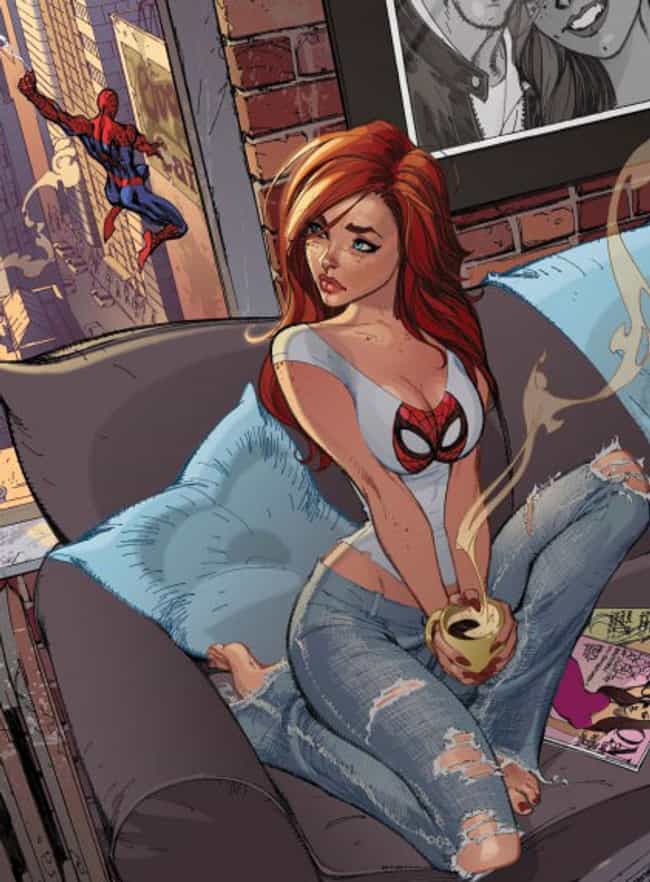 Mary-Jane Watson, the girl next door. Literally. Aunt May's best friend, Anna Watson, tried to set that nice, young boy, Peter, up with her niece for months, but he kept dodging her. Eventually, he couldn't escape any longer, and he meets the stunning party girl, MJ.
Pete ends up dating Gwen Stacy, but that never stops MJ from flirting, and she remains the ever fun-loving party girl. After Gwen (spoiler alert) dies, she matures, begins taking care of Peter, getting him through the trauma of losing his uncle, and they develop strong feelings for each other.
He reveals his secret, which she admits to knowing for some time, and proposes... many times. Eventually, she agrees and they wed! And live mostly happily ever after, until silly continuity and storylines ruin everything.
Face it, tiger, you just hit the jackpot!

Is she your favorite?
see more on Mary Jane Watson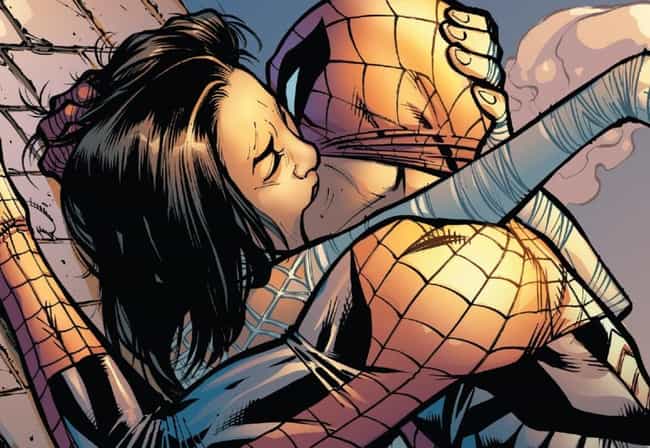 Peter Parker wasn't the only one bitten by that radioactive spider that day (so revealed in the "Original Sin" storyline). Once Silk, aka Cindy Moon, and Peter meet, they have an immediate physical attraction.
Watch out, Spidey! Things may be too good to be true...

Is she your favorite?