Holidays
The Night Before Movie Quotes

Updated November 6, 2017
90 votes
65 voters
10.8k views
9 items
The Night Before movie quotes follow three lifelong friends who meet up on Christmas Eve for one last epic night of debauchery. The holiday comedy film was written by Jonathan Levine, Evan Goldberg, Kyle Hunter and Ariel Shaffir. Levine also served as the director of The Night Before, which opened in theaters on November 20, 2015.
In The Night Before, Ethan (Joseph Gordon-Levitt), Isaac (Seth Rogen) and Chris (Anthony Mackie) have been gathering each Christmas for 14 years, a tradition since Ethan lost his parents one year on the holiday. But with Chris now a famous football player and Isaac about to welcome his first child with wife Betsy (Jillian Bell), this tradition must come to an end.
So looking to have the most epic night ever, the three men go all out in New York City. Drugs, celebrity cameos and more crude humor than that creepy uncle brings to family gatherings all follows as the men enjoy one last night together.
The Night Before
brings some levity to theaters already showing other great, and a little more serious, movies such as
The Hunger Games Mockingjay Part 2
,
The 33
,
Trumbo
, and
By the Sea
.
Betsy: How wasted are you right now?
Isaac: Halleler!
Betsy: Not that kind of church
Isaac: Who's that guy?
Betsy: What guy?
Isaac: Like that on the cross
Betsy: Jesus Christ!
Isaac: Oh, Jesus, is that what they think we did to him?
Betsy: Yeah
Isaac: Can they tell I'm Jewish?
Betsy: Yes!
Isaac: How?
Betsy: Your sweater! ... Don't you dare throw up in here! Swallow it like a girl would!
Isaac: I need a barf bag!
Betsy: No barf bags! ... Is it still happening?
Church Goer: It's still happening a little.
Isaac: We did not keel Jesus! We did not do that!
At Christmas mass, Isaac is both really, really high and Jewish, so not quite up to snuff on his catechism. Puking in the aisle of the church surely does not help either of those situations either.
Should this be higher or lower?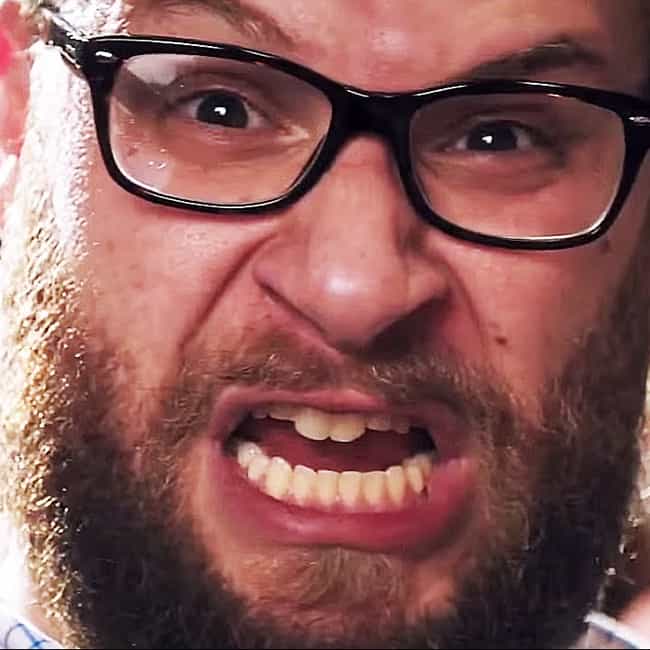 Isaac: I think the cocaine and the mushrooms are acting poorly.
Chris: You look insane! Only your right eye is working.
Isaac: Do I look weird now?
Chris: Yes, you look weird! ... Still weird! ... Weirder!
Isaac questions the effect the drugs have on him as the men sit in a limo. Despite Isaac's attempts to look normal, the more he tries, the weirder he ends up looking to Chris.
Should this be higher or lower?
Chris: You don't steal on Christmas! That's not right! ... She Home Aloned me!
When Chris sees a woman steal money from a donation pot, he springs into action to try to stop her. Just like in a Christmas movie though, his plan is foiled.
Should this be higher or lower?
You Guys Have Been with Me Every Single Christmas
Ethan: Gentlemen, 14 years ago to this very night I lost my parents and you guys have been with me every single Christmas since. But tonight, we have decided to end this tradition. Christ is just too famous to hang out with us anymore and Isaac's about to have a baby.
Ethan lays out the premise of the film and their plans for the night. It's been a tradition that these three men spend Christmas Eve together but now that they are growing up, this is their last hurrah.
Should this be higher or lower?