thrillers

The November Man Movie Quotes

27 votes
15 voters
8.5k views
10 items
Follow
Embed
"The November Man" movie quotes follow the action when one former CIA assassin is hunted by his protege. The spy thriller was directed by Roger Donaldson using a screenplay Michael Finch and Karl Gajdusek adapted from the novel "There Are No Spies" by Bill Granger. "The November Man" opened in theaters on August 27, 2014.
In "The November Man," former CIA assassin Peter Devereaux (Pierce Brosnan) is contacted by old colleague Hanley (Bill Smotrovich) and informed that a former witness of his, Alice (Olga Kurylenko) is being hunted by the CIA to prevent knowledge she has from becoming public. In order to protect Alice, Peter Devereaux, code name The November Man, is lured out of retirement.
After making contact with Alice, Peter learns that one of his best proteges and former friend David Mason (Luke Bracey) is the agent tasked with taking both he and Alice down. What follows is nothing short of an action-packed cat and mouse game between two of the best assassins ever to work for the CIA.
"The November Man" brings the heat to summer 2014 theaters already packed with other hits like
"Sin City: A Dame to Kill For,"
"If I Stay,"
"When the Game Stands Tall,"
"Are You Here,"
"The Expendables 3,"
"Let's Be Cops,"
"Life After Beth,"
"Frank,"
"Teenage Mutant Ninja Turtles,"
"The Hundred-Foot Journey
"Guardians of the Galaxy,"
"Get On Up,"
"Hercules,"
"Lucy,"
"Magic in the Moonlight,"
"A Most Wanted Man,"
"Happy Christmas,"
"Planes: Fire & Rescue,"
"Sex Tape,"
"Wish I Was Here,
"And So It Goes,
and
"Dawn of Planet of the Apes."
Bill Smitrovich: "Peter Devereaux, you know what we used to call you? The November Man, cause after you passed through, nothing lived. Peter, you need to look at this."
Peter Devereaux: "It's Alice."
Bill Smitrovich: "She's in trouble. She has information on the agency that they'll kill to keep secret. If you want her to live, you've gotta get back in the game."
Peter reunites with Hanley who informs him of some unsettling news. A former witness of Peter's is being hunted by the CIA and if they don't step in, her life could be in jeopardy.
Probably the Best Friend I've Ever Had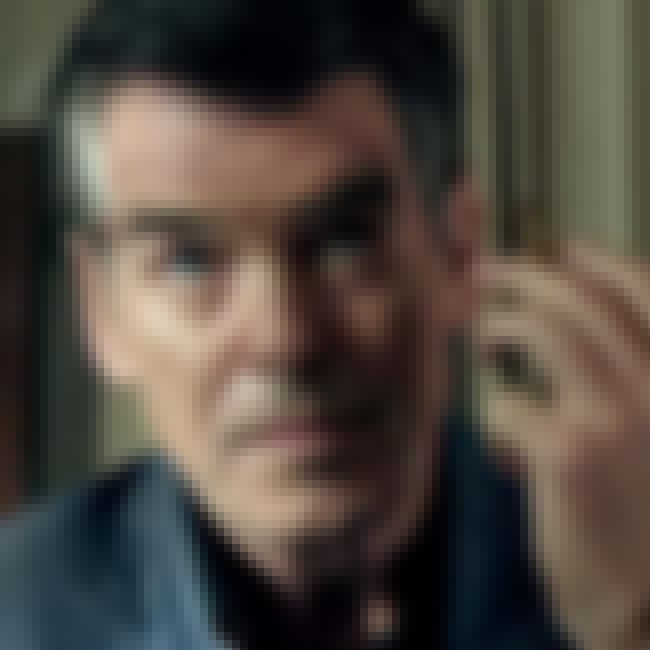 Peter Devereaux: "He's probably the best friend I've ever had."
Alice Fournier: "Al your friends try to kill you?"
Peter Devereaux: "Eventually"
Peter unloads about his connection with David Mason, calling him the best friend he ever had. For someone like Peter, even your best friends eventually try to kill you.
Waitress: "I'm going back to work."
…
David Mason: "Don't worry. I checked her out."
Peter Devereaux: "Scenario: Agent falls in love with girl. Agent runs an op. Girl gets kidnapped. The other guys want to know the agent's source. What does he do? What do they do to the girl? Huh?"
David Mason: "Is there a point to this?"
Peter Devereaux: "Yeah, over your right shoulder."
David Mason: "Us or them?"
Peter Devereaux: "Does it really matter? You feel the need for a relationship? Get a dog."
Peter tries to teach David an important lesson about their profession. He stresses that there is no room for normal relationships in what they do. Dogs, however, are allowed.
Hostess: "Excuse me, are you Alice Fournier?"
Alice Fournier: "Yes"
Hostess: "There is a call for you in the office. They say your cell phone is not working. This way, please."
Alice Fournier: "Excuse me… Yes, hello"
Peter Devereaux: "Stop, stay right there a while. Listen to me very carefully. The woman you're with is a killer. If she panics, you're a dead woman. Turn around. Turn around. I'm right behind you. Turn around. Run, now! Run!"
Peter makes contact with Alice to let her know of the threat to her life. It's just in time too as the restaurant is surrounded by agents ready to take her down.