Entertainment
These Behind-The-Scenes Stories From 'The Sandlot' Are Just As Wholesome As The Film Itself

Updated August 4, 2020
274.7k views
15 items
The Sandlot has been touted as a classic baseball film ever since its release in April 1993. Many of its dedicated fans can watch it again and again, and the film is often regarded as one of the most inspirational sports movies of all time. However, fans may be surprised to learn it wasn't a box office hit upon release. According to Box Office Mojo, the film earned $32.4 million during its theatrical run, making it the 50th biggest hit of the year. For perspective, some of the movies that outgrossed it, including Made in America, Sommersby, and Alive, have essentially faded into obscurity. The Sandlot was even bested in theaters by another kid-centered baseball comedy, Rookie of the Year, which earned $53 million that year.
Despite the film's middling theatrical performance, home video and cable TV have turned The Sandlot, directed by David Mickey Evans, into a beloved classic. The heartwarming comedy has found an appreciative audience over the years, and viewers' love for the story of a ragtag small-town baseball team continues to grow.
Given the film's outward charm, it's no surprise that there are plenty of fun stories from behind the scenes. Not only did the young stars all crush on a female co-star, they also got to meet an acting legend and braved both cold weather and a nauseating amusement park ride for the film. The end result was a family-friendly romp that continues to entertain audiences more than 25 years after its release.
back to page 1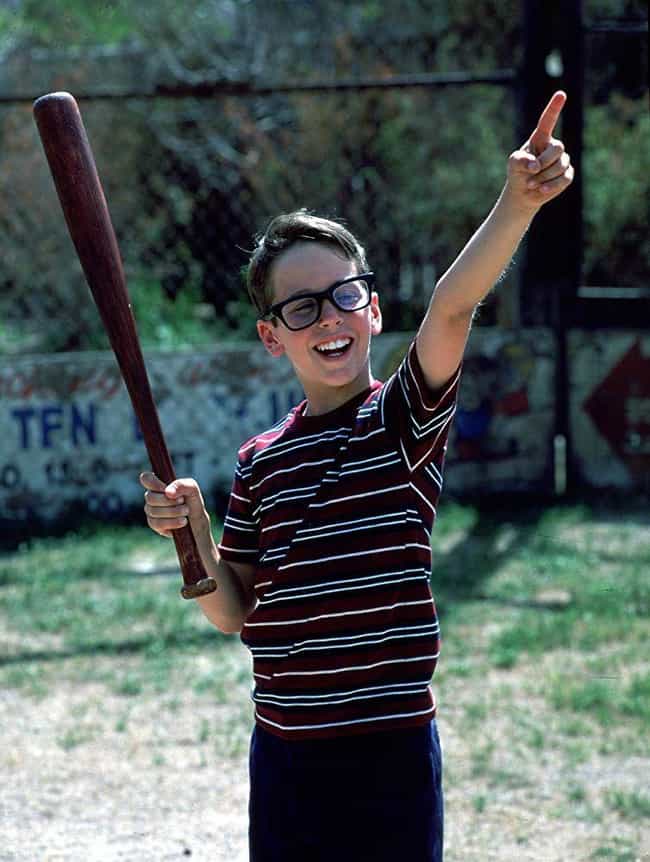 The Real-Life Squints Sued The Filmmakers Over His Portrayal
Part of The Sandlot's enduring appeal is its vividly honest and personal nature. Director David Mickey Evans clearly drew upon his own childhood experiences for the story. In one case, this even led to a lawsuit.
As a child, Evans had a classmate named Michael Polydoros, whose nickname was "Squints." The Sandlot features a character named Michael Palledorous, also referred to as "Squints." In 1994, Polydoros sued Evans and the rest of The Sandlot's filmmaking team, alleging commercial misappropriation, invasion of privacy, negligence, and defamation. His lawsuit claimed the nickname caused him pain and humiliation as a child, and that the film caused him to relive his childhood trauma.
An appellate court in Los Angeles dismissed Polydoros's case, saying there were substantial differences between the real-life Squints and his cinematic counterpart. The California Supreme Court refused to take up his appeal.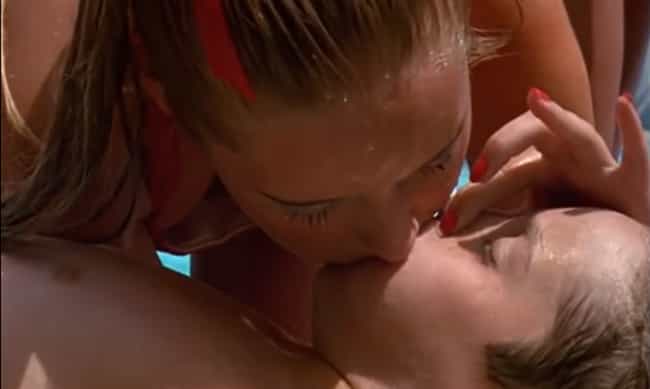 Squints Was Directed To 'Keep His Tongue In His Mouth' During The Lifeguard Scene
Evans gave actor Chauncey Leopardi a very specific piece of advice while filming. In one scene, Squints pretends to drown so that Wendy Peffercorn, a pretty lifeguard, will give him CPR. Squints cracks a smile to his buddies when Wendy isn't looking, communicating his ruse.
Leopardi was nervous about shooting the scene with actress Marley Shelton. Evans refused to tell Leopardi when the sequence would be shot to increase his nervousness. When the time came, Evans waited until the cameras were about to roll, then leaned in and gave the young actor a friendly warning: "Keep your tongue in your mouth."
Despite his nerves, Leopardi pulled off the scene like a pro, and apparently even enjoyed it. After Evans told him the shot went well, Leopardi asked to perform it again.
The Production Team Made Chewing Tobacco Out Of Licorice And Bacon Bits
One of The Sandlot's biggest laughs occurs when the boys go to a fair and share a bag of chewing tobacco, which results in several bouts of projectile vomiting once they board a spinning ride. Due to the actors' ages, they couldn't ingest real tobacco. To work around the problem, the production team made fake tobacco out of licorice and bacon bits for them to chew on-camera.
Despite being artificial, the substance produced a similarly nauseating effect. Several of the actors - Tom Guiry, Patrick Renna, and Chauncey Leopardi - swallowed the fake dip and truly became sick while filming.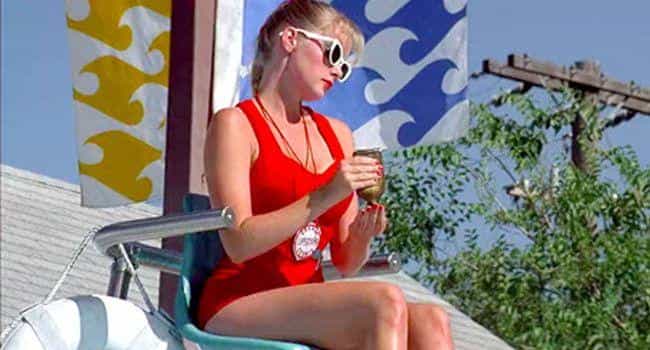 All Of The Stars Crushed On The Lifeguard, Marley Shelton
Tom Guiry told Time that all of the young actors had a crush on Marley Shelton, who plays lifeguard Wendy Peffercorn. He claimed, "We didn't have too much contact with her, but she was pretty popular with us. Not too surprising for a group of 12-year-old boys."